I've been feeling sad lately but I managed to make myself this today.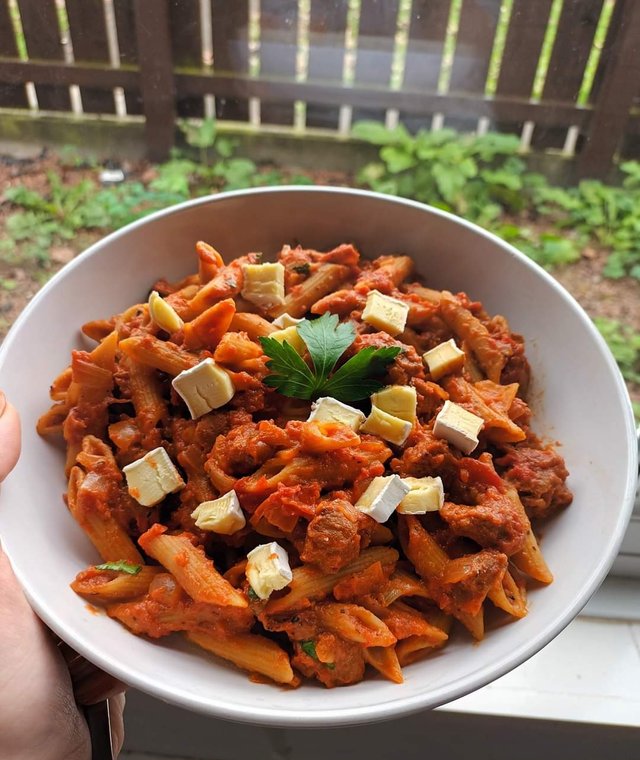 It looks quite rich and tasty. I do love the touch of green. Years ago, I had a pair of bright, neon green socks that cheered me up. I called them my "Go socks" because they got me going.
If work, home or the world was getting me down, I would lift my pant leg to peek at my happy socks. Just a pair of socks, but they were special to me.
Preparing food now often reminds me I deserve a little joy, a healthy meal, and there's something therapeutic in every step.
I wouldn't tell you to 'smile' or 'be happy', because there are times we need to feel, and bring ourselves back on our own terms, with a meal, a change of environment, a fresh experience.
To clarify, I do not eat for comfort, yet it's comforting when I realize that I know hope lives in me, proven by the accomplishment of nourishing my body, until my spirit catches up and feels better, too.
This looks like perfect sad day food. Hope it made your belly smile. I'm smiling because it's a pic of actual food.
I tried that melted but wasn't a fan is it better hard? this is literally the worst camembert alternative I've had a chance to try, awfully soapy and bitter. but i guess it matched your mood perfectly? 🙂
It's the only fancy vegan cheese at my local supermarket so I'll take what I can get lol. I've tried Honestly Tasty's too and I definitely prefer it to this one.
what a strange idea to call an edible block of soap something "fancy" 😃 finally a U.K. food 😛 all these non obtainable US foods were making me sad.
Scrolling fast and thought that was a cannabis leaf. To my disappointment it was just herb decoration for this dish.
Hope i feel better soon. At least you were able to make a delicious noodle dish😉
Oh that Camembert i want to add it to my list to take it with wine would be awesome.Could you tell me please the brand name so I can look for it.
I don't want to roast you because you feel sad, but next time, grab a dictionary and search the word ugly. Some of you are forgetting its meaning lately. That looks very nice and delicious to me.
[KR]
그것은 꽤 풍부하고 맛있어 보입니다. 나는 녹색의 터치를 좋아한다. 💚몇 년 전,나는 밝고 네온 그린 양말 한 켤레를 가지고 나를 응원했습니다. 나는 그들이 나를 가게했기 때문에 그들을 나의"간다 양말"이라고 불렀다.
는 경우 작동,홈 또는 세상이 나를 아래로,나는 그 바지 다리를 내는 행복 양말입니다. 그냥 양말 한 켤레,하지만 그들은 나에게 특별했다.
음식을 준비 이제 종종 생각 나게 가치가있는 작은 기쁨,건강한 식사를하고,무언가가 치료에서 모든 단계입니다.
말하지 않았지 당신이'미소'또는'행복',시간이 있기 때문에 우리에게 필요를 느끼고 자신에 우리 자신의 조건으로,식사,환경의 변화,신선한 경험이다.
을 명확히 하기 위해,나를 먹지 않는 편안함을 위해,아직 그것이 위안을 깨달을 때는 희망이 생활에서 나를 검증하여 성취감,내 몸까지 내 영혼을 잡는다고 느끼는 더 나은,너무입니다.
이것은 완벽한 슬픈 날 음식처럼 보입니다. 그것이 당신의 배를 웃게 만들었 으면 좋겠다. 나는 그것이 실제 음식의 그림이기 때문에 웃고 있습니다.
나는 녹은 것을 시도했지만 팬이 아니 었어 더 열심히? 이것은 말 그대로 내가 시도 할 기회가 있었던 최악의 카망베르 대안이며,지독하게 비눗물이며 씁쓸합니다. 그러나 나는 그것이 당신의 기분과 완벽하게 일치한다고 생각합니까? 🙂
그것은 내 지역 슈퍼마켓에서 유일한 멋진 비건 치즈이므로 내가 얻을 수있는 것을 가져갈 것입니다. 나는 솔직히 맛있는 것도 시도했고 나는 확실히이 하나를 선호합니다.
어떤 이상한 아이디어를 호출하는 식용의 블록 비누가"멋진"😃마지막으로 영국의 음식😛이러한 모든 비 얻을 수있는 우리에게 음식을 만들고 있었다 나를 슬프다.
빠르게 스크롤하고 대마초 잎이라고 생각했습니다. 나의 실망에 그것은이 접시를위한 단지 허브 장식이었다.
곧 기분이 좋아지기를 바랍니다. 적어도 당신은 맛있는 국수 요리를 만들 수 있었다😉
오,그 카망베르 나는 그것을 와인과 함께 가져 가기 위해 내 목록에 추가하고 싶다.당신은 나에게 내가 그것을 찾을 수 있도록 브랜드 이름을 기쁘게 말할 수 있을까.
슬픈 느낌이 들기 때문에 너를 굽고 싶지는 않지만 다음 번에는 사전을 잡고 못생긴 단어를 검색하십시오. 여러분 중 일부는 최근에 그 의미를 잊고 있습니다. 그것은 나에게 아주 좋고 맛있어 보인다.