MALE SM2 VOLEIBOL CHRONICLE CALASANCIAS CORUÑA - CyL PALENCIA 2020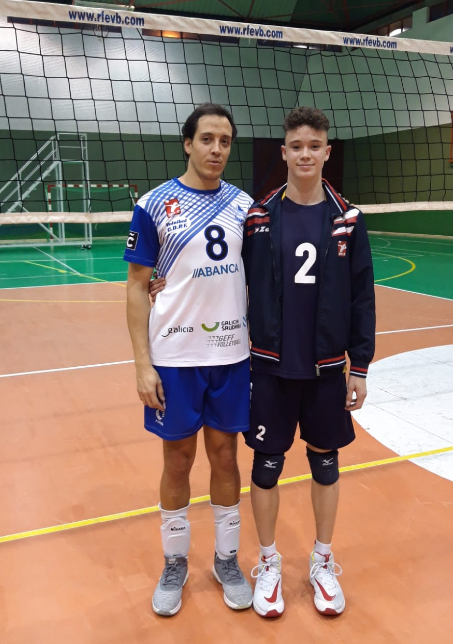 Saturday, February 8th. Municipal Pavilion Barrio de las Flores. 18:00 h
CALASANCIAS CORUÑA: Isma, Losada, Tito, Queiro, Asier, Ioritz, Hermida (initial team), Deus, Junco, Besteiro, Pena, Aba and Reverte
CYL PALENCIA 2020: Campos, Lorente, Ferrández, Domenech, Olalla, Mena, Piris (initial team) Losada, Ferrari,, Álvaro, Folgueira, Nieves, Casais and Arjones.
ARBITROS: Barrallo and Suárez de Tena
RESULT. 0-3(16-25, 22-25 and 20-25)

Clear victory of CyL Palencia (national junior team) in their visit to the Barrio de las Flores to face Calasancias Coruña in the 16th round of the Superliga 2 men's volleyball, with a 3-0 win that reflects the dominance in the game of the visitors.
The first set began with a great attack of the Palencia team, which could not be stopped by the blockade or the local defense, and was not counterbalanced by the attack of A Coruña, which did not work before the powerful blockade visitor. This set was dominated at all times by CyL Palencia, who managed to score comfortably controlling their game and not making mistakes.
In the second set the Coruña began to present battle to the team of the Permanent Concentration of the Spanish Federation, thanks to its variation in the attack and began to stop the visiting attacks with the blockade and field defense. In this set the alternation in the scoreboard was maintained, very even until the end, in which two successive errors in the attack of Calasancias Coruña made the Palencia team take off, scoring the set.
The third set continued with the tone of the previous two: a very powerful visiting team in the network that dominated the game, and which responded with many efforts Calasancias Coruña, which had to maintain its best level of attacking game to keep the score even. In the decisive moments of the set the visitors did not fail at the net and Calasancias Coruña could not overcome the great Palencia blockade, forcing their attacks and making the mistakes that made possible the victory of CyL Palencia.
After this match the visitors keep the third position in the classification, and Calasancias Coruña starts to think about the important match next Saturday against a direct rival in the fight to avoid the relegation places.
As an incentive, the match presented with the initial alignment of the two teams two members of the same family. Father and son who played against each other.