TRAFFICKING HUMANS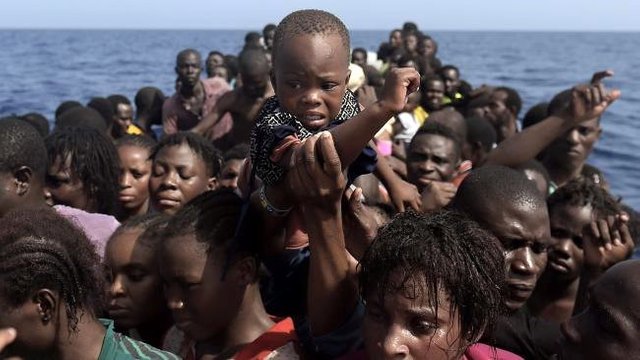 I have seen people
cry before but not this kind of cry's
I have seen people
brutalised before but not this kind of brutality
I have learnt of effusion
of inhumane jackbootings but nought this sort
I have seen how little ones
groan like dying lambs but not this sort
Come all you eyes
behold lives being cut short
to respite down their salty oceans
Come all you legs
watch their legs growing
infections inside sinking ships
Come all you hands
feel the gushing tears dripping
down like black rains from Black babies
Come all you hearts
hear life stealthily departing the veins and arteries of your kind
Oh I have seen survivors
stacked like 'shawa' fish in cartons
to die without air!
O I have reeled how men
are bailed and nailed later
to the cross for fanfare!
Yeh, I hear of the anguish
blubberings of our fine skirts on the sticks of foreigners!
Ouch! Look at them hopping
on pins on cactus plantations to their last breath
Uh! Look at fine faces whose
parents are expectant of returns
expiring bit by bit
Ah! Look at them falling
with no hopes like stunted yellow
leaves to be matched on dirt
Enough is Enough
to you HUMAN TRAFFICKERS
HEAR me you all beautiful BASTARDS
Stop your business
please
and let's grow our states instead
Stop wasting lives like the lives
of chickens-
even chickens have their own
cool cages and fine feeds to fat
Stop all your processes
they are poisoning our generation to be
This deal MUST stop
now
lest agony spread like
aero dis-ease
OR
Lest the universe vex and
the waters surrounding us surge up and up to the horizon to
wash all forms of earths
Lest the sun shrinks and the moon burst into particles
and the clouds turn into red
with darkness filling every void
of little light left.