Wednesday Walk in Montreal
My day started early as it was a school day for my son and I had lots of errands to run today in different areas of the city.
One of the things I love about winter is that the cold crisp air makes the colours look more vivid on the sky. Mother Nature paints some amazing artworks for our eyes!
Yesterday and today it felt more like spring is on the way. For the first time in months I heard some birds chirping. I even saw some of them trying to feed on the red seeds which were still hanging on the branches of some trees, totally frozen. Their red colour had a nice contrast with the white snow.
Since I had a lot of things to do today, by lunch time I have done about 3 km by foot. Later on I took the metro and walked a bit more. This stained glass window inside of the metro station was stunning!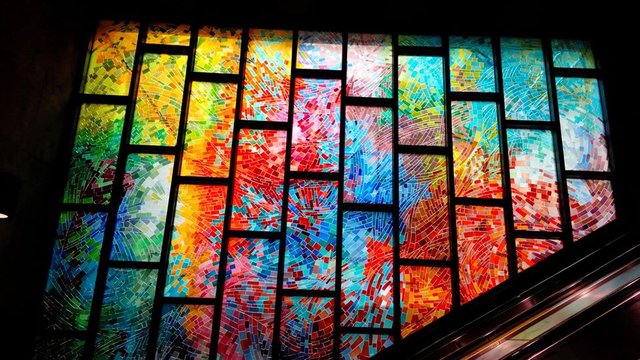 Although we had a mix of sun and clouds in the morning, the rest of the day was gloomy was another snow storm is on the way. Looks like Louis Cyr (see the photo below) will get more snow on his shoulders.
We are supposed to get 20cm of snow. After two days with positive temperatures we were hoping that we won't get any more snow.
This adorable mural managed to brighten my day as I passed by. It will certainly be added to my next Street Art Series post.
I was amused to see this fridge on the sidewalk. It seemed fit to be place something inside although it was not functioning, the low temperature outside will do the trick.
On the way back home I took a shortcut and cut straight the park.
That's where I saw this majestic Christmas tree.
As you can see in the photo above some kids were playing at the playground. They did not mind the cold or the snow.

Wednesday Walk is an initiative started by @tattoodjay. If you`d like to join, use the #wednesdaywalk tag. Please visit his account for more details.

Drop me a line the comments section below if you like what you read!