THE DAB DIARIES: CEMENT SHOES LIVE RESIN, BY HIGH SIERRA HOLISTICS
LIVE RESIN THAT WILL KNOCK YOU ON YOUR BOOTY....DEFINITELY, CEMENT YOUR SHOES!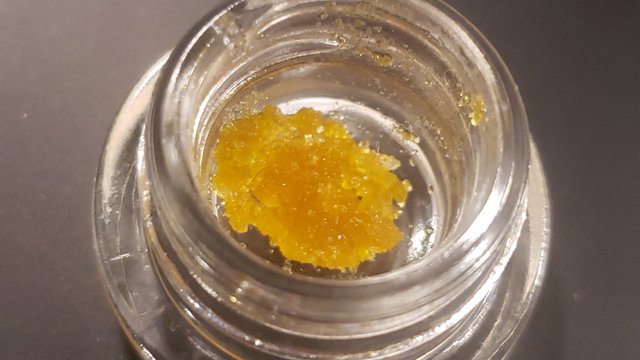 HELLO DEAR WEED CASH FRIENDS, I'M DABBY AND I'LL BE DOING POST REVIEWS ON DIFFERENT CONCENTRATE STRAINS. I'LL BE HIGHLIGHTING THEIR TASTE, SMELL, PROFILE AND ANY OTHER COMMENTS I WANT TO ADD! I'M EXCITED FOR @WEEDCASH AND HOPE THIS VENTURE WORKS OUT . LETS GET GOING!
LET'S START THIS OFF WITH OUR FEET FIRMLY IN THE GROUND!
THE DAB DIARIES
MAKE SURE YOU HAVE SOME POPCORN READY, THIS STRAIN PACKS SOME MAJOR MUNCHIES!!!




STRAIN INFORMATION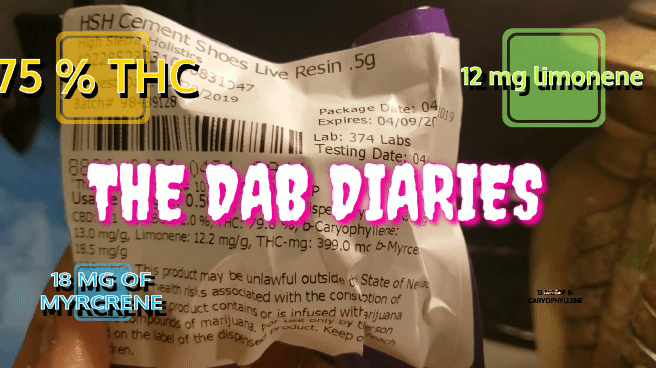 SO TODAY WE HAVE AA LIVE RESIN BY HIGH SIERRA HOLISTICS; NEVADA . THIS STRAIN PACKS A POWERFUL PUNCH WITH 75% THC ITS QUITE THE SMOOTH HIGH HITTER. IT CONTAINS 18MG MYCRENE, 12MG LIMONENE, AND 13MG OF CARYOPHYLLENE. MY MUST HAVE TERPENES FOR CHRONIC PAIN AND SPASMS.

---

TASTE
WOW, YOU'LL LEARN QUICKLY I DESCRIBE THINGS IN COLOR, IT'S WEIRD BUT THAT'S THE WAY IT COMES TO MY BRAIN. THIS STRAIN CAME TO ME IN WAVES OF SILVER AND PURPLE. VERY SMOOTH. I FIND THAT THE LIVE RESIN FROM HIGH SIERRA HOLISTICS TO BE VERY EXCEPTIONAL WHEN COMES TO TASTE.

EFFECT
I NOTICED IT FIRST IN THE BRAIN. ALMOST CALMING EVERY STRESS I HAD, IN FACT ONE OF THE BEST STRAINS BY FAR , THAT I HAVE TRIED TO RELIEVE THIS TYPE OF STRESS. IF YOU DEAL WITH A BODY LIKE MINE, IT DOESN'T KNOW WHEN TO LET GO. THE MUSCLES CONSTANTLY ON GUARD AND THIS IS A GREAT STRAIN FOR MAKING THAT LET GO. IT WAS LIKE A XANAX. NO KIDDING BUT NOT OVERWHELMING BUT FUN. GREAT TO LAY BACK WATCH A MOVIE.

DIARY ENTRY NUMBER 1
#weedcash
#review
#cannabis
#dab
#weed
#smoke
#smoking
#dabbing