Cannabis Creative Contest Week 6: My first weed experience... my old Christiania stomping grounds... footbag with Christiania's own Albert Laverick... and a quick look at anarcho-capitalism in action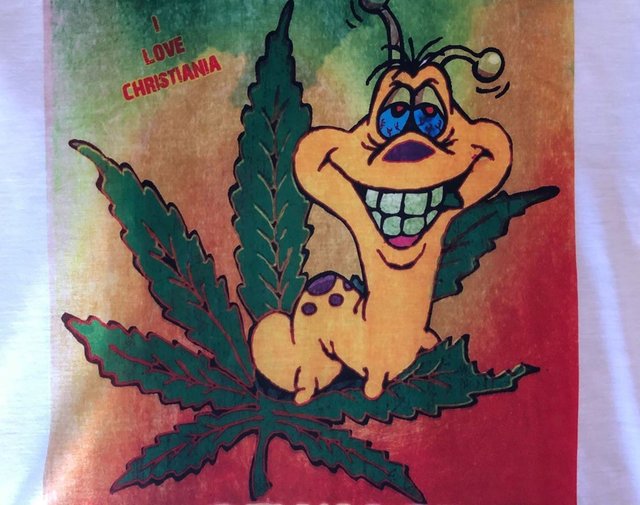 (Warning: this post meanders a bit. It's an entry for @jgvinstl's Cannabis Creative Contest #6 (a story of your first cannabis experience) and it'll take you from a kid's bedroom in Karlslunde, Denmark through a bunch of footbagging across Europe and finally ending up in Copenhagen's Christiania enclave. So let's get started!)

I first tried cannabis 45 years ago with a guy named Louie. He was my best friend since the 7th or 8th grade and we're still great friends today. In fact, I just visited him in Denmark last week! Here's a photo of me and Louie about 10 years ago. (Unfortunately, we didn't get a photo of us together last week; @geke wasn't on the ball.)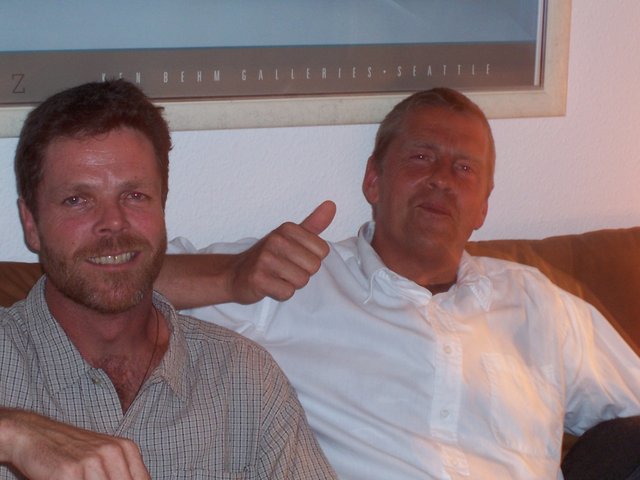 Anyway, my first experience with cannabis happened when Louie and I smoked some hash in his bedroom. After a few tokes we laid on his floor, read some comic books, and zoned out for a while. But then... I stood up. Immediately I got a big head rush and fainted. As I hit the floor, my head landed in the corner of the room. When my head bounced between the walls of the corner it seemed to all happen in slow motion. I didn't get hurt but I woke up in love with the stuff.
Marijuana has definitely changed me since that day. It helped me gain awareness of myself... to see how I interacted with other people. It helped me slow down, focus, and become more creative. Even today, it helps me think things out before starting new projects, whether a footbag design or a nugtray turned on my lathe. Pot has given me a clearer picture of life. These things also come about with maturity in life and getting older, but I saw an immediate change in my awareness when I experienced my first high.
Cannabis then became a part of my world. I got involved in some sports like footbag and disc golf where weed smoking is part of the culture. One of my good friends in footbag back in the day was a guy named Albert Laverick. As well as smoking buddies, we were freestyle and net partners for several years. Below are a few photos of us doing freestyle for some newspapers in the 1980s: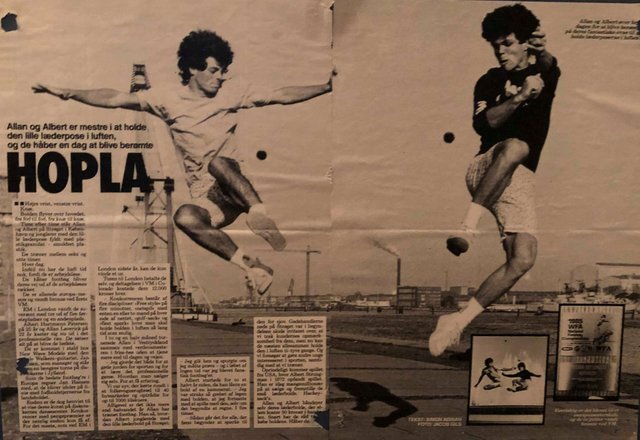 "Hoopla" (Albert on the left and me on the right)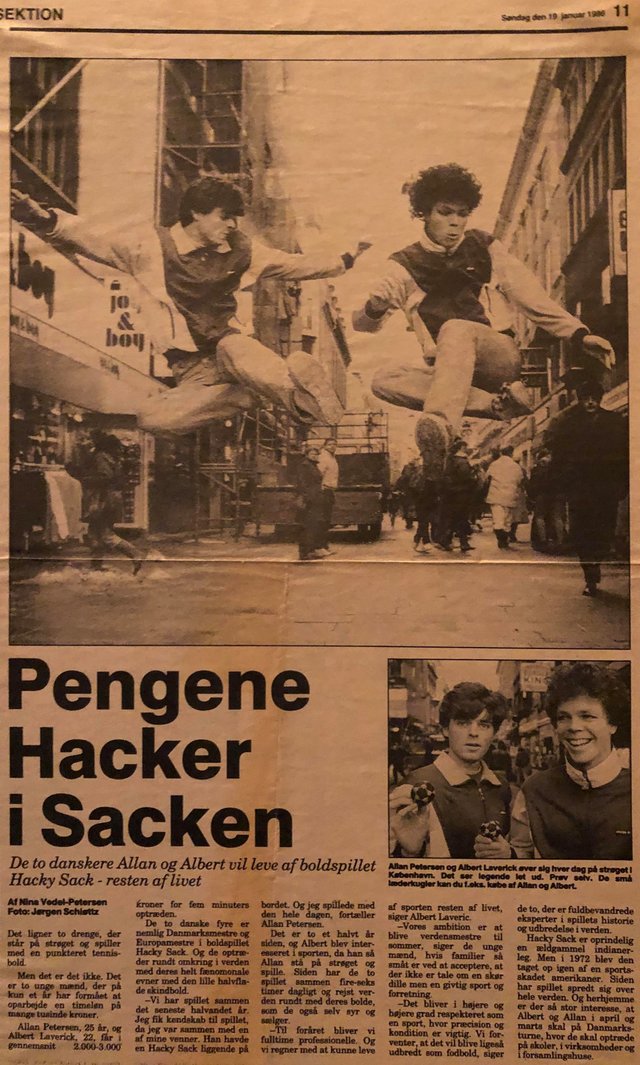 "Money in hacky sack (money in the bag): the two Danes Allan and Albert will
live off the ball game Hacky Sack - the rest of their lives"... we wish lol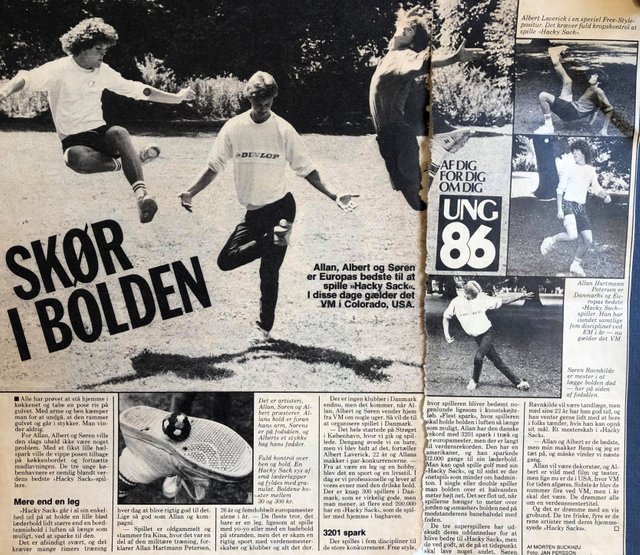 "Crazy about the bag: Allan, Albert and Soren are Europe's best at playing Hacky Sack -
these days it is the World Championships in Colorado, USA"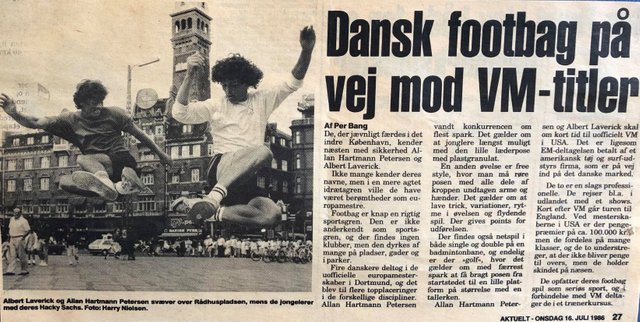 "Danish footbaggers on the road to World Championship titles"
I just recently reconnected with Albert online after many years. He is now living in an area of Copenhagen, Denmark called Christiania. Oddly enough, I had just visted Christiania with Stephanie (@geke) just a few days before I reconnected with Albert!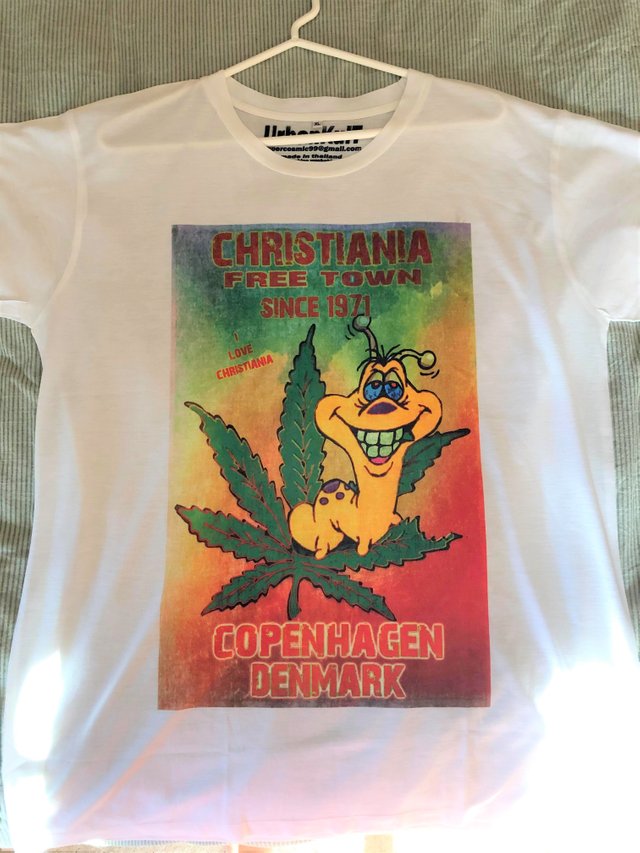 Christiania is a well known hippie / pot smoker's commune and I spent a lot of time there when I was younger, living in Copenhagen. Its history is pretty fascinating: back in 1971 a military base on this site closed. A small group of hippies and artists decided to move in and take over the land and buildings on the site and the Danish government ultimately decided to leave them alone. It's now an 84-acre "free zone" where people can claim living quarters for free, like rooms in some of the old barracks or homes that have been built there over the last 40 years. Marijuana use is generally permitted (cops do come in from time to time) but when I was there, users of harder drugs were shunned and forced out of Christiania.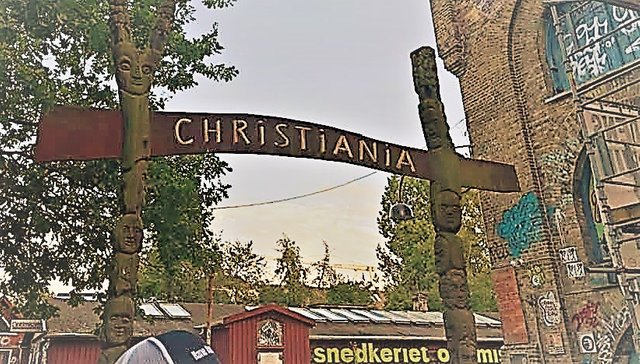 During our visit a few weeks ago I got that funky t-shirt up above and was able to score a few hash joints on what's called Pusher Street. Then Stephanie and I strolled around taking in the magical environment and some of the cool things happening in Christiania:

Click the video above for a sample of some pretty cool music
being performed by a busker in Christiania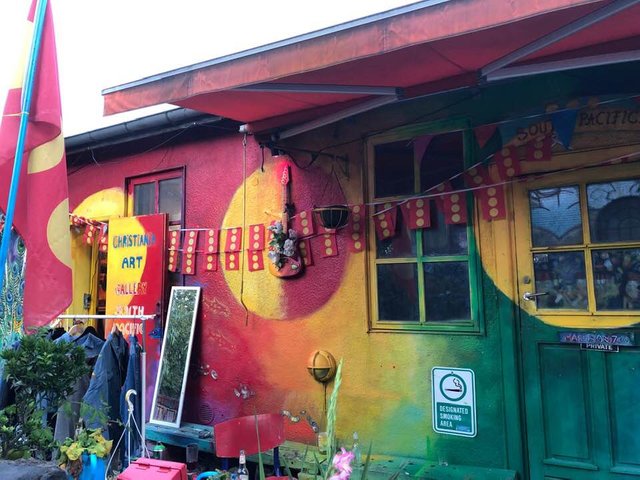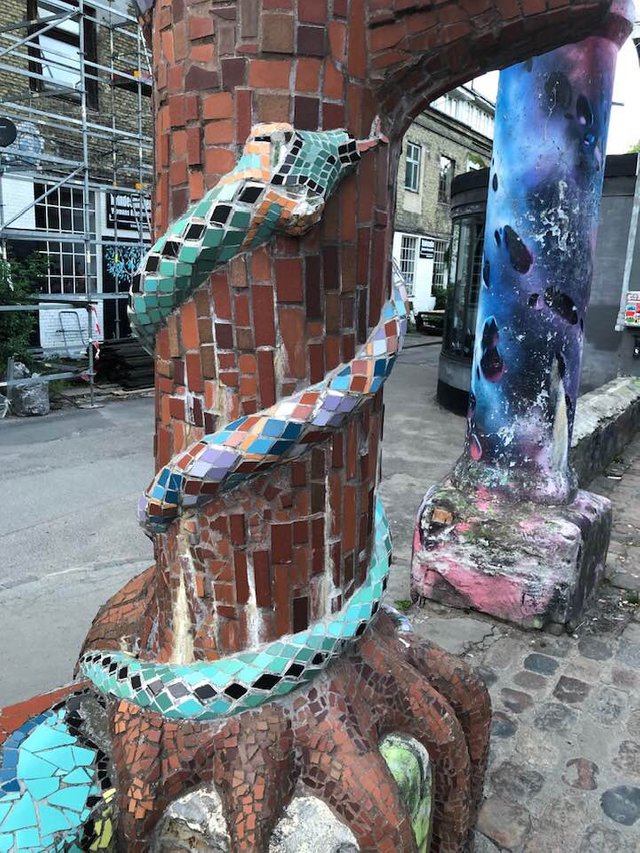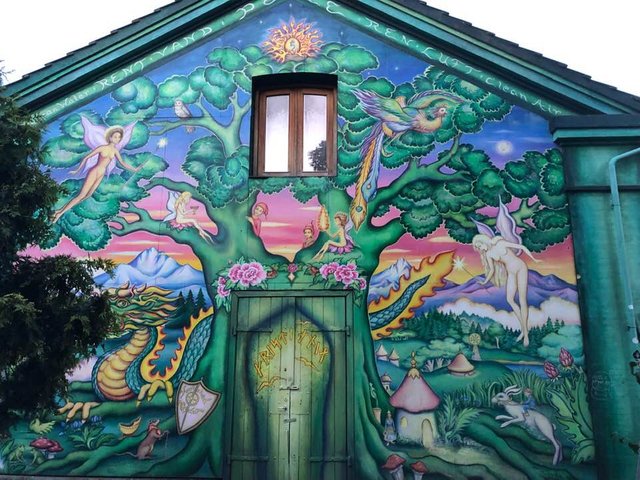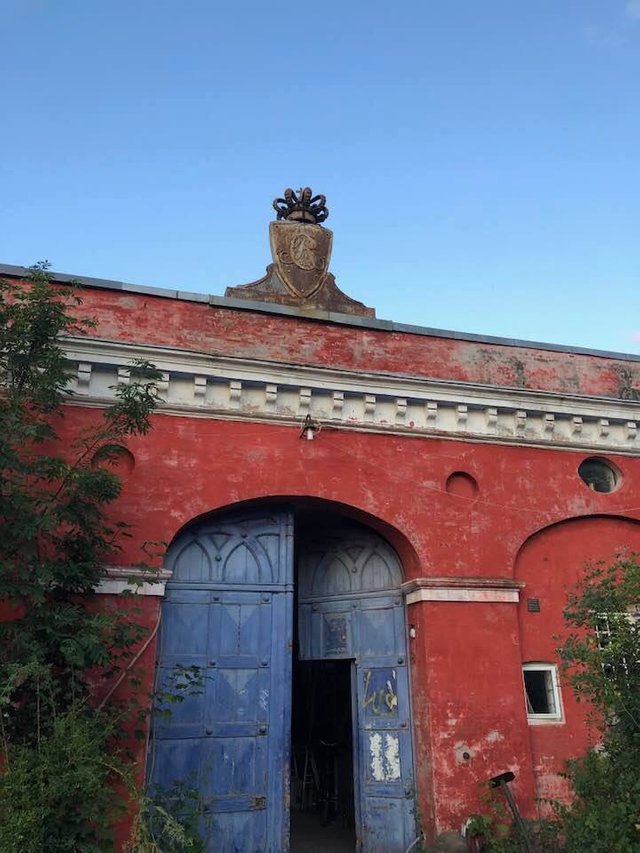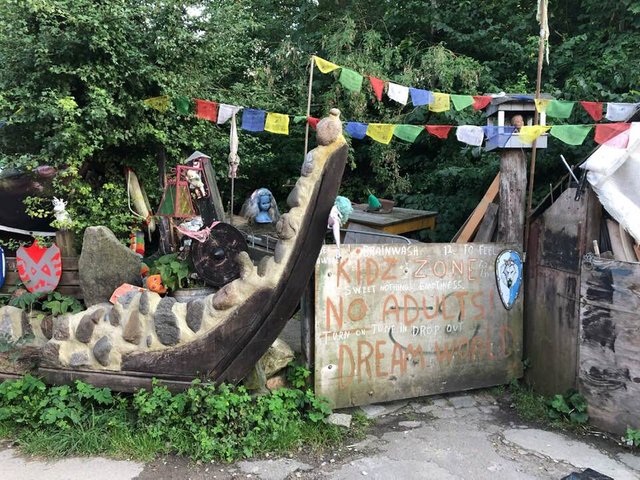 At this point, @geke wants to butt in and mention that Christiania is nothing if not a market and a free market, at that. For this reason, she found the whole place fascinating and instructive. With no interference from the Danish or EU governments, things are bought, sold, and traded in this area without price controls, demand stimulation, government regulations, or taxation (theft). In fact, Christiania is more of a free market than has ever existed in the US.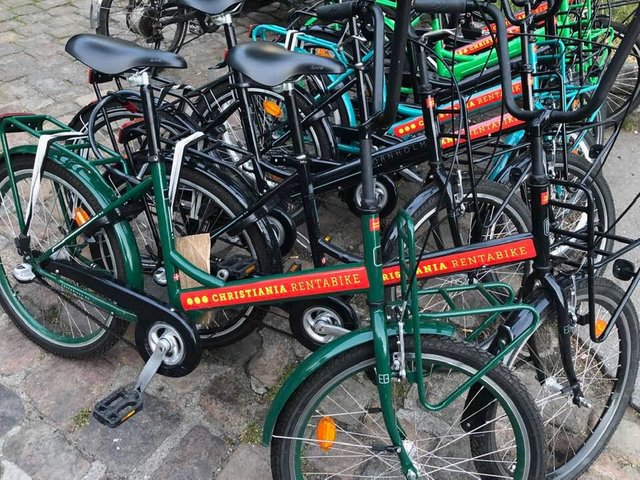 And if you think a bunch of Danish hippies living in a free commune aren't free market capitalists, you're very much mistaken. Remember: capitalism is simply an economy based on capital (savings). Capitalism has practically nothing to do with government-enabled monopolies or those government-protected top-heavy, bloated megacorporations.
The people of Christiania are capitalists in every sense of that term's ignored definition (a supplier who produces goods and services using saved resources or capital) and they are also extremely entrepreneurial (something easier to be and do without government interference). Christiania is home to businesses not only involving weed, pipes, glass, food, art, beer, t-shirts, jewelry, tie-dye, tapestries, and knitwear, but also Copenhagen's most popular form of transport: bicycles.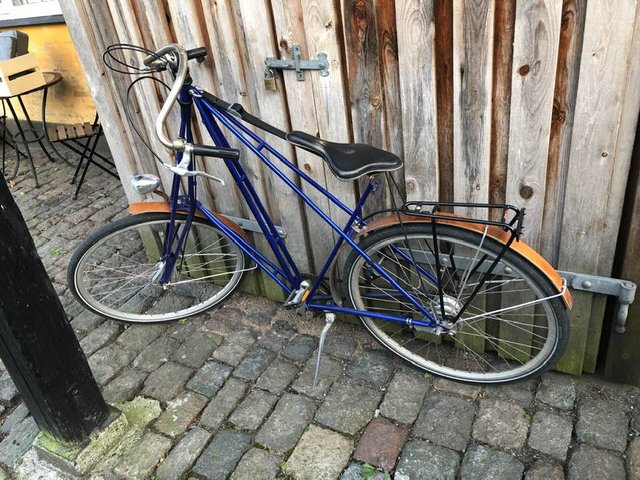 This gorgeous bicycle we saw parked next to one of the old military buildings is an innovative design created by some of the people living here in Christiania who came together to start a business. Unfortunately, we didn't photograph the bike store, itself (again @geke being not on the ball) but you can visit their website here: Christiania Cykler.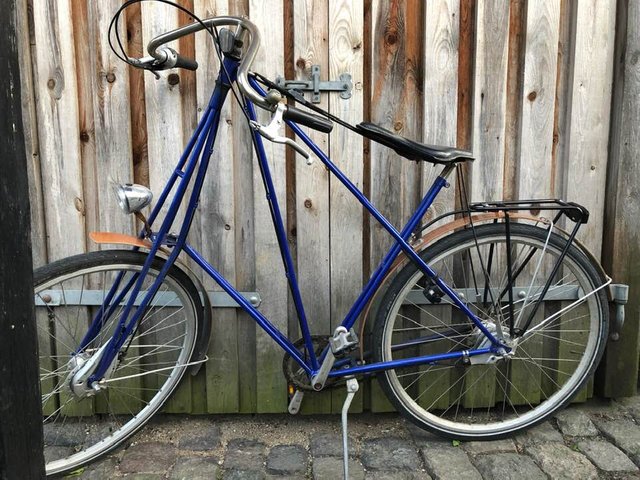 And although it's located in a hippie commune, this company doesn't give these bikes away for free; it sells them in a mutually beneficial voluntary exchange where each party receives value: the consumer receives value in the form of the bike and the seller receives value in the form of whatever currency they agree to use.
Christiania is a beautiful example of a self-organizing and self-regulating "complex adaptive system" and though there aren't any governmental laws in effect, there are rules that are observed - rules determined by the members of Christiania and not by centralized fiat. Those rules include the one @hanedane mentioned about harder drugs being prohibited there. Which reminds us, again, that true anarchy isn't necessarily lawless -- it's self regulated with laws derived from lateral consensus rather than a centralized government.
This very idea is punctuated on the sign you see as you leave Christiania:



Thanks for reading!
All images above are original photographs
taken by @hanedane or @geke.
Please follow @hanedane
for more on the art & craft of footbag.