Steemalive PH city weekly report | Portharcourt City Hosts there first Meetup | by @prolee
Hello guys welcome to the Portharcourt City weekly report once again, I still remain @prolee, the Portharcourt City Coordinator.
---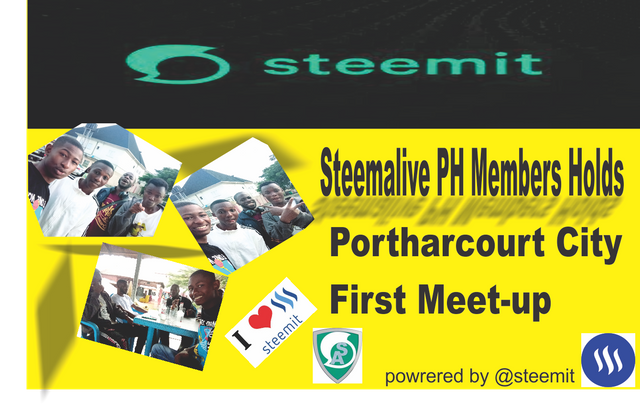 Our First Meetup
---
What we've been planning has actually arrived and has passed but we're hoping for another😊😊. And what's that...??...😳😳. Portharcourt City has finally launched there first Meetup since coming together as one family...👏👏😁😻.
I'll be driving us on all that was discussing there that day. Let's start here....
---
Rooms where given for sharing experience
---
Here we discussed how we've been running our steemit activities in our various destination's, the challenges we've been getting and the positivities too. We shared how we've been coping up with posting and how we see things going (negative or positive).
- Arrangements : we met at a Hotel, called Osmosis but we used the bar settings. We started the Meetup by 4:00 p.m. that day. We were totally four in number, excluding the graphics designer we invited to edit some of the designs we need.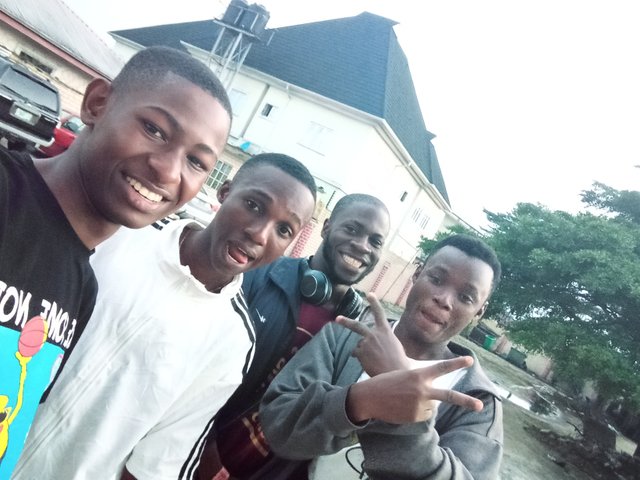 Portharcourt City members
---
- Refreshments : we spent the total of #2000 (about 6 steem, as at that time) in buying drinks to wet the mouth.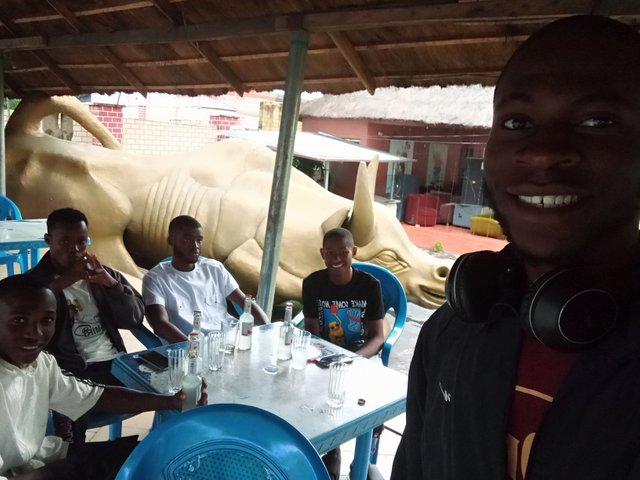 When we were discussing about our experiences
- Complain : I gave everyone of us present there that day to give their complains or what they think is happening that they don't like.
In fact all of them concentrated more on lack of vote. They said it will be hard to continue posting without getting any upvote. They demanded assistance from me, to help atleast in the curation of their post.
- Amendment : after hearing the complains they gat to offer, I promised them that I will assist to the level I can. I demanded for there consistency in posting and promised them that anybody I find with seriousness and hardwork in Posting, I'll take that person's post and give to the admin of the community, @focusnow, for support, giving him reasons why that person needs to be curated.
---
Next plan
---
Of course we're planning big. This first Meetup we did was just to make an arrangement against the main one coming up. This other one coming up, will involve many persons, both new and old because it'll be a seminar, we'll invite new persons and teach them about steemit. Infact the founder of @steemalive might be present there that day.
---
Arrangements concerning the Seminar
---
Expenses
---
| Needs | Price in Naira | Equivalent amount in steem |
| --- | --- | --- |
| • Three big Banners | #6,000 | Approximately 16 steem. |
| • Fifty pieces of flyers | #3,000 | Approximately 8 steem. |
| • One dozen of Polo(12 pieces) with the steemit and steemalive designs on it | #45,000 | Approximately 124 steem. |
| • Rental of Center/Venue | not higher than #15,000 | approximately 41 steem. |
| • Refreshments for first 20 new persons and the members too | #10,000 | Approximately 28 steem. |
| • Assistance to the newcomers invited | #6,000 | Approximately 16 steem. |
| • Total | #85,000 | 233 steem. |
---
Venue/Time
---
Pending for now, we've not find our target place for the event.
---
Please note : The above calculation/expenses is not stable because the coin might fluctuate, perhaps in our favour or against us. The prices too can change, it matters who is offering us the service, different persons with their different prices.
---
We are planning in gathering people from difference race and religion to teach them about how to blog and earn. Some have been hearing about this platform but don't know how it works, so that day we'll be breaking things down. We're planning to use a projector in teaching that day, let's see how fast we can go about the financial contributions first.
---
Members present in the meetup
---
---
To compensate you for attending, I'll be setting this post as 5% beneficiary to you all.
---
List of members in Portharcourt
---
---
| Total Number Of Members | 21 |
| --- | --- |
| Total number of active members | 14 |
| Total number of Inactive members | 7 |
| Total number of newbies | nil |
| Total number of verified members | 10 |
| Total number of unverified members | 11 |
---
For the members that have not been verified, please endeavor to make your Verification post obeying all the rules demanded by the community. Click here to be redirected to the verification post by the community.
Also we are still making arrangements on our forthcoming Seminar and Webinar. Thanks for going through, this is also a medium for those who want to join this family. Feel free to chat this number up, 09134650788. I will also say to my members reading this report, please, try to recruit more persons into steemit. Steemit is a place for business minded people.... it's a place to earn for every activity you're doing. Come lets join hands together and earn together.
---
Regards to my humble self, @prolee in collaboration with @bright-obias. Not forgetting our leader also, @focusnow.
We'll be grateful if we get support from the following steemit promoters;
Cc:
@promo-steem
@stephenkendal
@cryptokannon
@xeldal
@arie.steem
@nattybongo
@cryptokraze
@steem.history
@kiwi-crypto
@steemchiller
@pennsif
@hingsten
@steemalive
@sct.krwp
@successgr
@steemitblog
@whitestallion