New Silver Economy Opportunity - Investors / Miners Wanted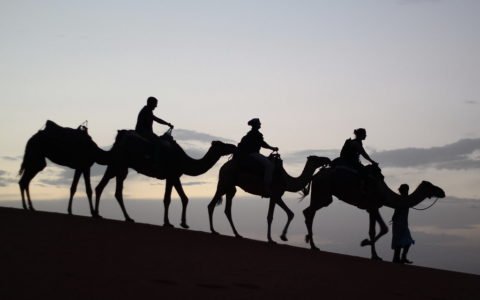 Photo Source Credit:
There is a rumor that there A Mass Caravans Migration to Neoxian City.
A person was asking "Why is that?"
"Opportunity" Another one said
The first person said There are NEOXAG Silver mines there just open up.
The last person said "I am heading that way too with my caravan."
You see there are opportunity for everyone to mine these rare Silver, which call NEOXAG
The Neoxian City is getting pack with Mass Migration.
Opportunity for Everyone, not like other City with so many Strict Rules.
Apparently, New Citizens are wanted there to keep the Economics of the Neoxian City.
Believe me even The City Mayor will eventually can't keep up with this Mass Migration.
I guess will be first in first serve bases.
Are you going to move there? Rare Silver Mines there. Folk first in first serve. Oh!, Hallelujah
As days goes by many are moving there. To find out more pay the Neoxian City Discord a visit.
There are Miners and New Investors there too. Why don't you pay a visit there? Go there and find it out for yourself.
---
Disclaimer: Source is only A Rumor. Before Any New Investment please Due Diligence yourself before invest in any kind of investment.
---
Ada desas-desus bahwa ada Migrasi Massa Kafilah ke Kota Neoxian.
Seseorang bertanya, "Mengapa begitu?"
"Peluang," katakan yang lain
Orang pertama berkata Ada tambang NEOXAG Perak di sana baru saja terbuka.
Orang terakhir berkata, "Saya juga menuju ke sana dengan karavan saya."
Anda lihat ada peluang bagi semua orang untuk menambang Perak langka ini, yang menyebut NEOXAG
Kota Neoxian mendapatkan paket dengan Migrasi Massal.
Peluang untuk Semua Orang, tidak seperti Kota lain dengan begitu banyak Aturan Ketat.
Rupanya, Warga Baru dicari di sana untuk menjaga Ekonomi Kota Neoxian.
Percayalah, bahkan Walikota pada akhirnya tidak akan bisa mengikuti Migrasi Massal ini.
Saya kira akan menjadi yang pertama di pangkalan servis pertama.
Apakah kamu akan pindah ke sana? Tambang Perak Langka di sana. Rakyat pertama melayani pertama. Oh! Haleluya
Seiring berjalannya waktu, banyak orang yang pindah ke sana. Untuk mengetahui lebih lanjut, kunjungi Neoxian City Discord
Ada Penambang dan Investor Baru di sana juga. Mengapa kamu tidak berkunjung ke sana? Pergi ke sana dan temukan sendiri.
---
Penafian: Sumber hanya Rumor. Sebelum Setiap Investasi Baru, Mohon Uji Kelayakan sendiri sebelum berinvestasi dalam segala jenis investasi.
---
Content Copyright Reserved by @bullionstackers
Whalepower Hub Discord




#whalepower A Project for Better Community
All #whalepower Contents / Images are Copy-Rights
If you want to use any part of this, please ask for permission first.
#whalepower HUB Help-Desk Discordapp @bullionstackers
BEE SMART HUB Discordapp @bullionstackers
If you Like it, Love It