The Big Three
The Big Three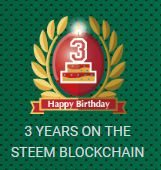 Celebrating My Third Years in Steemit Platform in a few days time.
What have been achieve?
Upgraded Whalepower Tag
What We have been improving in Steemit & Discord platform.
Whalepower Tag users do get Ours Support. There also a New Project intact with the #whalepower tag ; The Bee Smart Project for user who want to move fast but not necessary with #whalepower Tag.
We have upgrade a special screen/feed for members.
Two City Hub
Whalepower Discord HUB
Bee Smart Discord HUB ( Building Rewards Pool for Members )
Some Idea
As with so many Tokens...
Here, Some Ideas for All Tokens Users to have in their Post at their Footer Banner as there are so many Tokens nowadays.
So many types of Tags. What do one have and use? I suggest all user to make their own Footer Banner and get theirs own supporters.
Get their Ranking Level and what Tokens they have Power with
I am sure by now everyone knows NEOXAG Token. @bullionstackers do have some Stake.
Some of this NEOXAG tokens , I have been given away. Why? I believe in give away so many can have NEOXAG Voting Power
Need to know more about NEOXAG Token one can visit Neoxian City.
Neoxian City and Neoxian do have their own Discord.
If you would like to know about Bee Smart please inquires with me.
---
Tiga Tahun
Merayakan Tahun Ketiga Saya di Platform Steemit didalam beberapa hari lagi.
Tingkatan Whalepower Tag
Apa yang Kita imprevasi di Steemit dan Discord platfomasi
Pengguna Tag Whalepower mendapatkan dukungan Kita. Ada juga Proyek Baru yang masih untuk dengan tag #whalepower; Bee Smart Project untuk pengguna yang ingin bergerak cepat tetapi tidak perlu dengan Tag #whalepower. Kita telah memutakhirkan layar / umpan khusus untuk anggota sekalian.
Dua Kota Hub
Whalepower Hub Discord
Bee Smart Hub Discord ( Pembinaan Kolam Tinkatan untuk Anggota )
Idea Sepenuhnya
Seperti begitu banyak Token ...
Di sini, Beberapa Ide untuk Semua Pengguna Token ada di Posting mereka di spanduk bawah mereka karena ada begitu banyak Token saat ini.
Begitu banyak jenis Tag dan Token. Apa yang dimiliki dan digunakan oleh seseorang? Saya menyarankan semua pengguna untuk membuat spanduk mereka sendiri dan mendapatkan pendukung mereka sendiri.
Dapatkan Level Peringkat mereka dan token apa yang mereka gunakan.
Saya yakin sekarang semua orang tahu NEOXAG Token. @bullionstackers punya beberapa Pasak.
Beberapa NEOXAG ini, saya telah berikan. Mengapa? Saya percaya memberi begitu banyak dapat memiliki Kekuatan Memilih NEOXAG Token
Perlu tahu lebih banyak tentang NEOXAG Token orang dapat mengunjungi Kota Neoxian.
Kota Neoxian dan Neoxian memang memiliki Perselisihan mereka sendiri.
Jika Anda ingin tahu tentang Bee Smart Proyet, Silakan tanyakan saya.
---

---
All Content Copyright Reserved by @bullionstackers
Whalepower Hub Discord




#whalepower A Project for Better Community
All #whalepower Contents / Images are Copy-Rights
If you want to use any part of this, please ask for permission first.
#whalepower HUB Help-Desk Discordapp @bullionstackers
BEE SMART HUB Discordapp @bullionstackers
If you Like it, Love It