The Whaleshares Blue Report Show #8 With @FreedomExists - 7PM EST and 11PM UTC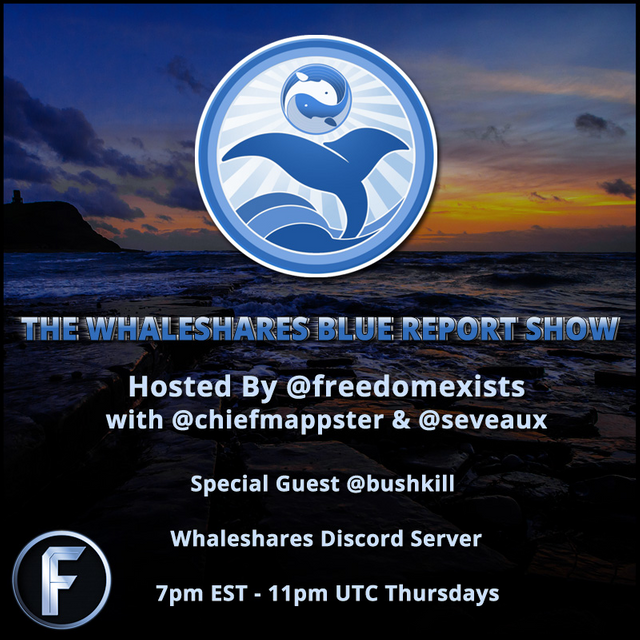 Good evening to all you amazing people out there I hope you have had a great day so far. We have another great show coming up for you guys this evening and this post will tell you all about it. I just want to thank everyone who turned up to last week's show, it was another great evening. I want to also thank my main contributors @seveaux and @chiefmappster who did an amazing job as usual. For everyone who attends the show you will be given 3 EasyDex tokens.

The Whaleshares Blue Report is a show built around the Whaleshares community. It has a number of different segments and it's a show that aims to give you guys lots of important, engaging and entertaining things regarding Whaleshares and crypto. As we approach the launch of the new Whaleshares platform we hope the show will serve as a useful vehicle in onboarding people to the new platform. Everyone who attends the show will be given 3 EasyDex tokens.

We'll start the show as usual with a Whaleshares news round up with @thewalrus. He'll tell us what's been going on in the Whaleshares community, and give us an update on all the most important Whaleshares and EasyDex developments of the week, giving you guys a full update on what you need to know and who you can speak to about anything Whaleshares.

We'll of course have the amazing Coffee 'n Crypto session with the crypto maestro @chiefmappster. On this episode of Coffee 'N Crypto he'll discuss the transition from test-net to live-net. Several blockchain projects have recently made the transition from test-nets of their particular project and into the live working models.
Whaleshares is going through a similar transition right now. What can we learn from these blockchains like EOS and TRON that have made the switch? How can we best transition the Whaleshares platform successfully?

Coming up is also another music session with @seveaux. This is what he says he'll be doing.

'We talk today with 2 unique beings in music production. Father earth, just joined recently on steemit and is the second half or the producing genius of ''second womb'' together with dookiebrownflow. an artist with highly skills who's been active for quite a while and has some incredible high quality beats on his name. The other guest we talk about is all about hardware and unique synths that are self ensemble like it was needed to do back in the day. The sounds of one-media are like no other, and that is because these almost alien sounding noises that can be emulating stuff that who wouldn't know thinks its recorded with everyday objects. A very trip and unique journey into a different part of musicproduction than the well known beats and arrangements every radio song has kind of. This is music production for geeks who love hardware, and want to be rare and have music that is not for the masses but for the experience in a different way. One-media tells us all about it.'

In Conversation With....@Bushkill
I am delighted to have on the show a well known and very likeable chap named @bushkill, aka the Bee Man of Steemit! He may be a computer hardware developer by day but he says he is a beekeeper at heart. He sees the blockchain as the future and he wants to be part of it. A lot of people consider crypto/blockchain as a financial opportunity, while to him it is about keeping relevant. He says he dreads the day when he's too old to understand or be interested in current technology. Quite frankly you're never too old is what I say!

Community Curation - You're the Judge
I will of course have another Community Curation session, fondly termed the 'Cruel Curation' session! This is where I pick on a few innocent audience members, or victims, and ask them to present one of their posts. Last week @boyerobert, @thesteemhouse and @crystalpacheco30 found the courage to present their posts. As usual I will ask the rest of the audience to rate the presenter's post, this week asking you guys to give the post a mark out of 10. However, as I always say please remember judge unto others as you would wish to be judged yourself! The presenter who gets the highest scores wins 15 Beyondbits.