A GUIDE TO USE WHALESHARES - NEWBIE EDITION!!!
I frequently get messages on Discord from people who are asking about HOW TO USE WHALESHARES, CAN YOU PLEASE HELP ME?? and after spending an hour or so explaining and teaching how to use them only to have them message the next day with the same questions. I don't have an issue with helping people because I actually like helping them out but I can't help everyone all the time. That is why I've decided to make a guide on how to use Whaleshares, I called it the "Newbie Edition" as I will try to make it as simple as possible to avoid confusion. Now that that's sorted let's go!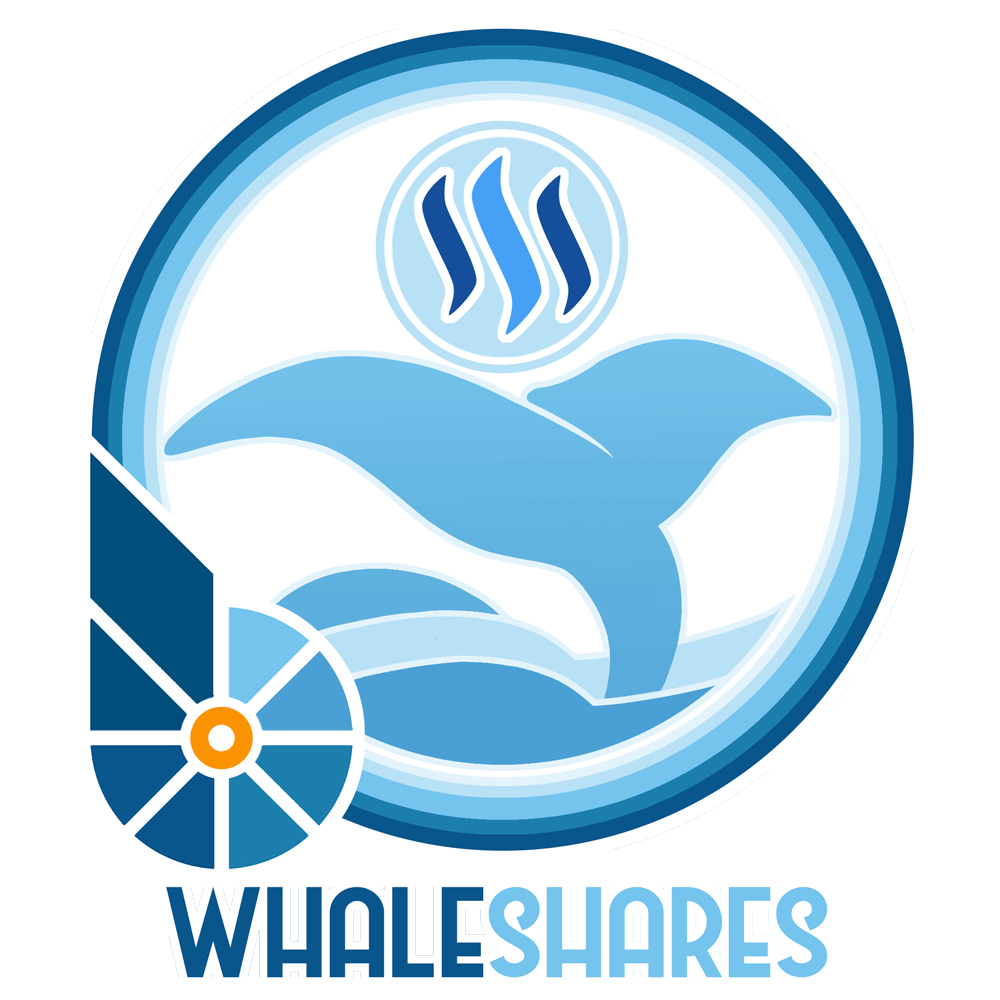 What you'll need!
An OpenLedger/Bitshares account. If you don't have one, you can make one here .
A post with 12hrs left BEFORE payout. I recommend using posts that are 5 days old and below just to be sure.
Some Bitshares for fees.
Whaleshares (Duh!)
Once you've gotten all the requirements we can start sending Whaleshares!
Step One
Go to the Whaleshares website(http://whaleshares.net/) and paste your POST LINK in the "Enter URL" field and click "Go".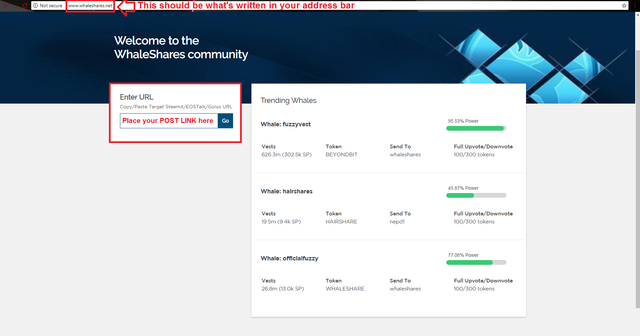 When you've done that you should either get one of the three responses.
1. Found Post!
You should see something like this if it's successful.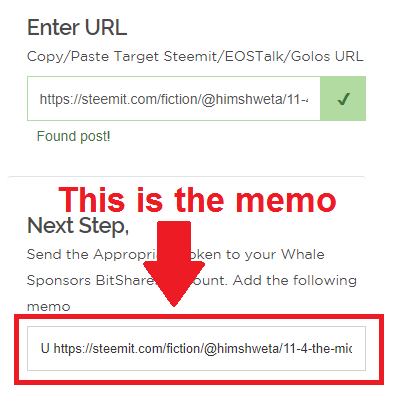 If you get the same result as the picture above, copy the memo and move on to Step Two
2. No Post Found!
If you see something like the picture below then you should double check the link you've provided as you may have added or deleted a character from the original link.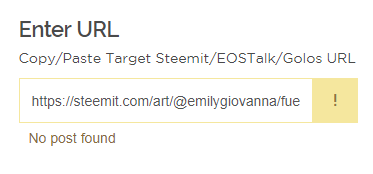 A better example would be this:
Original Link:
https://steemit.com/art/@jepu/some-relevant-post
Wrong Link:
https://steemit.com/art/@jepu/some-relevant-post2
As you can see from the original link there's an extra character in the wrong link which would cause the "No Post Found" reply.
3. URL Not Valid!
Getting the "URL Not Valid" response can be caused by not inputting the correct url. As of now the website only accepts Steemit/EOSTalk and Golos URL's.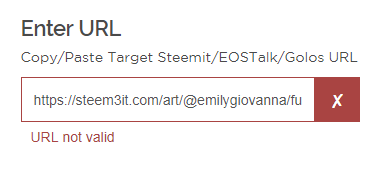 To fix this make sure you've pasted the correct url from any of the accepted URL's
---
Here's a GIF of a successful step one!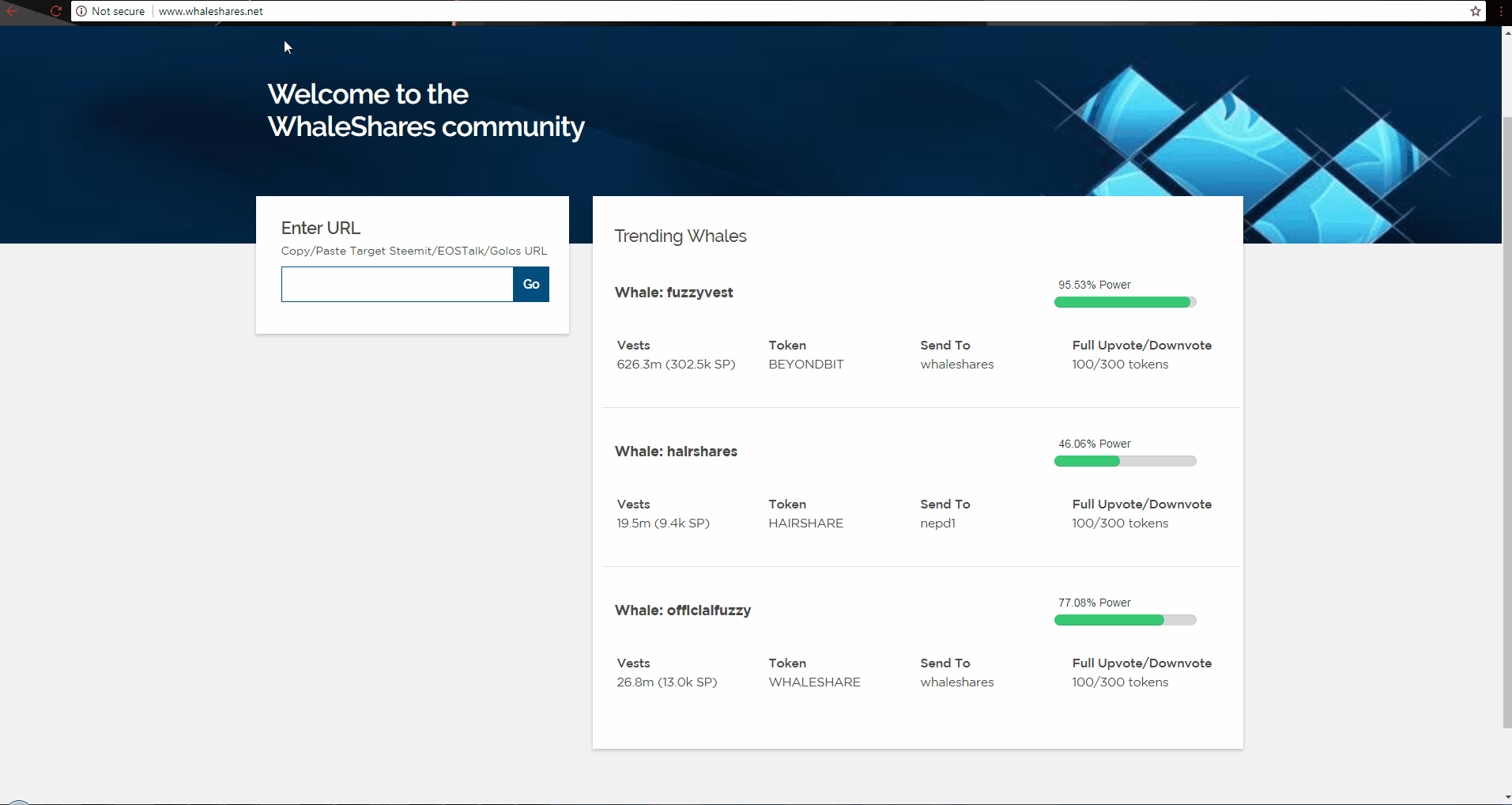 WARNING: Make sure you are only using a URL that has TWELVE (12) HOURS LEFT BEFORE PAYOUT as the website still accepts posts that are older but the votes won't reflect, which may cause you to lose those Whaleshares!
---
Step Two
With memo in hand, open up OpenLedger/Bitshares and login. If you don't have an OpenLedger/Bitshares account you can make one here. You should see something like the picture below.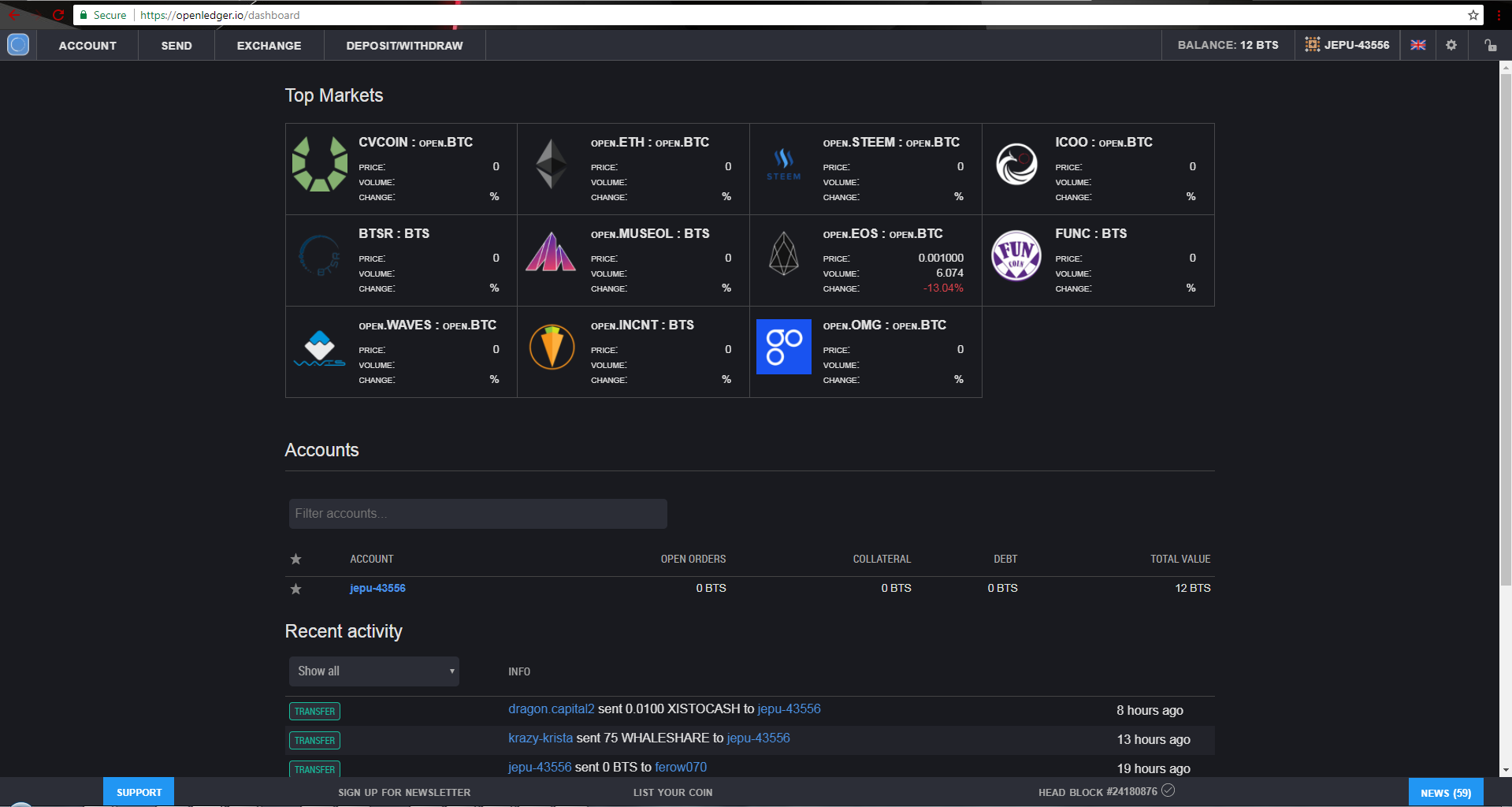 Once you've been able to successfully login click on SEND in the navigation bar above which should redirect you to the transfer page.


Next, in the send page direct you attention to the left side of the screen. This is where you need to fill up the form to send your whaleshares and get that upvote!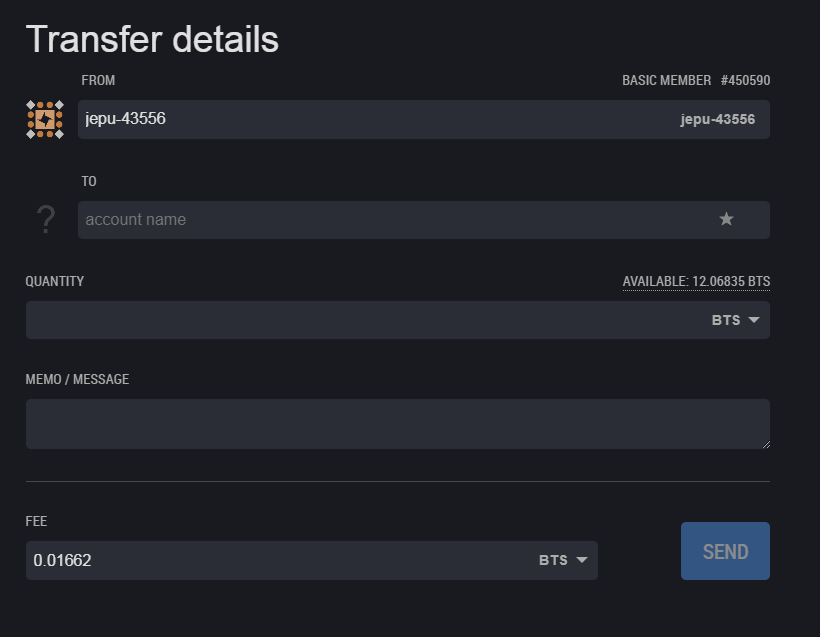 Now we will disect the Transfer form to easily understand what goes in each part. This is the most crucial part of the guide as most newbies tend to make mistakes here.
TO



Here is where you place the account name of Whaleshares to whom you will be sending your whaleshares to. The account is whaleshares with an id of #179419. Do not I repeat DO NOT send it to whaleshare with an id of #358556 as this is an impostor. There is no other account used by Whaleshares other than whaleshares with an s.

QUANTITY



This is where you will be placing the amount of Whaleshares you want to use on your post. 1 Whaleshares is equivalent to 1% of @officialfuzzy's power, the owner and creator of Whaleshares. So 100 Whaleshares would be 100%. To check his power you can check it on steemnow. Once you've decided how many Whaleshares you want to send you can move on to the next one.

Memo/Message



Remember that MEMO from Step One? This is where you have to put it. Just copy it from Whaleshares website and paste it here.

Fee



The last field in the transfer form is the Fee, here is where you pay a small amount to the exchange for transferring your money to the Whaleshares account. Use Bitshares and ONLY Bitshares to pay your fees as this is what is accepted by the exchange, you could use 1 Whaleshares but that would cost more, so I highly recommend using Bitshares.
---
Once you've done all of the steps correctly you should end up with something like this.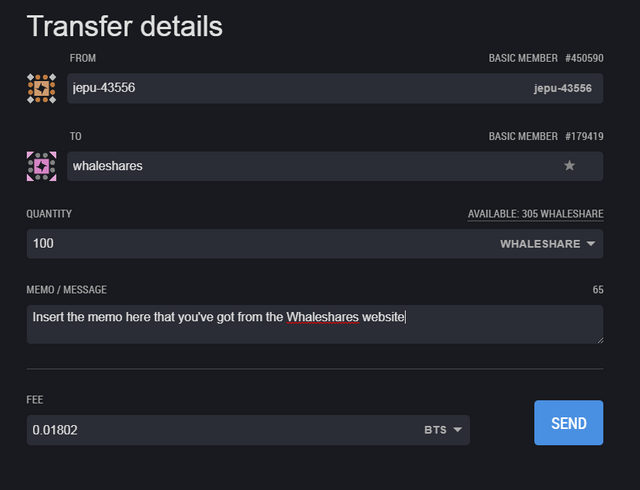 After that all you need to do is click on SEND and you should be done! Check your post and you should get an upvote from @officialfuzzy!
---
Here's a gif of successfully sending Whaleshares to the Whaleshares account.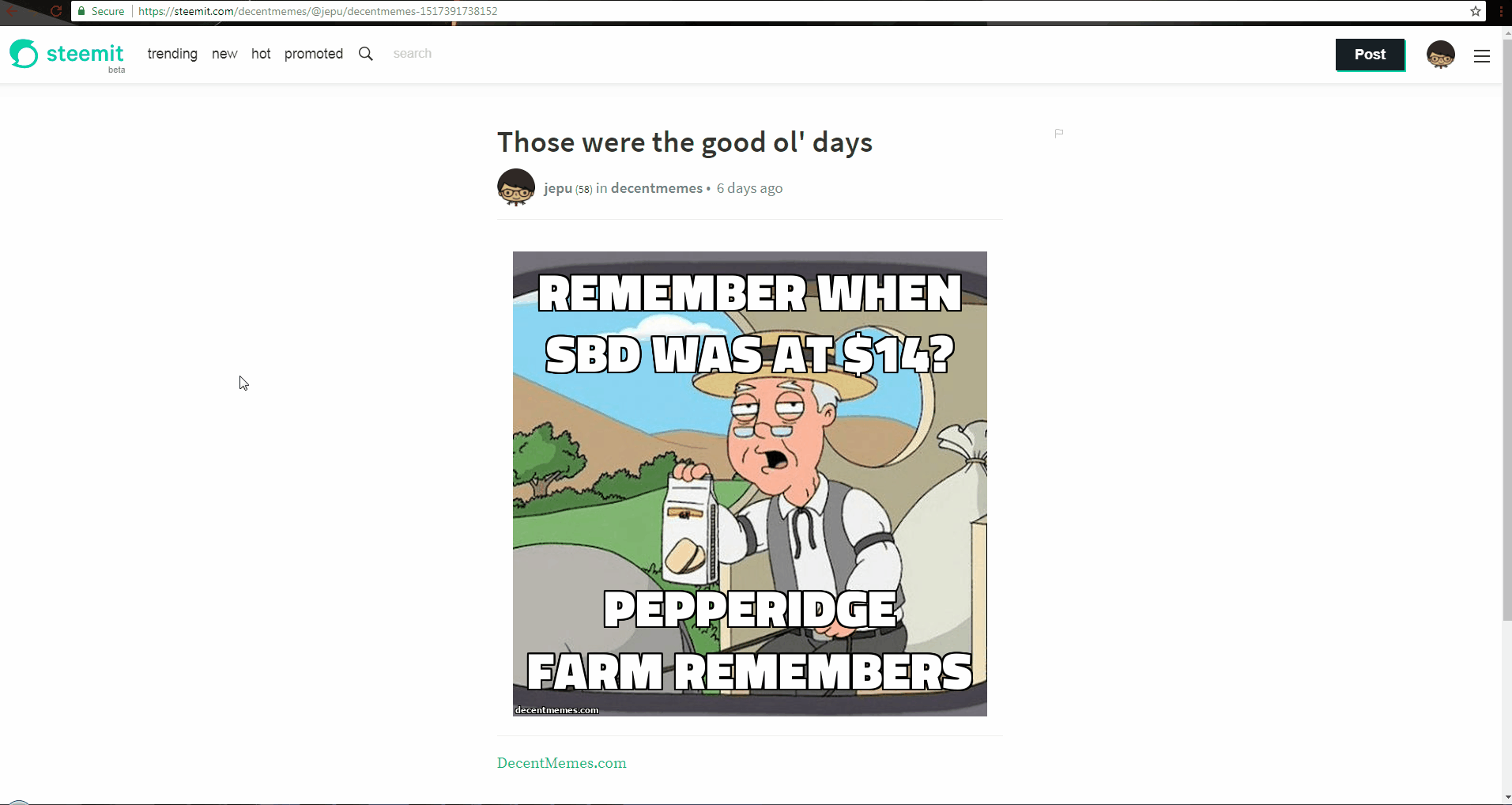 ---
Last Note: To see Images/Gif's bigger and better hover your mouse over the image right click and choose "Open Image in New Tab".
If you still have questions regarding Whaleshares, you can find me at the Whaleshares Discord Server: https://discord.gg/NTKXJhK. Come join me there :)
Hope you've learned something today! If you did, consider giving me an upvote or resteeming the post so it'd reach more people. I'd appreciate it!
---
As always, Thanks for reading and see you guys in the next one!