Wide Open Daily: Day 69

Over the weekend we went camping with @mikeyatez and after all the kids went to sleep we talked mike into going down to the river after dark and take some pictures with him shining a flashlight on the bluffs!

This is the first time i've every taken the ISO on my 5Diii almost all the way up!!!! Yeah...almost all the way up! This shot was taken at ISO 20,000 for 30 seconds with my 17-40 f/4L wide open at f/4. The noise is just almost too much for me to tolerate but they are what they are!

Maybe someday the other photo's I took will grow on me enough to share but for now all you get is one... ;)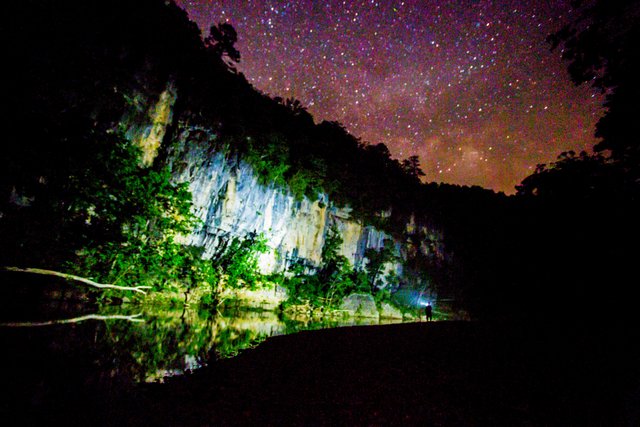 For those of you that do night and astro photography, show me the way!!! I need your tips and tricks for editing such things!!!!!
What is Wide Open Daily you ask?
Well..... I've grown tired of trying to come up with something new for the weekly #colorchallenge and many of the other photography prompts I have used here on Steemit over the last year and decided it's time to just do my own thing!
Sooooo....I'm going to challenge myself to take at least one new photo everyday with my Sigma Art 50mm wide open at f/1.4!! I freeking love this lens and the super narrow depth of field it creates when used wide open!
Thanks for checkin' it out!!