Draconian Conditions Layed Out By Ecuador For Restoring Julian Assange's Freedoms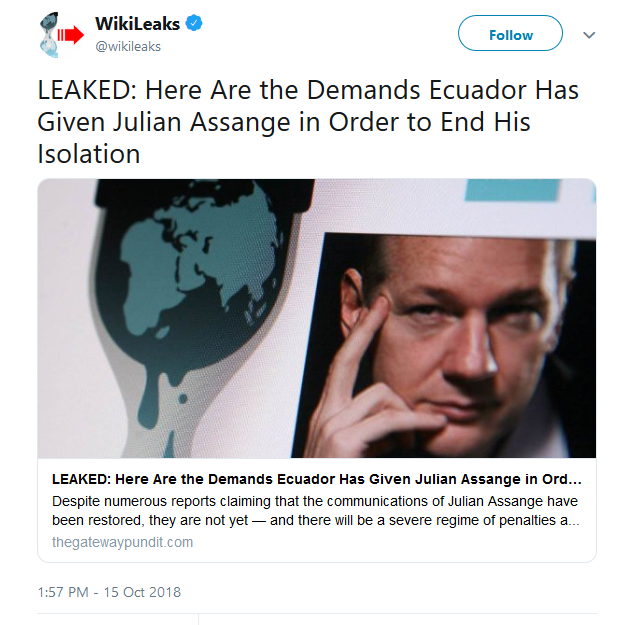 Wikileaks on Twitter
Word that Ecuador was set to lift the severe isolation its government had placed on Julian Assange at the embassy in London began to circulate on social media on Sunday.

Newly appointed Wikileaks editor-in-chief, Kristinn Hrafnsson, was encouraged by the development but cautioned there remain deep concerns that Assange's freedom of speech was still severely restricted.

It is positive that through UN intervention Ecuador has partly ended the isolation of Mr. Assange although it is of grave concern that his freedom to express his opinions is still limited.

The Guardian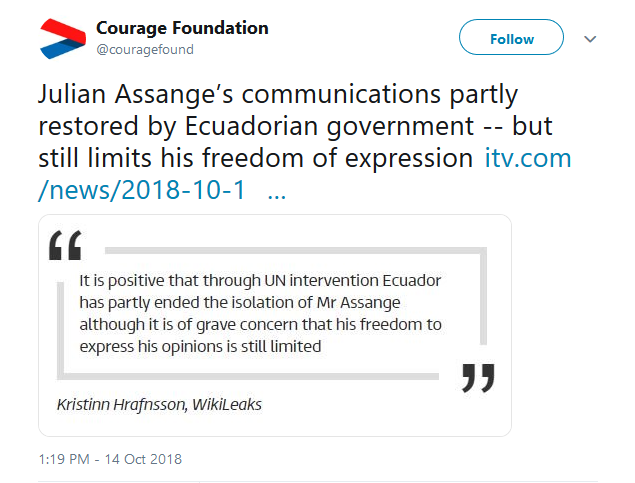 Severe limitations on Assange's freedom to communicate were imposed on the Wikileaks founder shortly following the election of Lenin Moreno as the new president of Ecuador earlier this year. In March 2018, Assange was cut off from the internet as were all communications with the outside world including visitors to the Ecuadorian Embassy. With the exception of Wikileaks lawyers, Assange has been in complete isolation from the outside world for nearly 7 months - in total violation of his human rights.

Prior to being stripped of his right to free speech, the United Nations ruled that Julian Assange is being "arbitrarily detained" at the embassy surrounded by 24hr British security and surveillance.

Supporters who have been tirelessly fighting to have Julian's human rights reinstated have been cautious not to celebrate a victory too soon. Reaction from the #unity4j movement spearheaded by @suzi3d and by a massive collective of activists from around the world have been holding monthly online vigils fighting a relentless campaign to restore Julian's human rights has also been circumspect, and for good reason.

Reporter Cassandra Fairbanks has just leaked excerpts of a nine-page document issued (in Spanish) by the Ecuadorian government that lays out the conditions that would partially restore Assange's communications.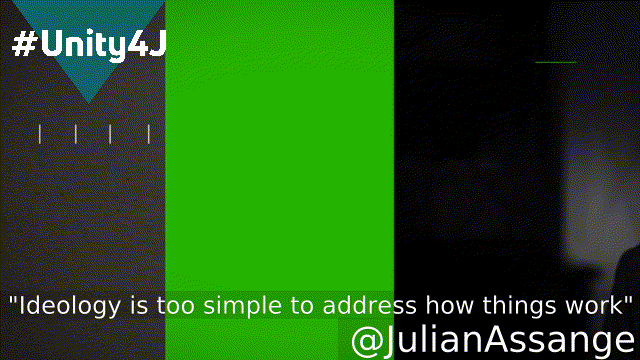 ---
Draconian Conditions to End Isolation

Any notions proclaiming that Assange's rights have been restored can only be considered gross distortions of reality. The conditions, leaked by Fairbanks and the Gateway Pundit, validate the suspicions by Assange's supporters that his right to free expression would remain severely limited.

At the time of writing, it's unclear if Julian Assange has agreed to these conditions or rejected them.

Here's a summary of the conditions in bullet form.

Visitors
Visitors (with the exception of Ecuadorian officials) will need to request prior authorization in writing addressed to the Chief of the Embassy of Ecuador.
Visitors will need to include their full names, nationality, copies of identification, reason for the visit, their profession and workplace, email accounts and links to their social media,...

AND

Provide SERIAL NUMBERS for any phones or tablets they wish to keep with them during the visit.
The IMEI of visitor's cellphone chips is also required for their intelligence collection operation.
This must be sent through email, a return email obtained, and that must be printed and brought to the appointment.

Certain exceptions for frequent visitors - letter of identification which they will only have to renew every three months.

Should the embassy refuse to allow someone access, THEY WILL NOT BE PROVIDING ANY REASON WHY.
Gov of Ecuador - reserves the right to decline or cancel any authorization at any time, even for those who have been previously authorized as a frequent visitor.

The embassy will be keeping a record of all visits made to Assange and the data that they provide. This information will be sent to the Ecuadorian Ministry of Foreign Affairs and other UNAMED AGENCIES.

Mr. Assange is limited to have up to three visitors at once, unless cleared by the head of the embassy.

People who violate the rules of their visits or display a lack of "appropriate behavior" during the visit will be reported to British authorities.


Communications
Mr. Assange will be liable for any costs for WiFi
Mr. Assange may only use his own tablets, phones or computers except in exceptional cases and only with written permission from Ecuador.
ASSANGE MUST PROVIDE THE BRAND NAME, MODEL NUMBER, AND SERIAL NUMBER FOR ANY DEVICES HE HAS AT THE EMBASSY.
Ecuador shall not be liable for the contents of his communications, statements, documents or messages on social media
While "exercising his right of communication and of freedom of expression," Mr. Assange is prohibited from activities that could be considered political or interfering in the affairs of other nations or that may damage the relationship between Ecuador and other states.



DISOBEYING THIS RULE CAN LEAD TO TERMINATION OF ASYLUM OR PLACING HIM BACK INTO ISOLATION




Medical

Mr. Assange must submit to the quarterly evaluations with medical specialists at his own expense.

The results of any examinations will be kept private.

"In case of a medical emergency or at the express request of Mr. Assange, the Head of the Mission will authorize your transfer, as soon as possible, to receive care from physicians outside the Embassy"



(Emphasis added by @v4vapid)

END OF SUMMARY


Leaked Document in Spanish via @krnel


These are harsh conditions to be sure.

Considering Julian's health is in poor condition and in order to seek medical treatment he may need to consider this rotten deal.

As a supporter of Julian Assange and as a participant in the #unity4J movement, I think that this 'agreement' reads like a trap. The purpose of which is to give the appearance of freedom but ultimately the Ecuadorian Government is laying the groundwork for Assange to violate these ridiculously stringent conditions. They can and will use any violation of this agreement to revoke his asylum and remove him from the embassy.












Follow @unity4j on Steemit

---