New Page: Showing the Latest Registration on Steem Blockchain
I have created a page that shows the latest registration (new accounts) on steem blockchain. The data will be updated every 5 minutes. It will show all new accounts in the last 7 days on the steem blockchain. However, since I am starting to collect data now - so it will take 7 days before you see 7 day's data.
API will be made available for use soon.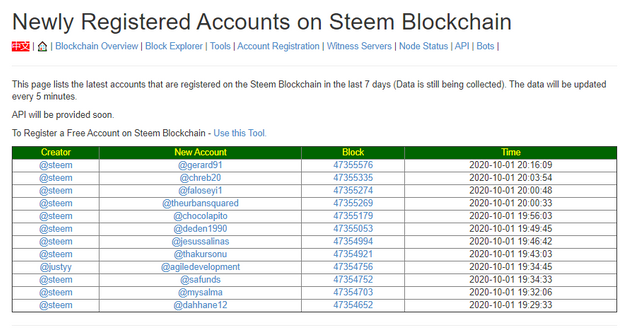 The Tool: https://steemyy.com/new_accounts.php
Chinese version: https://steemyy.com/steemit-tools/new_accounts.php
---
Follow me for topics of Algorithms, Blockchain and Cloud.
I am @justyy - a Steem Witness
https://steemyy.com
Steem On!~
Every little helps! I hope this helps!
---
If you like my work, please consider voting for me or Buy Me a Coffee, thanks!
https://steemit.com/~witnesses type in justyy and click VOTE





Alternatively, you could proxy to me if you are too lazy to vote!
Also: you can vote me at the tool I made: https://steemyy.com/witness-voting/?witness=justyy