PRIVEX ANNOUNCEMENT: LAUNCHING OUR WITNESS!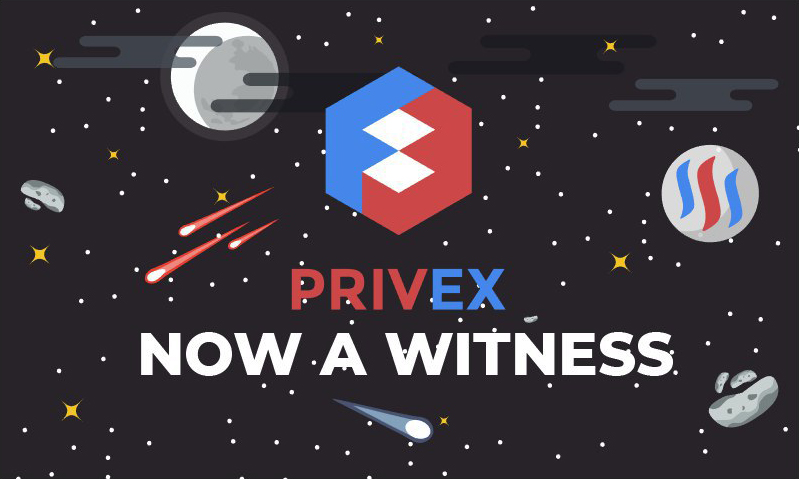 A few weeks ago, we silently launched our witness to make sure everything was running well. So far we've produced 10s of blocks without any issues :)
Who are you?
We are PRIVEX. A hosting company that cares about it's users, with a team of highly talented individuals behind it.
Some of our core members:
Chris (@someguy123) - CEO and Chairman of Privex Inc. / Rank 9 Witness / Over 10 years of technical experience / 6 years of cryptocurrency development experience
@malicered - Lead of Support and Design. Responsible for many of the amazing designs such as the one at the top of this post, and our logo.
Marc (@deathbypenguin) - User Experience Engineer - Responsible for things such as our beautiful panel which is coming soon.
Kale (@kryogenic) - CTO and DevOps - Over 10 years of technical experience. Responsible for the smooth operations of our fleet of servers, as well as the backend of our server provisioning systems.
Tyler - Technical support and operations management for some of our systems.
Why did you become a witness?
We're a company that is highly invested in Steem. We want to make Steem the best cryptocurrency to use. As many as 95% of our server orders are paid with STEEM or SBD, which are fee-free, and stable compared to some other cryptocurrencies.
However, with our low profit margins, it's hard to grow quickly. We haven't taken any external investment (other than from the founders themselves), and we currently have no plans to do so.
Becoming a witness allows us to create a new income source to help us fund new regions, high quality hardware, and our top notch support (many tickets are resolved within 5 minutes of being received! try that with any other crypto company).
What are you going to do with the money?
As many witnesses are aware, the requirements to run an RPC server for Steem is growing rapidly, having surpassed 256gb just a few weeks ago. We want to be the #1 company for Steem-related infrastructure, whether you run a website, a witness, or an RPC server, and the funds from our witness will help us to fill those goals.
We're planning on a small-scale roll out of extremely high RAM servers in our new Sweden region (The basic <128gb servers are launching in the next few weeks hopefully). These servers could have as much as 2 to 3 Terabytes of RAM! More than enough to run an in-memory RPC node. We're also experimenting with multi-NVME setups that may be more sustainable in the future (as RAM gets exponentially more expensive...)
Some of our current projects:
One of the most used RPC nodes on the network (steemd.privex.io)
The first public Steem Blockchain Data Service (SBDS) node to help people run various services with less complexity.
We launched one of the first seeds on PeerPlays a few months ago, which is still running.
We are the official hosts for several major Steem services, and one of the only hosting providers that accepts STEEM and SBD directly (and we don't use a fiat-conversion service! We try to stay in the ecosystem)
We're soon to launch one of the most affordable Swedish regions available on the server market.

As some people may know, Sweden has extremely good network connectivity, strong privacy laws, and is very open to things such as TOR nodes and VPN nodes. We'll be allowing TOR Exit nodes in our new Swedish region to help protect people's privacy :)
With Sweden (and more regions soon), we'll be helping to reduce the growing number of witnesses in Germany, so that STEEM can be more decentralized. As always, we'll be backing our regions with our Witness Block Miss SLA, we put our money where our mouth is when it comes to reliability of our network.
Technical Information
The witness will be maintained by @someguy123, with some of our other technical staff serving as backups in the event someguy123 is not available. Someguy123 is experienced in the technical operation of bitshares-based witnesses for almost 2 years, and over a decade of Linux experience.
We have 2 of our 64GB servers (one primary, one backup), with SSDs, located in Germany. We will move the primary node to Sweden once the region is live, to help reduce the current centralization of witnesses in Germany.
How to vote
To vote for @privex, go to https://steemit.com/~witnesses and enter in the box at the bottom "privex", and press VOTE.

Thanks to everyone for all of your support. Without the Steem community, we would have never managed to get so far.
If you'd like to grab a server, just go to our website: https://www.privex.io - we accept STEEM, SBD, LTC, and BTC as payment. We offer both Virtual and Dedicated servers (all the way from 1gb up to 256gb RAM, with 512gb coming soon).