The "steemgigs" Witness Is Now On A 64GB RAM Server & How https://steemgigs.org Help The Steem Ecosystem.
My witness name is "steemgigs". 
Many have a bit of confusion when attempting to vote for my witness and tend to put in "surpassinggoogle" in the witness box. 
I knew this was likely to happen from the very beginning. Yes, @surpassinggoogle is the more popular of both accounts but i wanted my witness (steemgigs) to represent things bigger than me; "us!"
community; "the world"
I want it to sit up there and represent incessant inspiration, especially for nations that the world calls "developing".
SteemGigs: "Everyone has something to offer" seats out there as witness, for the bigger picture: "to mine the human, until we attain our awesomest version, to where there is nothing like "developing or developed"
We are all flawed; so, flaws allowed!
Eradicate bum, average, smart and we are suddenly all genius.
If Bill Gates made Microsoft, we make Macrohard.
It is that simple. It has always been!
"steemgigs witness Is Now On A Better Server"
Lately, the "steemgigs" witness started to miss some blocks because the 32GB RAM server upon which it sat grew insufficient.
The requirements for a witness server is increasing drastically, which can be seen as an indication of steem growth. 
But no worries as it has now been migrated to a 64GB RAM server, fully synced and is back up & running.
It has also started using more automation in the form of a script written by @furion called "conductor", that automatically disables it, incase it starts to miss blocks.
Overall, there is keen monitoring, so that blocks aren't missed. 
You can still support my witness by clicking HERE and typing the word "steemgigs" into the first box for witnesses.
If you would like me to chose steemit witnesses on your behalf, simply type in the word "surpassinggoogle" into the second box HERE
I am re-driven
I am glad the https://steemgigs.org began. In the midst of these tough times, it is a very special sign. 
Since it started, it has began to create beauty. Perhaps, a new breed of beauty. We now have an additional incentive to shine, by revealing these other powerful sides to us; "what we can offer".
Knowledge of this sole knowledge (what we can offer) is powerful, especially when the minds involved strive to be reputable; "steemians".
See some of the beauty, that https://steemgigs.org has already stirred:
@junebride did this for steemgigs:
Please notice how content-filled these SteemGigs posts above are. 
Remember that #SteemGigs (posts) also constitute steemit posts i.e every post published from https://steemgigs.org also appear here on steemit, add value to steem and is curateable. 
In the long run, we look to get more curation support for every post published from our website. This is after we have added a level of human moderation.
Thus, we believe that if you treat your steemgigs (posts) also as a potential steemit post, you'll maximize the potential of your effort. 
Look at the support each of the above posts got: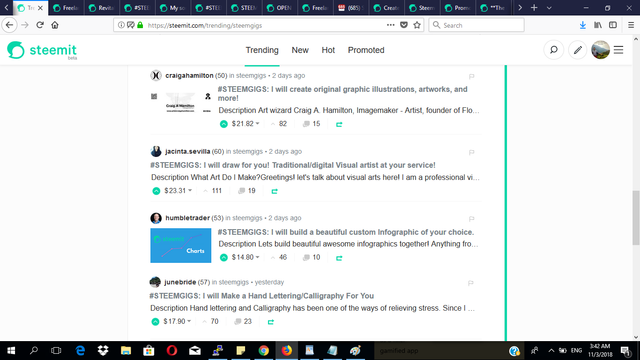 Realize that the authors above are hurting all birds with one stone. 
As they offer a service on SteemGigs, here are some of the benefits: 
They got rewards courtesy of the post itself.
They get added reputation, courtesy of their abilities, expertise etc
They become searchable on the SteemGigs database
They get rewards from potential clients, who avail of their SteemGigs
They present themselves ever constantly for opportunities etc
They hone their existing expertise or craft, while helping others build their dreams
They can stay in the steem ecosystem financially, even when they aren't blogging
etc
SteemGigs bridges the gap between minnow and whale etc e.g you may not have giant SP but you may have giant know-how
A whale may not need your upvote but he may need your assistance.
Did You Know?
You can already interact fully with the steem blockchain e.g vote, comment etc right there on SteemGigs. 
And if your SP is lower than 500 SP, you can still vote with a slider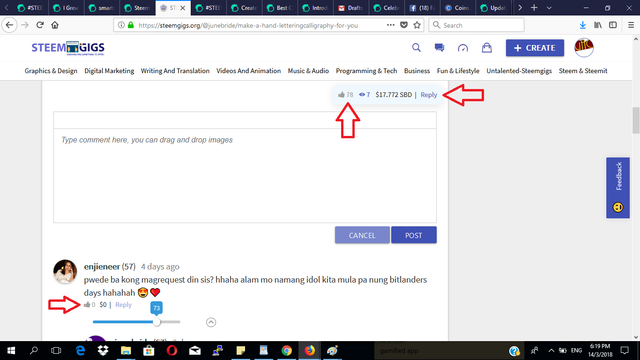 SteemGIGs has always had steem growth in mind. That is why we are "steemGIGs". 
We considered intensively, "the steemit community", in the creation of our model and in our core, we want to add value to the steem ecosystem.
Here is some of the potential value that SteemGIGs adds to the steem ecosystem:  
Improving the steem economy.
Improving steemit growth.
Tightening the bond of our existing steemit community.
Unveiling the "human behind the steemian". 
Unraveling the wealth and depth of our existing steemit community.
Imploring steemians to practice their profession & hone their expertise.
Instilling in the steemit community, the culture/art of "giving and receiving".
To create a more fun atmosphere even in the face of overwhelming events.
Add an organic reputation system (SteemGigs Success Testimonials) to our reputation score system.
Expanding the vision of steemians, with regards to the scalabilty/capability of the steem blockchain, 
Sparking more creativity thus, more solutions to real world problems.
Beautify steemit/steem in the search engines.
Connecting steemians in need to steemians indeed.
Keeping inactive steemians in the steem economy by means of live SteemGigs.
Providing non-blogger steemians with incessant ways to earn steem/SBD
Burn SBDs
Gift humanity with a least one breakthrough product/solution
Attracting the freelance industry, recruiting agencies and powerful organizations to the steem economy.
etc
How Do You Already Build Your Dream Now, Using SteemGigs?
Simply get on https://steemgigs.org and scour the website. 
Search our database for SteemGiggers who can help you build your dream.
Then, contact them and let them help!
If you can't find someone yet who can help, do a custom request (See sample custom request here)
We have a working search engine and an internal database. It is not all refined yet but it already works. 
Currently, it provides results for general keywords as well as usernames. So, if all you have ever dreamt of, is to have your own chatbot, simple do a simple search, using words like "bots", "chatbots", "automation" etc and you will be provided with a list of SteemGiggers who can help!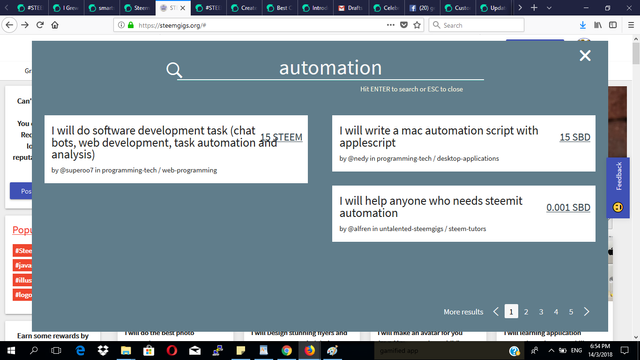 Our website is not filled yet, hence, results may be scanty but imagine when every steemian begins to offer a service on SteemGigs
Don't be shocked to find free services too!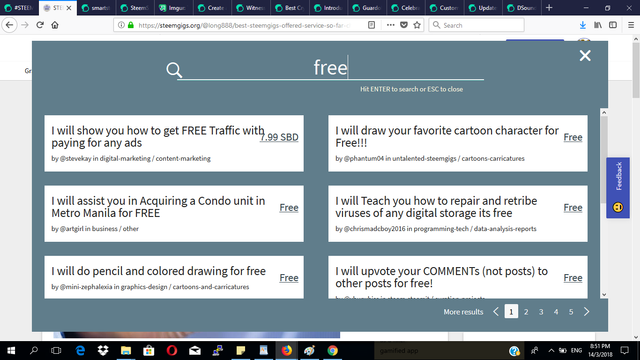 Reputable steemian talents are not the same as talents out there. 
There is community aspect to what we do, thus, some SteemGiggers are simply looking to be steemians in deed. 
Too, some steemGiggers may want to help to improve their general reputation or to build further connections or relationships
e.g look at this SteemGigs Testimonial by @long888 and what it resulted into:
@long888 had a good experience in a gig or service provided by @panoramicview and wrote a nice testimonial about it. Now, i found it too and visited @panoramicview and became confident about using his service and recommending him to many others.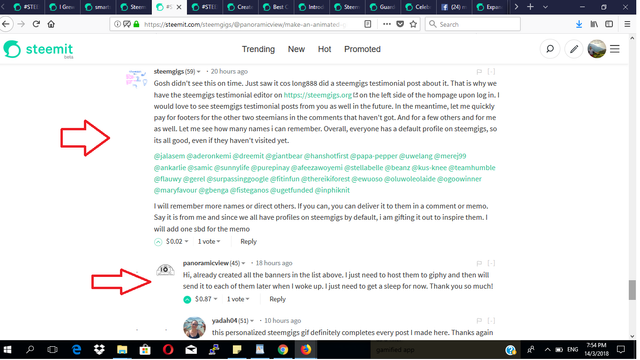 Then, i went further by mentioning both parties and recommending them as reputable steemians in this post. 
This is how further connections and relationships are buildable by means of SteemGigs
Down the road, we will look to incentivize "proof of deed" as much as we are able to, till we can help each one build their dreams. Thus, when we have the moderation capability and perhaps, more steem power support, we will passionately incentivize SteemGiggers to assist with their services and clients (steemians) who dare to dream.
Do the "dreaming"; leave the "building" to us!

Please click here to get your own personalized SteemGigs GIF footer. Please wear it underneath your blog posts proudly. 
Note: You already have a SteemGigs default profile. Even if you aren't ready to offer or request a service yet, why not login and customize or edit your profile in our website? 
To see your SteemGigs default profile, simply type this:
https://steemgigs.org/@steemitusername
So, go get your personalized SteemGigs footer for just 0.25 Steem HERE
Offer A Service On SteemGigs Today
Everyone has something to offer
Read this post and see this video to get started today!
If you encounter any issues using https://steemgigs.org, remember that it is open-source, so please visit Utopian to do a well detailed contribution, suggestion, bug submission etc, so we can use this feedback to improve the website.
Add you contributions to steemgigs/steemgigs on utopian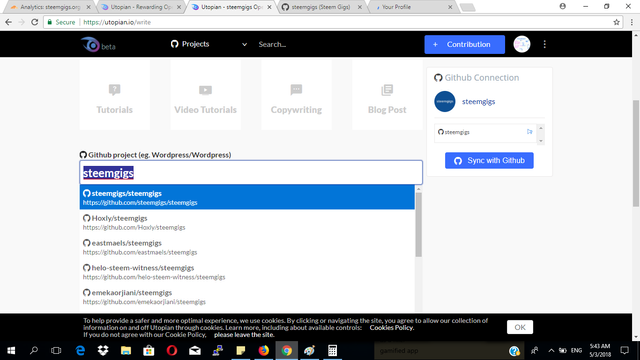 If you experience any difficulty publishing your posts, please consider clear cache from your browser. You can also use the feedback area on https://steemgigs.org to reach us: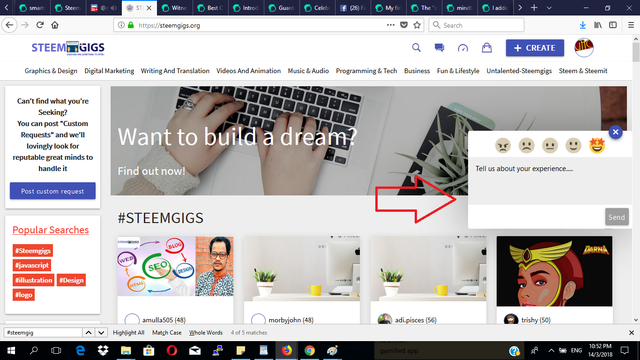 You can also give feedback on our discord help center here. Feel free to ping either @jalasem @afeezawoyemi @eastmael on there.
If you spot any level of talent or potential talent during your curation effort, kindly leave them and encouraging comment and direct them to https://steemgigs.org or get them a SteemGigs personalized footer and gift it to them.
Your Boy Terry
Please like @teardrops on Facebook and Twitter:
I do need strength
Dedicating My Entire Steem/Steemit Journey To My Mum
If you want to support an extra witness and you support mine "steemgigs", it will be really helpful. To vote my witness, simply visit https://steemit.com/~witnesses and type in "steemgigs" into the first search box for witnesses or simply click Here to do it on one click! 
If you want me to make witness voting decisions on your behalf, simply visit https://steemit.com/~witnesses and type in "surpassinggoogle" in the second box for proxy.       
Let's Go!!!
Offer a service under hashtag "steemgigs". Attempt out-of-the-boxness on hashtag (untalented). 
Join the Steemgigs Community on discord: https://discord.gg/CGuPyyT  
"Everyone has something to offer!" Why not?