We Aren't Quitting On What "Steem" Represents. We Aren't Just Quitting, 'Bulls Or Bears'; For Humans Are Very Much Involved.
In the next few days, i will push again. I am currently struggling to write two task requests to invite developers in and speed up development of my projects. One task request is for ulogs.org and the other is to restore "steemgigs.org to life.
I recently also managed to write a Fundition post related to the development of my projects, which you can take a look at.
See how enthusiastic and passionate these steemians were about the existence and potential of steemgigs.org, just below:
It is quite painful, that steemgigs isn't fully up and running till now, even though, SteemGigs started some two years ago. We can join hands though and restore it back to life by reading through the post below:
https://fundition.io/#!/@surpassinggoogle/gl2uccyjz
I will be putting some 1500 steem bounty for a start on these two upcoming task requests with hopes of inspiring programmers to participate. It is obvious that i need to do something more drastic now to move forward and not fear losses in this moment. 
Instead of crashing altogether, it is so much better to use my steem for development expenses as my healing overall has alot to do with the fruition of my projects. 
It is so tough now! Normally, i will finish posts like this in one seating etc I am no longer Terry and this is very much established at this point, even to me. 
I don't know what has happened but i so understand my current state and it is a state. These states exist but one would think that these are impossible states (even i would have doubted the existence of these states years ago). I very much know of these states now. 
I understand these states in my dad; "very much!" Since he returned from the hospital, he has not been normal. I keep seeing "death" everywhere now, when i look at him but i am trying to be positive. He is so disconnected from his own energy, same as i now am. I don't know if it has to do with the brain. I wonder! 
It appears that his body has regained some energy since he arrived from the hospital but his mind is lost somewhere. You know this, when you try to talk him into doing once "simple acts" and he simply can't do it and it isn't exactly because his muscles are weak but perhaps, because his brain is low in energy. 
He can't bring it to tell him the next move.
I really can't tell at this point what is wrong? Is it the diabetes, the hypertension, the dementia etc or did he just tire out from this world of suffering and just lose it?
When you try to draw him out by talking, then he can start to function, else he will just stay there where he is in sleep-mode. 
It is approaching two weeks of this already. 
Earlier today, i found him on the toilet floor, all broken. I managed to pull him back on-to the bed and gosh, i am already like him too and i was in tears doing all this. Things are just wrong. 
I got him on the bed with his own energy because my waist and all is gone and ofcourse my energy is extremely low too and he is heavy and once he was on the bed, he didn't even know if he was out of the toilet. I had to use conversation to reconnect him to reality and then he remembered my name and here is what he said after saying "Terry Terry", multiple times:
Your name is a very sweet name.
Then, he began to pray for me about work and progress and about me getting the best of everything. I had to take this moment of prayer in because gosh, things are practically crashing and i know it. 
I am no longer Terry and i have no energy to function.
When he was praying for me, i was praying too and my prayer was basically, that Jehovah answers the prayer of a man, who is in so much sorrow yet believes in Jehovah every moment. 
I tell you, that man is a very great man.
Well, i am not negative or anything and i am tired of all these sorrow-speech. I am entirely positive but a dying man needs help and that's it. While you keep prompting him to go seek help, he simply can't at this point, except help begins to find him. 
Yes, there are those states.
I will push again! Many have just been helpful and i wonder why. In my last set of posts, steemians came around to help me push again. 
I am so, so, so grateful and several sent me steem too. I really want to do something to thank "everyone" like the normal terry would but this particular terry is too, too, too weak now.
Ultimately, i did draw some strength and i am hopeful that i can complete the task requests in the next one or two days, with hopes that my small steem bounty can inspires developers to join in.
I managed to write a support Fundition post in the last couple of days and that was "tired positive me" but ofcourse, i won't be waiting for its results as "wait" at this point can easily lead to "quit".
Tomorrow, i have to be up again and let's see!
I am trying to work. I am just too slow.
I apologize for delays on my part. For instance, i have not yet been able to send the email (for "exclusive chat room") to our current list of "certified uloggers" but i will send that out soon. I also have not been able to update the list just yet.
Overall, i am still very positive that all these projects will come to fruition soon, just in time for the @teardrops SMT. 
There will be a miracle.
Special Note
If you are a developer or anyone who passionately loves these projects e.g ulogs.org, steemgigs.org the teardrops SMT etc and would like to help build it and see that it comes to life, kindly send an email to [email protected]
There is a lot to build.
If you are a potential advisor and one who can help with directions, suggestions and connections, please join in too by sending an email to [email protected]
When it comes to raising some capital, it is not very defined yet what we will do but again, with "a truly solid community of brothers", nothing is impossible. It is highly likely that there won't be an ICO, even though our primary project ulogs.org is aiming to "surpass google"  and would require a real budget. We will look for ways to accomplish our goal without an ICO, taking the more testimonial harder route. 
When a team is in place though, these are things that we will discuss.
Another Special Note
In the upcoming task request for ulogs.org, you will really see how massive the #ulog project is and where it is headed. 
It is world adjusting and it will need solid hands. 
Kindly vote for the "steemgigs" witness. 
Dedicating My Entire Steem/Steemit Journey To My Mum
If you want to support an extra witness and you support mine "steemgigs", it will be really helpful.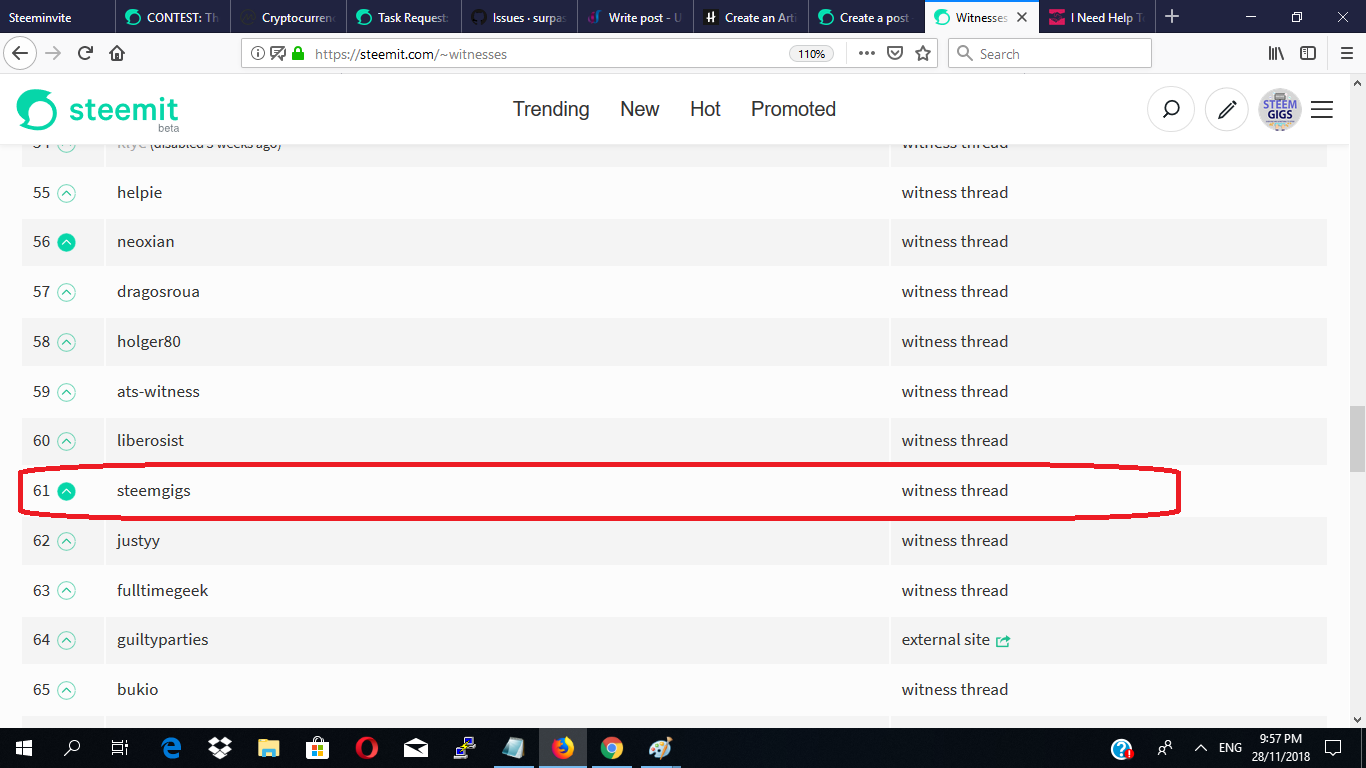 To vote my witness, simply visit https://steemit.com/~witnesses and upvote "steemgigs" or simply click Here to do it on one click!  

 If you want me to make witness voting decisions on your behalf, simply visit https://steemit.com/~witnesses and type in "surpassinggoogle" in the second box for proxy. 
 Subscribe to us on YouTube: UloggersTV   
Become A Certified Ulogger 
Disregard if you have participated! 
Hi family, note that the whole ecosystem for the Teardrops SMT will be built around "certified uloggers". It will reward "proof of tears" or "mining the human" and will be used also as a token of influence on 3   steem-based interfaces i.e steemgigs.org, ulogs.org and @macrohard; all of which are modeled to "mine the human" into its awesomest version and all of which will be built around "a growing list of certified uloggers".  
It is time to grow this list and gather now. 
Note that the teardrops smt will seek to reward "past deeds" too.  The @teardrops token should be loved and succeed, "bulls or bears" because "human" is involved. 
Thus, we will build this token around "certified uloggers" as these ones are "true celebrities", who are also "true fans" of human and of the "teardrops token", which  is "an emblem of human".  
It is time to gather now. 
Kindly help me participate by going through this google form and   filling it up, if you have done a post at any time, under any of these  tags: #ulog #untalented #steemgigs #teardrops #surpassinggoogle.  
https://goo.gl/forms/jR5sPPoqkwM8zzvl1  
If you have never done a post under any of the tags mentioned earlier  above, please read this form carefully and participate, by filling it up: 
https://goo.gl/forms/G1GmCp83lcmM5xeZ2  
Consider contributing a video ulogacy for uloggerstv 
We will gradually be sending out a URL linking to exclusive chat-rooms for "certified uloggers". We will send this in an email.  
Please share appropriate form to any friend or acquaintance, who has a steem account.