3 New Steem Ad Campaigns + Backup Witness Server Standing By!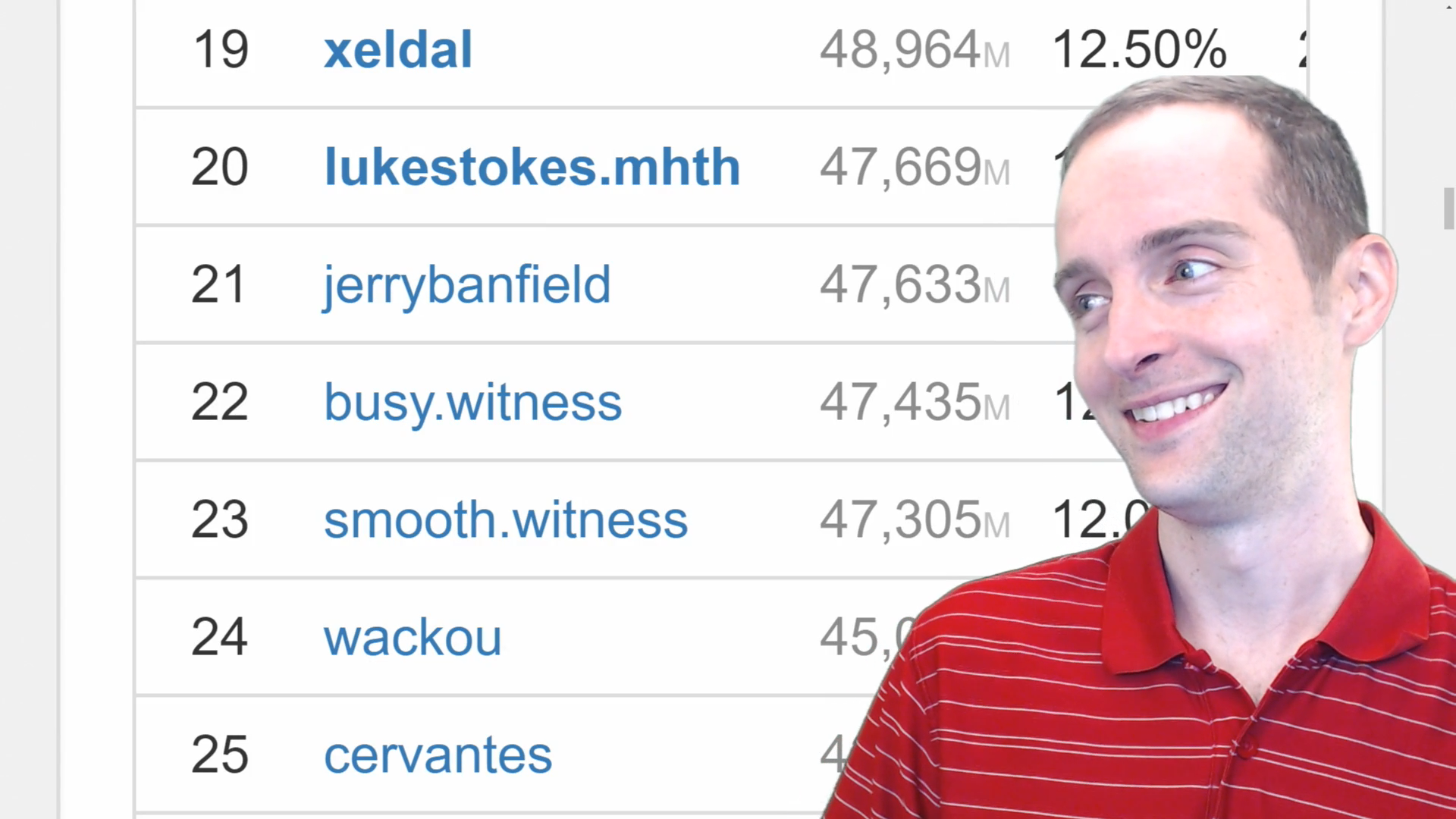 Thank you for voting me up to rank #21 as a witness for Steem! Here is my report showing what I have done in service to our community this week as a witness which I believe is important for accountability. You are giving me a lot of Steem in rewards each day and you have a right to know what I am doing for you in return the same way a boss might expect an employee to report on their work each week.
3 New Advertising Campaigns!
---
Ads on Facebook, Google, and YouTube for https://steemit.com/utopian-io/@jerrybanfield/ads-for-steem-s-utopian-io-targeted-to-github-developers along with the matching video.
Google AdWords display network (banner and text ads) for https://steemit.com/steem/@jerrybanfield/top-10-reasons-to-buy-and-hold-steem.
Facebook and YouTube ads for the video in https://steemit.com/upvotable/@jerrybanfield/meet-eveuncovered-40
See how I make these ads in my video tutorial today!
Funding for Ads from Witness Rewards
---
The budget spreadsheet at https://airtable.com/shrXuoYTnODWA0QG1 shows my funding and expenses for our advertising campaigns here.
Witness earnings from block production rewards minus server costs have replaced using author rewards to add to the budget.
If you would like to increase the advertising budget to $200+ a day, would you please vote for me as a witness at https://steemit.com/~witnesses because just a few more votes will put jerrybanfield into the top 20 and 100% of the earnings go towards the ads now.
50% of the witness rewards advertising budget is paid to Facebook and Google while the other 50% is reserved for delegations to authors producing posts and platforms I can advertise.
Today I added $198.94 to the Google/Facebook budget and 203 Steem Power for delegation from the last week of rewards.
@elear's new @utopian-io as explained at https://steemit.com/utopian-io/@jerrybanfield/ads-for-steem-s-utopian-io-targeted-to-github-developers received the first delegation of 5,000 Steem Power from the ad budget to fund the upvotes on the posts submitted to Utopian because this is an ideal project to advertise.
$10,000+ Spent on Steem Ads!
---
Here are screenshots from Facebook first and then Google summarizing the total results of all campaigns so far with highlights noted below!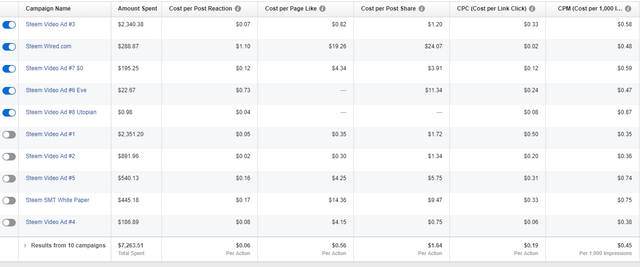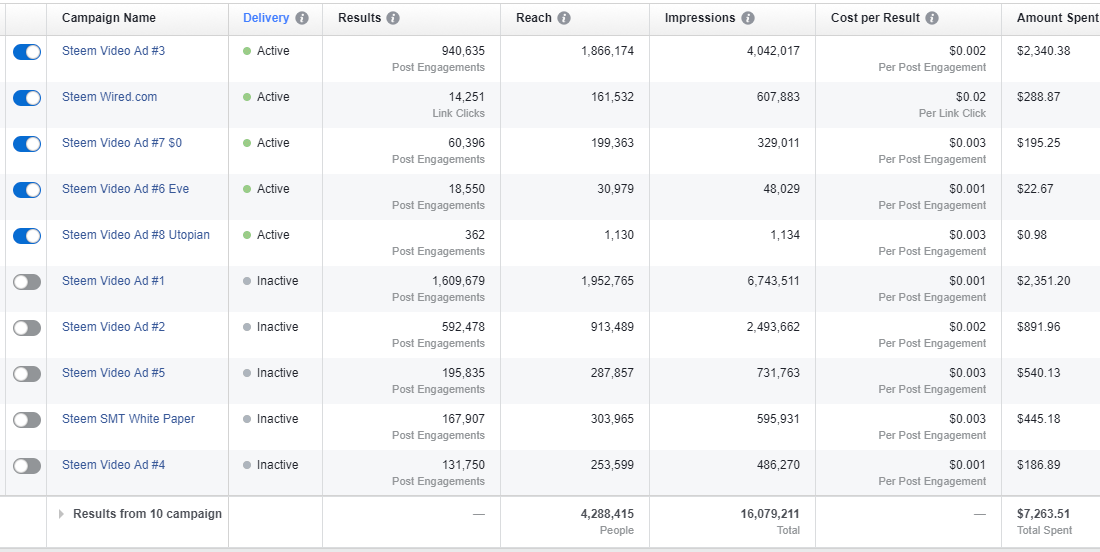 Facebook Ads Highlights
---
$7,263.51 total spent to reach 4,288,415 people in nearly every country in the world.
16,079,211 total ads shown meaning the average person saw 4 ads.
10 different advertising campaigns ranging from the wired.com post to ads for @eveuncovered to posts promoting $10 Steem price to tutorials showing how to use Steem to the Steem SMT whitepaper.
Average of $0.06 to get any post reaction such as a comment, like, etc.
$1.64 cost per post share which is HUGE because post shares can go into Facebook groups or on timelines and reach hundreds if not thousands of the exact right users on any share.
$0.19 per link click mostly to posts and profiles on Steemit.com.
$0.45 average cost per 1,000 impressions.
The ad budget was distributed worldwide to get the most impressions for the lowest cost and split to force showing ads at a higher cost also in the USA, UK, Canada, and Australia. Newer campaigns split more often while older campaigns allowed the budget to go almost anywhere.
The Philippines, United Kingdom, Nepal, India, and Bangladesh are the top countries in terms of most ad spend on Facebook except for the SMT token campaign which was shown with 20% of the budget in the USA and UK.
Google AdWords Results
---

1,216,095 ads shown for $3,452.43 on the Google display network and YouTube.
14,940 clicks on the ads at an average of $0.23 with most clicks going to links on Steemit.com.
While on Facebook the USA, UK, Canada, and Australia cost too much to make showing ads worthwhile on a larger scale compared to a worldwide approach, on Google AdWords about 50% of the advertising budget goes to what I call the USA+ countries giving us a well rounded approach to getting the most impressions by the right viewers at the lowest cost.
Backup Witness Server Standing By!
---
This week I finally have my primary witness server, seed node, and backup witness server all running! The backup witness server is setup with conductor by @furion and prepared to take over automatically if the primary misses 3 blocks within 24 hours. If the backup misses 3 more blocks, my witness will be disabled until both servers are checked.
Thank you to @someguy123 who helped me finish setting this up after I did everything through setting conductor up and struggled after hours of Googling to get conductor in position to do automatic failover correctly.
Witness Server Setup Video and Blog Tutorials
---
Last week I published two more posts in my series of witness server setup tutorials at https://steemit.com/witness-category/@jerrybanfield/steps-13-to-19-to-prepare-an-ubuntu-linux-server-to-be-a-witness-for-steem showing everything for free I can think to share with anyone considering being a witness. The post linked there has a full length video tutorial showing every step needed BEFORE installing steem-docker to secure a server prior to installing a witness. Several more guides linked in that post show the witness setup and talk about going forward as a witness.
Witness Voting Tips
---
I am grateful for over 1,800 witness votes in my first four months as a witness especially from the top voters such as @freedom through proxy @pumpkin along with fellow witness proxies @clayop, @lukestokes, @fyrstikken, and @netuoso plus votes from @hendrikdegrote, @tamim, a new vote from @thejohalfiles last week, and three of those voting almost the entire time @roadscape, @teamsteem, and @fulltimegeek.
How to get witness votes? This is the most common question I have answered in private messages from other witnesses on steemit.chat and here is my response: Offer massive value to our community in our own unique way. I am focusing on doing the advertising for Steem and giving back 100% of my earnings as a witness to give us an ongoing advertising solution. This helps with getting votes because regardless of any personal feelings about me, the ads bring more awareness and users to Steem which is good for all of us. Other witnesses have produced this same result by making apps for Steem, curation projects, etc.
For getting the top witness votes, communication via witness updates is critical because the top voters appear to check witness updates prior to updating votes. Two of the largest votes for my witness came within 24 hours of posting an update like this. One of the many mistakes I made in my first months as a witness was not doing an update once a week.
I suggest for any witness wishing to move up in rank to do one witness update a week indefinitely and just focus on what is being given rather than the votes. One trick to help show newer updates is to update our witness with the link to our newer updates instead of just doing the witness launch post forever.
My Witness Votes
---
Witness voting to me is about relationship building. I am accountable to those voting for me and I aim to collaborate with those I vote for. If you would like me to vote for your witness, please request a witness vote on my witness update posts. I remove votes when witnesses are disabled, stop updating, fail to make a witness update at least once a month, and/or when no mutual vote exists unless this was communicated beforehand. For example, voting for witnesses in the top 10 makes almost no difference in terms of rewards while voting new witnesses makes a huge difference. My witness votes are always available at https://steemd.com/@jerrybanfield.
See You At Steemfest!
---
Tomorrow I am heading to Steemfest for the week! If you will be there in person, I am excited to meet you! If not, join us online as explained at https://steemit.com/steemfest/@roelandp/steemfest-updates-it-s-steemfest-week-last-updates-schedule-announced-livestream-scheduled-art-at-steemfest-selected-works.
Love,
Jerry Banfield
Stay updated via email?
Shared on
PS: Would you please make a vote for jerrybanfield as a witness or set jerrybanfield as a proxy to handle all witness votes at https://steemit.com/~witnesses because 100% of the rewards I receive are spent advertising Steem? Thank you to the 1800+ accounts voting for me as a witness, the ~700M VESTS assigned from users trusting me to make all witness votes by setting me as proxy, and @followbtcnews for making these .gif images!

OR