Softfork 0.22.2: why I didn't apply the changes to my witness node.
View this post on Hive: Softfork 0.22.2: why I didn't apply the changes to my witness node.
---
I don't need to tell you what is going on on the blockchain at the moment, there are a lot of info running around already.
Context
On the Steem blockchain, the Witnesses are the block producers. We have technical knowledge on how to setup and maintain a server that has to be running 24/7. We do spend a lot of personal money and personal time to do so. Aside from those duties, Witnesses are also running community projects or supporting communities in their development on the platform.
In exchange, we are compensated by earning some Steem Power for every block we produce, validate, sign and add to the blockchain. The more block we sign the more SP we receive but to receive more blocks we need to get higher ranking through the Witness votes we receive.
Below is the producer distribution. As you can see, the earnings dramatically drop past the 20th Witness. As of last week, the highest reward was 2284.33 SP or $498.04 and I myself received 158.16 SP ($34.40) that week.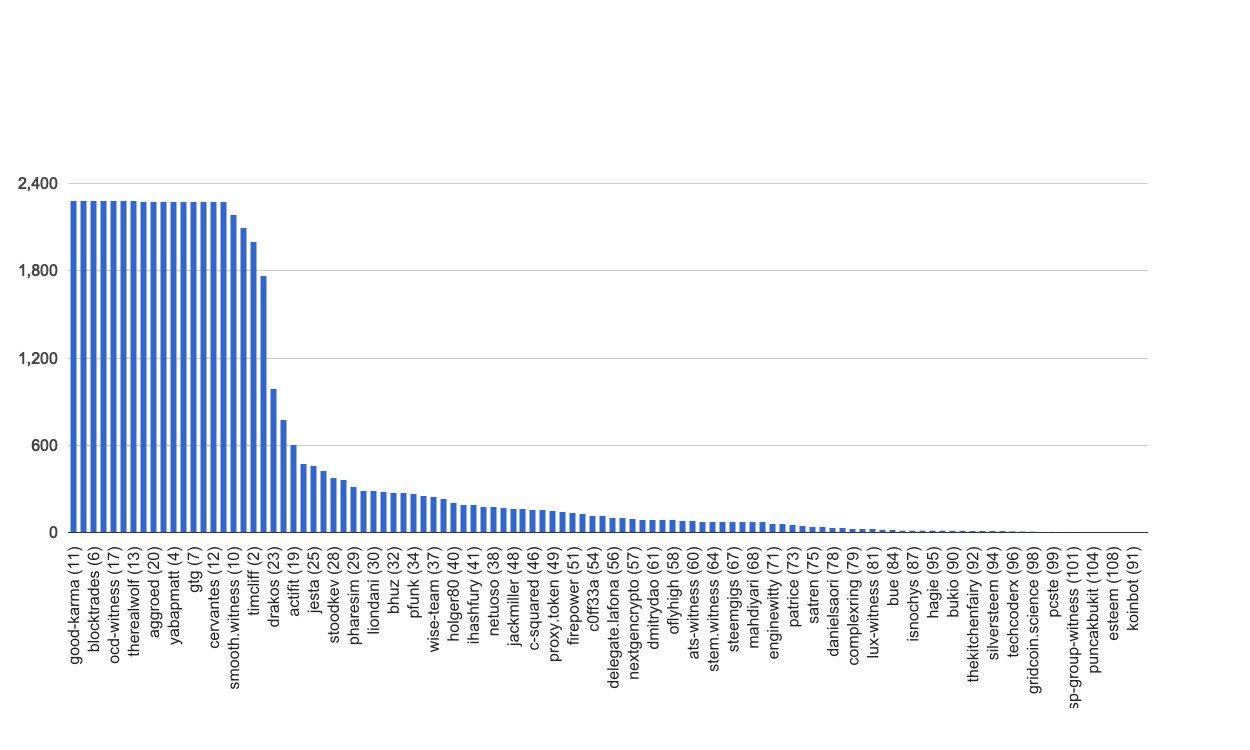 Concerns
Lack of communication from Justin Sun and Steemit Inc in regards to what the acquisition means
Tweets and articles spreading misinformation and statement that could be perceive as potential threats
Potential take over of the Steem blockchain from the use of Steemit Inc Ninja-Mine Stakes to upvote new set of consensus witnesses
Justin Sun recent use of TRON's genesis stake to upvote their own Super Representatives in order to protect their blockchain
Token Swap. Moving the Steem tokens to Tron based token would mean the end of the Steem blockchain. Or at least, what is remaining would be worth nothing. This would also mean that we would move to Tron's own governance system. There is also no guarantee that content will be migrated.
Softfork 0.22.2
Reference: Steem Consensus Witness Statement: Code Updated
The Top 20 Witnesses along with some backup Witnesses (including me), Steemians and large stakeholders were in a private chat to discuss the future of the Steem blockchain post acquisition of Steemit Inc by Justin Sun (TRON). The super-majority have agreed to create a Softfork that would:
prevent the use of the so called Steemit Inc Ninja Mined Stakes (SiNMS) from several accounts, previously owned by Ned, to be used for voting witnesses
power down from those same accounts.
To be noted that:
this Softfork is fully reversible and a temporary security measure
this Softfork does not affect regular users and their daily use of the chain
the target accounts of this Softfork are not any regular user accounts, they are Steemit Inc accounts powered with the SiNMS. It was agreed that those stakes are not to be used for votes (content and witnesses) but for the development of the platform.
the secrecy around the decision is understandable due to the potential risks. Also, by voting for your Witnesses, you gave them your trust to take care of the security of the chain on their own, so they have done what they were supposed to do.
Positive notes
As mentioned by others already, one positive thing with this event is that Witnesses all gathered to collaborate on a solution to a critical issue.
I also discovered that @netuoso has great blockchain development skills.
Right more or bad move, this decision does show to everyone, Justin and TRON users included that the Steem community is strong and Justin has bought Steemit not the Steem blockchain. If he wants the best from his purchase, he better work with us. Our blockchain is different to the others he acquired
My stance
I don't want to react based on just concerns but I do understand that others have chosen prevention over cure. But it is against my belief and values to tamper with someone else account and assets.
I do understand and respect the decision made to perform the Softfork 0.22.2. However, I feel goes against my values and prefer to wait until the Steem 2.0 Town Hall meeting with Justin Sun on March 6th 2020
Being a backup Witness, my decision wouldn't affect the effectiveness of the Softfork. However, there are potential risk that backup Witnesses are being pushed upwards towards the Top20 position, effectively rendering the Softfork useless.
Witnesses who haven't applied the Softfork to their node do represent a risk of being pushed to the Top20 so we should expect some changes in the Witness list. There are chances that all the Top 50 witnesses that are going to the Steem 2.0 Town Hall meeting will all be supporters of the Softfork. So it's time to cast your votes for the Witnesses you believe in.
I'm still a believe in the Steem blockchain and its values and will continue contributing various projects including the Steemit Condenser and various communities I'm supporting.
Related articles: