Witness Chat in The Ramble Today 1pm EST / 6pm UTC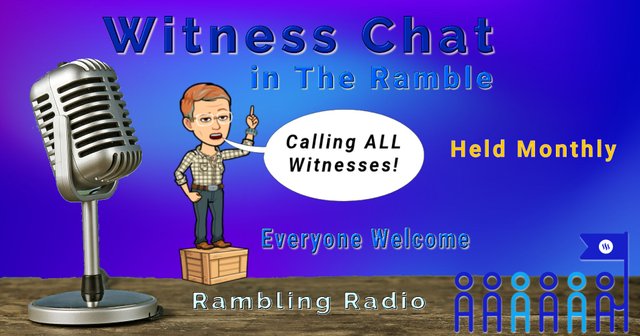 Another month has flown by and it's time for another Witness Chat in The Ramble discord. The beta for Communities has been opened to all and interest in the possibilities is growing.
Any witness can participate. It's an opportunity to interact with others in the community. The community would like to know what your views are on what happens on Steem.
I don't know yet if any of the Steemit team will be joining us or not but we'll see what happens.
SMTs are currently in the testnet stage and is expected to be for a few months in order to thoroughly test them.
Today is an opportunity to talk about what is happening on Steem and knock some ideas around while hearing from any Witnesses in attendance.
Don't just come to complain. I know, it tends to be a human default but, let's hear some balance. What's working? What could be better?
It's on, today, Wednesday December 11th at 1pm EST / 6pm UTC. Everyone is welcome.