The Story Begins at 35°North
Dear Steemians,
You know me as a software developer and a Steem witness, but I do have another passion - creating products. Today is a special day when I get to announce something new that I've been working on for a long time!

I'm proud to present 35°North — a brand which aims to become the household name for the best food products around the northern hemisphere. 

You can follow our journey on the official account @thirtyfivenorth
35°North was born after almost a year of hard work by a team of four people and countless others who supported us along the way. Thank you! 
Our brand is rooted in authenticity and our love for high quality food.  We work with and give back directly to local farmers, ensuring that the  families which put in the hard work of producing precious food are the  ones who get the most out of it.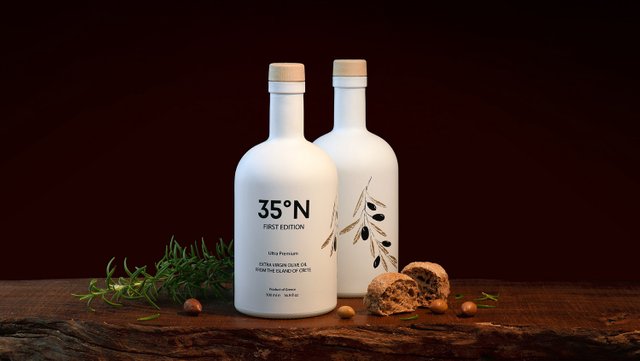 Our first product is 35°N First Edition Extra Virgin Olive Oil from  Greece, grown and picked near the village of Kria, where the 35th  parallel north crosses the island of Crete.

35°N First Edition comes in one size 500ml (16.9 fl oz) glass bottles,  coated in matte white color to protect the olive oil from direct  sunlight and to give it that pebble-like feel when holding it in your  hand. 
The contents of the bottle are equally exciting — the olive oil was cold  pressed from the world-famous Koroneiki olive variety. It results in  very low acidity, fruity and smooth taste, with a tiny note of  bitterness at the end. It's the perfect companion for your culinary  adventures.

Only 4240 of these beauties exist and you can order yours today on our website at 35north.eu using your favorite payment methods, including Credit Card, PayPal, Bitcoin and 30+ other cryptocurrencies (STEEM integration is coming soon!).

We currently ship to EU, US, Canada, Norway, Iceland, Israel, Switzerland and Japan.

I hope you will try it out!
The original version of this article was posted on Medium