A REVIEW ON WolfspackBot
WOLFPACKBOT
This is a smart and innovative digital asset trading bot software borne to bring about change in the traditional digital asset trading bots. Wolfpackbot employs the services of experienced and reliable security agencies with decades of expertise in this line of duty.
The Wolfpackbot has a master node and Proof of Work X11 blockchain technology embedded in its network which in turns allows multiple trading access to every compatible digital asset exchange that are available on the bot.
On the Wolfpackbot platform, all transactions carried out by the bot are fast, secured & accurate which guarantees the users of the proper use o their funds. It is expedient to note that proprietary trading algorithms on wolfpackbot allows trade executions to be done at the speed of light, hence no delay of any sort experienced on the platform.
The Wolfpackbot trading bot allows market trade (instant buys & sell), limit trade (queuing to buy at a specific price of choice), and WOLF trade. The trading bot has this distinct advantage to fill more than 10,000 trades daily which is also dependent on the situation of the market & subscription type at that very instant.
For those who uses the trading bots will agree with me that the Traditional bots are so vulnerable to hacking attempts, phishing, pump & dump fraudsters because they store API keys of their users on their remote servers but with wolfpackbot this is not the case as they are not limited to one exchange or trading pair and they do not store API keys on their remote servers which keep the at the top of their game security wise.
FUNCTIONALITIES OF WOLFPACK NETWOR
The Wolfackbot network is a complete one in that itFor has gowhot some striking features which can never be overlooked. These includes:
WOLFBOX SHORTING Features which allow users to shorten their poitions to buy back at a lower price to inbotcrease profit. Also, the WOLFBOX HARDWARE Console which will provide a state of the art hardware console preloaded with Wolfpackbot automated trading software with a secure inbuilt hardware wallet. The
WOLFPACK PHILANTHROPY is The team dedicated to give ecological stewardship, renewable energy, economic development, animals & wide life conservation.
The WOLFPACK Consulting are charged with the responsibility to give Expert services provided by blockchain specialist to individuals or organizations in need of cryptocurrency development & management. The WOLFPACK Ultimate gives users of the platform the avenue to trade all the coins available in the trading pairs which inturns increase profits.
Worthy of note also is the WOLFPACK BULL Market which is the preset configuration designed solely for trading pairs during bull market while the WOLFPACK BEAR MARKET is a preset cofiguration designed solely for trading pair during bear market, with these functions users capital are secured during the different seasons of market.
The WOLFPACK SIDEWAYS MARKET is a preset configuration for unstable (sideways) market conditions. The WOLFPACK AUTOMATED TRADING Software this functions in such a way that After the close of the crowd sale, a vast number of cryptocurrencies can be used to buy monthly subscription for the wolfpack softwar, with this option it is a win-win thing for users.
The WOLFPACK T.A Indicators this is a Multiple technical analysis tools which include Bollinger Bands, Double EMA, Elliot Wave, EMA, EA Cross, Fibonacci Sequence, KAMA, MA Cross, MACD, RSI, SMA Stochastic, Stochastic RSI, Triple EMA and many others are available on wolfpackbot software. Oscillators configuration is also available and lastly the Language Translators which help in translating languages like Dutch, English, French, Spanish or German instantly as there is an in built language translator.
Wolfcoin Token
Wolfpackbot has already established is built on Smart Contract made on the Ethereum Blockchain technology. Wolf coin is the native token of the Wolfpackbot ecosystem and it will be used for all forms of transactions on the platform. On the Wolvex Exchange, hoders of Wolfcoin will be paid with the Wolfcoin as greferrall rewards and cutoff points ontrade costs. Moreover, holders of Wolfcoin get confines on WolfpackBOT trading programming enrollments and trading signals.
TOKEN INFORMATION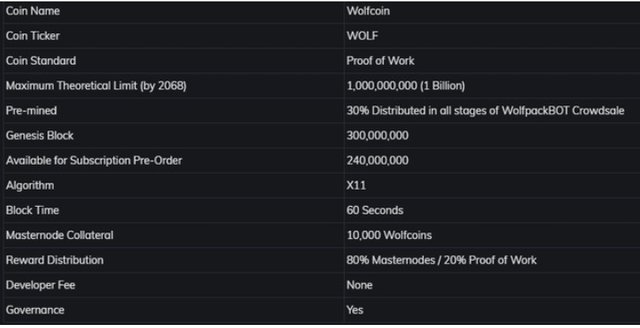 For More Information :
Website: https://www.wolfpackbot.com/
Whitepaper: https://www.wolfpackbot.com/Pdf/whitepaper_en.pdf
Twitter: https://twitter.com/TheWolfpackBOT
Telegram : https://t.me/WolfpackBOT_Discussion
Bounty0x username : Joygalz