🌸|28th May- Menstrual• Health •Day!|🌸
As we mark the Mentrual Health Day, I was privileged to be a part of a group of young women helping to sensitize the community about menstrual hygiene management.
In Uganda 10% of girls drop outs are out of school due to menstruation and 30% of girls in school miss class every month during their periods.
In rural areas, girls use cloth, banana fibres, pieces of torn mattresses, toilet paper etc during menstruation. This subjects them to embarrassing leakages now and then and this is one of the reasons why they miss school.
It is important therefore for girls to know that periods are normal and also learn how they can handle themselves while in that time.
We summed up the day wth this beautiful piece by our very own @Tracy member of the Adolescents Girls and Young Women (AGYW) forum on Global Fund supported by @Her Voice Fund. I will let you enjoy it.
Consultative Dialogue on HIV/AIDS and Menstrual Hygiene Management at Mbogo High School by the Adolescent Girls and Young Women's Forum on Global Fund,with support from Youth Equality Center and Her Voice Fund!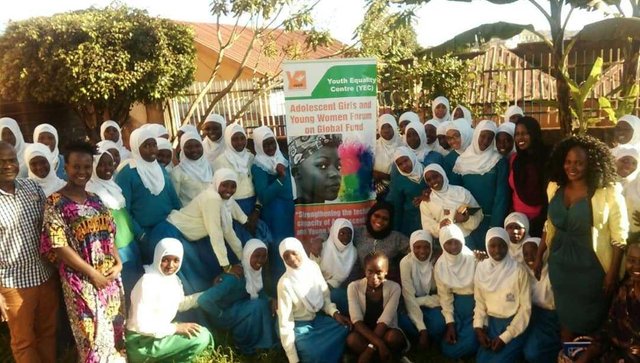 It's 2018 and yet we still have a lot of ambiguity surrounding menstrual health and hygiene.Much of which can/may be attributed to the prevailing perceptions and cultural barriers which vary from time to time and place to place.
But that sheer difference should have no bearing on every Adolescent Girl and Young Women's right to a life with dignity.
Our voice has a value and if we can't use it,there is hardly no point in being present.Learning both to be present and having something to say is one of the ways of making our contribution to the world however small, universal.
So initiating and having conversations such as this and integrating them in spaces of influence is a small but major step we can all decide to be a part of. We should look at providing many of these girls and women with platforms to vocalize such issues and aim at having them participate in live conversations like these. This is just a pinch of how far we can go and what we can do to make the lives of girls and women worldwide better.
Not forgetting; we should aim at figuring out strategies that are inclusive. We can only do so much alone,but greater with the support of our male counter parts. The contribution of men; fathers, uncles, brothers, husbands and the like is significant when it comes to having dialogues of this kind. They too need to come to a similar place of understanding with us where they acknowledge that issues like menstrual health and hygiene are not exclusive to women alone.
So dear men, take interest in all this. Make a contribution regardless of it's size. Access information,educate yourself, there is tonnes of information readily available out there!😊