The message behind "No Bra day"
Yesterday marked the annual celebration of the "No Bra day", a day when women are encouraged to go "Braless" as a means to encourage Breast cancer awareness.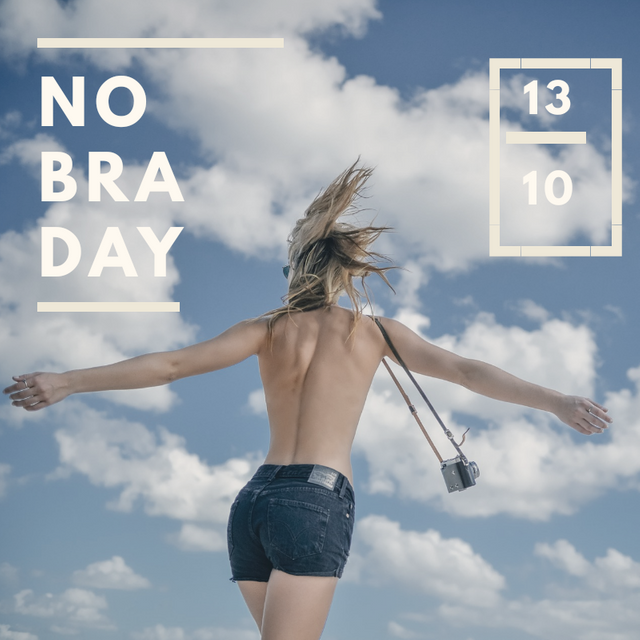 Image source, Image was edited using the app Canva
The "No Bra Day" was initially observed on the 9th of July, 2011 but was shifted to the 13th of October, a more suitable date in my opinion, as October is the Breast cancer awareness month which is an annual campaign to increase awareness of Breast cancer, provide information and support to those affected by the disease, and also raise funds for research purposes. This annual campaign kicks off on the 1st of October and ends on the 31st of October.

The Breast cancer awareness month started as far back as the 1980's when it was founded in 1985 as a partnership between the American Cancer Society (a nationwide voluntary health organization dedicated to eliminating Cancer) and the pharmaceutical arm of Imperial chemical Industries, a British chemical company known for most of its history as the largest manufacturer in Britain. source.
Initially, the objective of the Breast Cancer Awareness month was promoting mammography as a screening tool to fight Breast Cancer, however recent studies conducted showed that many women are aware of mammograms hence new objectives are being formed. source

The "No Bra Day" trended a lot on social media platforms as raunchy photos of braless and topless women dominated most of these platforms. These raunchy photos in a way over rode the true purpose and message of the "No Bra day" and instead became an opportunity for young ladies to show the perkiness or "unperkiness" of their breasts.
This could be excused as an effect of "youthful exuberance" but while putting our perky breasts on display, let us keep at the back of our minds, the main objective of the "No Bra Day"
Thanks for reading!