Call Me Batavia #8 : I Want To Eat Your Pancreas: Book Review | Mencari Nilai Seseorang dalam Keseharian Mereka
You can call me Batavia. I was a boy who lived in Indonesia. This was my story.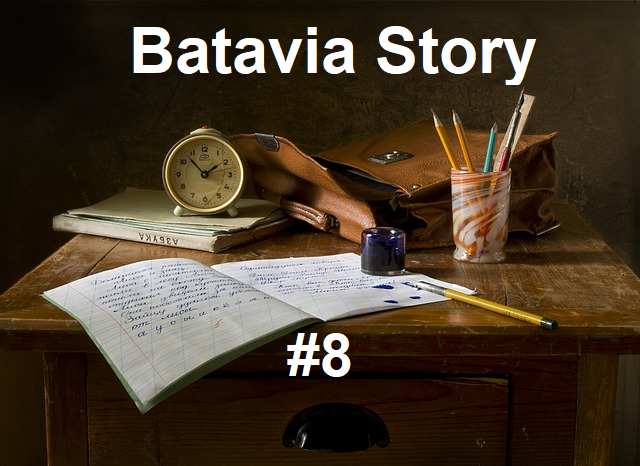 Source: Pixabay, modified
I Want to Eat Your Pancreas kutemukan ketika sedang berkeliling mencari bahan bacaan. Entah karena insting atau memang sudah kebiasaan, aku mengambil novel ini begitu melihat tulisan J-Lit di sampulnya. Buku ini diterbitkan oleh Haru dan memiliki tebal 303 halaman.
I Want to Eat Your Pancreas bercerita tentang tokoh aku dan seorang gadis bernama Yamauchi Sakura. Aku adalah seorang murid yang tidak terlalu menonjol di kelas, dan dengan sengaja berusaha tetap seperti itu. Sementara itu, Sakura adalah seorang gadis ceria yang populer di kalangan cowok-cowok.
Karena aku tidak sengaja membaca sebuah buku harian rahasia milik Sakura, aku mengetahui satu rahasia besar yang disimpan olehnya. Sakura terkena kanker pankreas dan hanya punya sisa waktu satu tahun. Walau begitu, Sakura terlihat baik-baik saja. Sekarang dia malah mengganggu keseharian aku dengan mengajaknya ke sana kemari. Aku, yang hanya punya harga diri secuil, mengikut saja dengan keinginan Sakura. Sakura, yang seenaknya dan tak peduli pendapat orang, membuat aku merasa pasrah. Hubungan mereka yang semula sebatas teman sekelas berkembang menjadi sesuatu yang lain.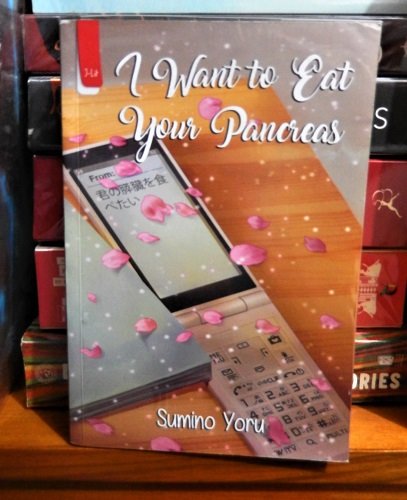 Sampul buku "I Want to Eat Your Pancreas"
Reaksi Sakura yang sebagian mengira kalau dirinya akan "ditembak" oleh aku memberi nada ringan serta tease dalam percakapan mereka berdua. Beberapa kali aku harus mengingatkan dirinya bahwa gadis yang ditemuinya akan pergi suatu hari nanti. Sikap Sakura yang riang menghindari munculnya melodrama. Bagi aku, nilai Sakura lebih tinggi darinya karena dia akan mati. Namun, Sakura membantahnya dengan mengatakan kalau nilai orang setiap hari adalah sama.
Latar SMA dan hubungan antara laki-laki dan perempuan sudah sering banyak diangkat dalam cerita, sehingga bukan faktor penambah "wah". Tokoh yang mengidap penyakit serius juga bukan hal baru. Namun, penggambaran tingkah dan dialog antara Sakura dan aku dirangkai dalam komedi meski berbau drama. Naik-turun konflik antara keduanya juga seimbang, bahkan terasa alami. Cerita ini adalah cerita romansa tanpa romansa di dalamnya. Akhir kata, menikmati buku ini akan memberi perasaan bahwa kita tak akan pernah tahu tentang nasib orang lain.
Novel ini telah diadaptasi menjadi film pada 2017 dan sebuah anime yang direncanakan tayang pada 1 September 2018. Sumino Yoru, pengaragnya, memulai debut dengan novel ini pada 2015. Ia suka menulis sejak SMA dannovel pertamanya meledak di pasaran. Dia berhasil mendapatkan juara kedua dalam Honyaku Taishou Award pada 2016 dengan novel ini. Karya lainnya adalah Mata, Onaji Yume wo Miteita, Yoru no Bakemono, dan Kakushigoto.
| Buku | Data |
| --- | --- |
| Judul | I Want to Eat Your Pancreas |
| Judul Asli | Kimi no Suizou wo Tabetai |
| Pengarang | Sumino Yoru |
| Penerbit | Haru |
| Edisi | Cetakan Pertama, Maret 2017 |
| Tebal | 308 halaman |
---
Salam Steemit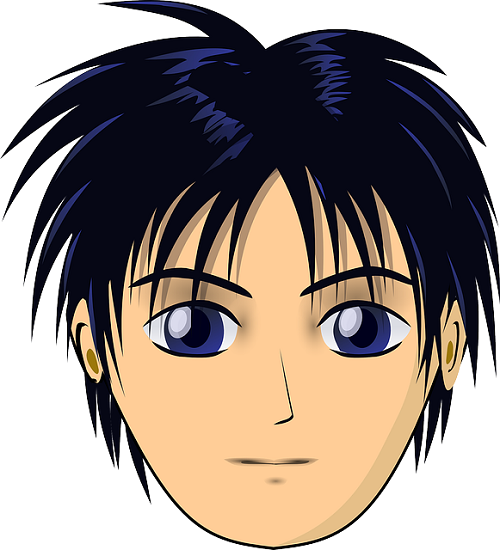 Source: Pixabay
---
If you like my writing, please upvote and restem this post. I would love if you follow me @batavia.
---
Other Stories