A king
In the midst of a gentle blizzard on a cold autumn day, thirty-two eggs hatched slowly causing slight sounds as the shells opened, one by one they left the nest, small, elusive creatures that went deep into the sky. deep of the plain, until there is only an egg, a perfect white egg belonging to the king of snakes, a royal cobra.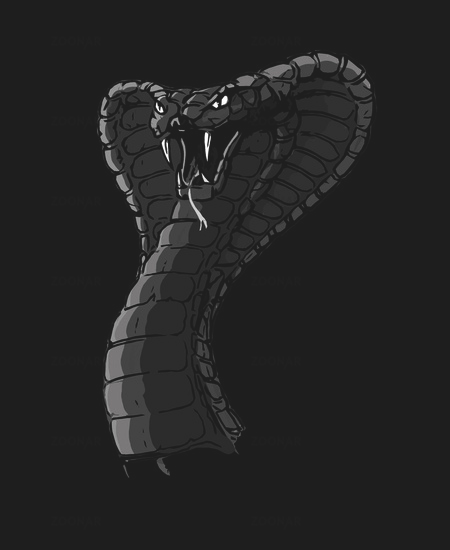 Fuente
A curtain of mist completely covered the plain trying to cover the birth of that little creature born of darkness. When he completely abandoned the shell, he had the need to look for the surface, he was buried under a mountain of empty shells, he was baffled, after all he had just been born, but unlike many creatures, he was born with the weapons to survive and he would be guided by his instincts, he was the perfect predator.
The sound of the dry leaves breaking announced his transit, soon understand that stealth was one of its main weapons. After traveling a large piece of land full of incessant vibrations and smells, he finally stopped, but not because he wanted, before him an act misunderstood and although in the midst of his insuppressive deafness he could feel the sound touch and cross its entire length. They were two beings of his own condition and although his instinct forced him to leave, his own body announced the danger remained still, watching, they seemed to dance as they interlaced their bodies, stood up and opened their hoods in recognition, had He felt the attractive call of the female and had been shocked.
Gathering their instinct away, the danger was imminent, they could devour the perfect predator that marked his nature and end with what had just begun to be.
The sound that made his skin vibrate was something he needed to feel again, he was charming, and with that sensation he knew what had taken him to see the surface, to find that enchanting call, that attractive music.
The darkness left the surface like a retreating cloth arrived the king star showing implacable, giving everyone a different world with his birth, could not help but see the white clouds take different colors, golden, violet and pink falling in hue or increasing in itself.
His instincts told him the moment to feed, his first food would be a rodent, he had felt it approach all the time and before the rodent anticipated he was being deprived of freedom, he had not exposed him to his poison, he felt the heart of his Dam resonate and incite him to end his life, but before he had a deal to offer.
_ If you answer my question with what I want to know, I'll let you live._ offered the royal cobra overflowing malice and mischief.
The little rodent felt his heart beating making every limb of his body tremble, he was trapped and even knowing he was lost he felt the need to escape, the eyes without movement of his enemy looked at him with intensity.
_ How do I find the call of the female? _
When he did not receive an answer, he devoured his whole prey, he would search, ask and devour until he received an answer.
With each passing year became more imposing, more lethal and perfect, there was no other like him in the plain, had spent years since his birth and his mature age had arrived, he longed to hear the call, continued with his continuous search for that lovely sound, for that masterful music, he remembered it as if he had dreamed it the day before.
He knew that his length was envied by many, he measured almost four meters for his early age, his color was matte black and part of his belly was a bit yellowish white, his eyes the color of copper showed not forgive anything in its path.
I wait long enough to have a rattlesnake trapped, I would not be the first to devour, I hated that they were always so arrogant and moody.
_ If you answer my question with what I want to know, I will let you live.
He explained as many times, the rattlesnake knew that he was lying, the royal cobras believed with the right to expose their terms, how and where they wanted, believing that they always have power over the other creatures in the plain.
_ How do I find the call of the female? _
_ You sound ridiculous to be who you are._ Rattled the rattlesnake, he felt the danger survive to see how the cobra showed his fangs overflowing with poison._ I do not know, I do not know ... _ watched as he approached and by he was quick to say. But I know who could know, I'll say it if you give me your word to let me go with good.
The cobra observed her without believing her words, but accepting the deal in the end.
_ The toad on the banks of the swamp, tell him that I sent you, I have given my word not to devour him and therefore he owes me a favor, he will tell you how to find the call of the female._ culminated to feel like the venom of the treacherous cobra corroded his body, he had not even died when he began to feel the moist interior of his predator.
He had lost the notion of time in the middle of his search, but several prisoners had confirmed that if someone could tell him how to get his dream, that would be the toad of the swamp.
It was not nocturnal creature so I wait for the sunrise to be able to devise something, find the toad and get it out of the water, I needed answers.
Using his stealth to capture one of his wives, his favorite frog, the toad looked at him with absolute terror, he knew he would lose his frog.
_ He sent me the rattlesnake, he says you owe him a favor, I need to know, How do I find the call of the female? If you answer my question with what I want to know, I'll let her live.
_ If you give me your word that you did not harm frog, or my tadpoles, I'll tell you how to find the call of the female. Toad knew that the cobra's arrogance would never give him confidence, but he must have faith.
The king cobra nodded in agreement.
_ Follow the mountain down, until you find the flow of the river, then follow it downstream until it takes you to some constructions outside of nature, where the creature called man resides, he will take you to find the call of the female. the life of your frog.
And as he had foreseen, the cobra had not respected his word.
_ You have not respected your word._ I accuse the toad being also caught by the cobra.
The cobra smiled internally with mockery, the frog was barely a light snack, the frog would fill it at least until it found the creature called man.
_ I do not respect creatures as insignificant as you, and that rattlesnake._ Spit with sarcasm while it swallowed him practically alive, his gastric juices would do the rest.
He followed the path that the toad gave him without questioning, he thought how naive everyone had been to whom he had asked, he was so close to finding the call that he felt happy.
He found the strange constructions made with nature, and for the first time he felt totally in danger, cornered as only he knew how to do, those creatures called men, had surrounded him as soon as he slid towards one of them in search of an answer, they did not understand him and until that point he understood that he could not even plead for his life, the toad had betrayed him.
He tried in vain to defend himself, he had noticed the body of one of his own hanging without skin while he was bleeding, he cursed the toad and the rattlesnake.
They left him without sight catching him in a basket.
He did not know how long he had been trapped, but the sound of the female's call made him want to get out of that suffocating darkness.
They released him, and instantly opted for a defensive position lifting a large part of his body and unfolding his hood.
At what moment had he thought he would find the call of the female?
In his eyes a man with an artifact that did nothing but confuse him with the call.
The sound that blew touched her skin, confusing him in the process as she balanced on her own body, something that the cobra imitated in search of not being surprised, since she had already been betrayed, she wondered in the middle of it all.
Why could not he keep his word? Why could not he respect himself?
Now he condensed it.
I hope you liked this new attempt to make stories, I will continue uploading more content of this type. Happy day!