My Never Ending Journey Across The World - Episode 6 - Cat Ba to Sa Pa
Welcome back to yet another installment of my journey across the world that never seems to end.
The previous episode can be found here. I brought you through my time in Ho Chi Minh City and through a couple towns up the coast in search of the perfect beach, only to find nothing but less than ideal conditions and a city invaded by Russians.
---
Hai Phong
I arrived in Hai Phong much like how I did in Ho Chi Minh City; late at night, tired, and hungry. The only difference was I didn't have a car waiting for me upon arrival, so I grabbed the first taxi that appeared. First mistake.
You always hear about how taxi's are the worst in Vietnam; the drivers are always trying to scam you and they'll stop at nothing to make you pay more than what the trip is actually worth and this trip was no different than that. There had only been one instance prior to this that made me realize the taxi driver's here are complete assholes to foreigners. I won't get into that, but basically keep an eye on the meter when you get in the cab and be sure it has been reset.
The cab driver seemed decent enough and kept to himself most of the trip, probably due to not knowing very much English. He ran the meter from when I got in and the whole trip only cost 40,000 dong, which is a decent price coming from the airport to my hotel. But upon arriving he was asking for 50,000 when clearly the meter showed 40,000. I'm annoyed and point to the meter, "No, the meter reads 40,000!" He grunts and holds up a 50,000 note, signifying he wanted more. It was 2:00 am and at this point I was not in the mood to argue over $.50 CAD, so I handed him a 100,000 note, second mistake, and conceded to pay his inflated price. What he did next was next level rude . Expecting to receive 50,000 back he handed me 40,000. That asshole had the nerve to take another 10,000 from me! I wasn't in the mood to argue because I was completely fed up with this man already and decided the 20,000 (~$1 CAD) wasn't worth it. I slammed the door and checked in at the hotel, preparing for the next day when I would go to Cat Ba Island.
---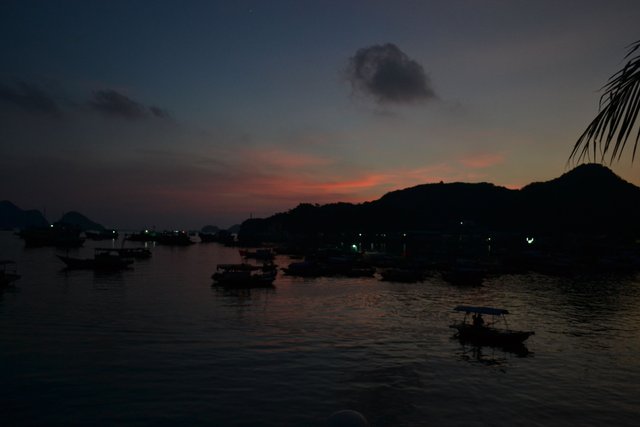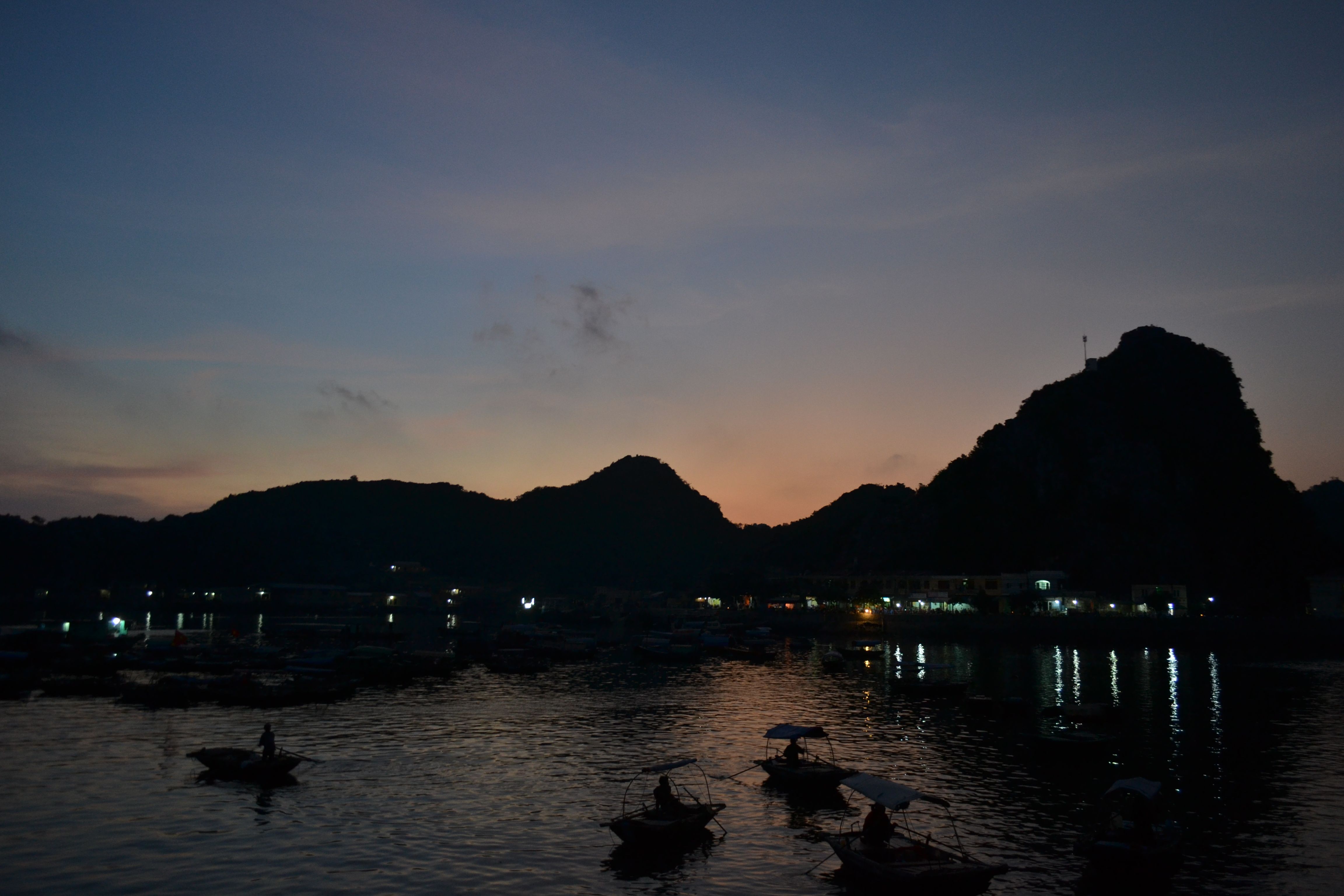 Cat Ba Island
I woke up, messaged my friend Alicia and we decided to meet at the ferry terminal in the downtown port. I arrived with a couple minutes to spare, I purchased my ticket and spotted Alicia in the waiting room, snacking on an apple. As we were waiting for boarding we caught up and talked about what we'd been doing since we met. She mentioned that we were meeting 8 people she had met in Hanoi earlier in the month. They all came from different parts of the world and were all amazing people. They called for boarding and with that we hopped on the ferry and left Hai Phong once and for all.
The journey there is quite fast and extremely beautiful, it lasted about an hour passing by hundreds of steep islands rising out of the water. The rock formations all stood tall and proud, covered in greenery. I couldn't stop looking at them and taking pictures.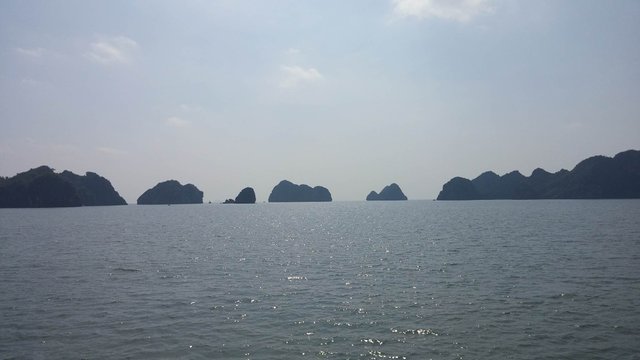 As soon as we got to the island we dropped our bags off at the hotel, got into our bathing suits and headed for the beach. It had been so long since I went for a swim in the sea and the first time I was going to be able to swim in water that wasn't 8°C. When I finally did get into the sea it was difficult for me to leave, the feeling of complete comfort was shocking, almost as shocking as jumping into the ocean back home. The beach was at a resort, but open to the public and you could use the beach chairs if you purchased a drink or paid 20,000. They had a man go around and clean up the trash that would float in on the waves, so the beach was almost pristine.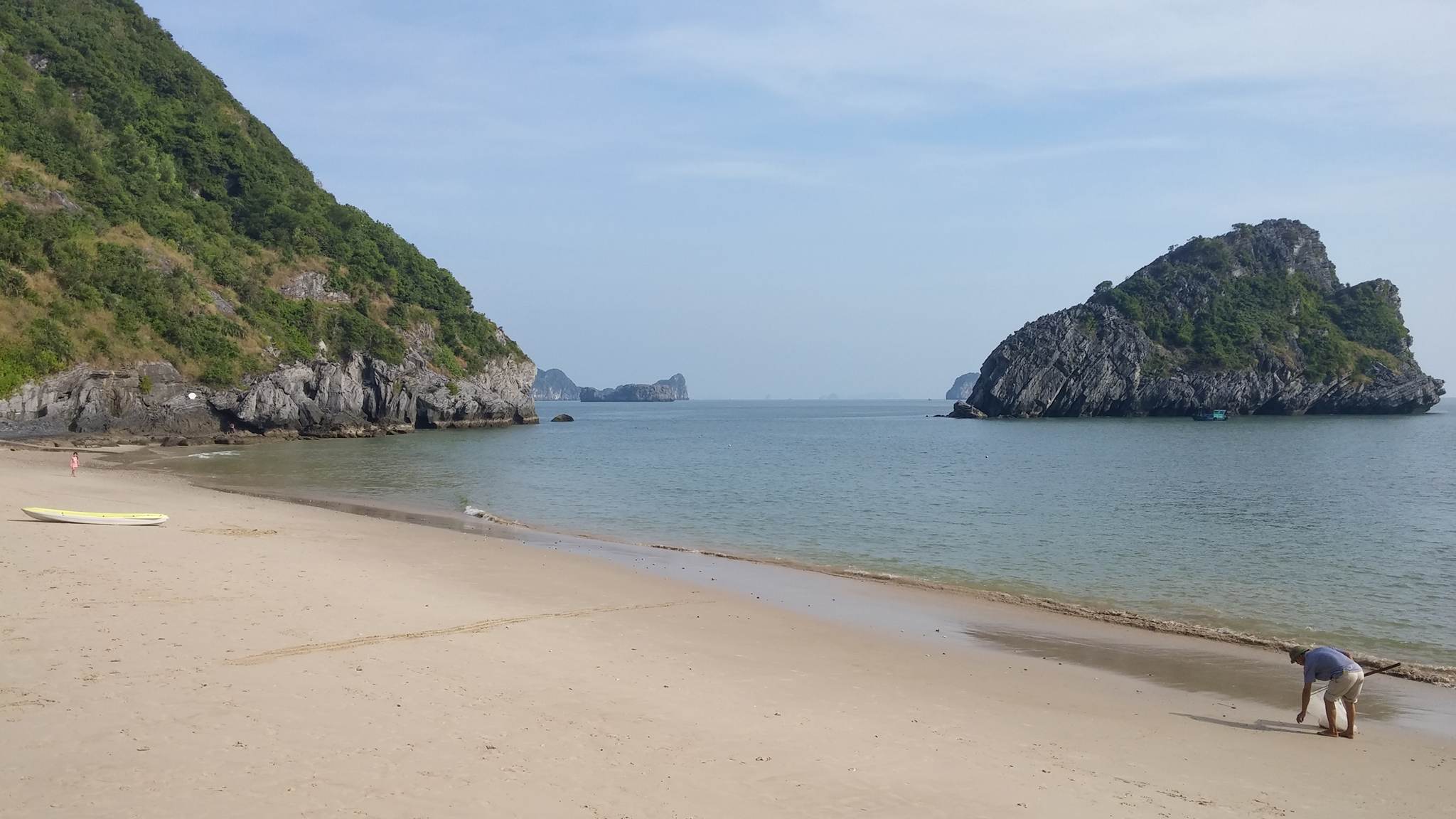 When we got back to the hotel Alicia's friends had arrived from their day trip around the island and a couple of them were already napping, so we went and chatted out on the patio, waiting for the others to wake up. We sat around playing cards and getting to know each other for a majority of the night. They had invited me out on a boat trip the next day, they were renting a boat and hiring a guide to take them around some of the islands. No way in hell was I going to miss out on an adventure like this, especially if it meant making a bunch of new friends! We were a mixed bunch of nationalities, hailing from Netherlands, Italy, Scotland, Spain, France, and, of course, Canada.
All of her friends were really nice and welcoming to this stranger none of them had known about until that day. That's one of the things you get to experience when you travel around the world; people being nice to one another without thinking twice about it. Maybe it's because when traveling solo the level of loneliness inside makes us welcoming to individuals you wouldn't normally sit and chat with.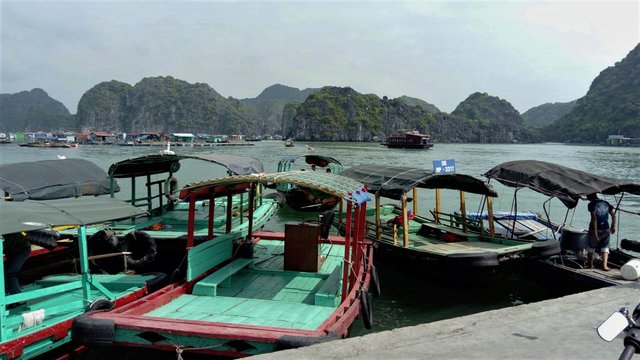 The tour was awesome. We went north of Cat Ba and the first stop was a rickety old wharf at the foot of one of the many conical islands in the area. From there we were given some kayaks, a very short description of where some caves were, and a vague route to follow. Needless to say we didn't find the caves and we almost got lost navigating between all the islands that are extremely difficult to differentiate between. But we made it back alive and only 20 minutes late.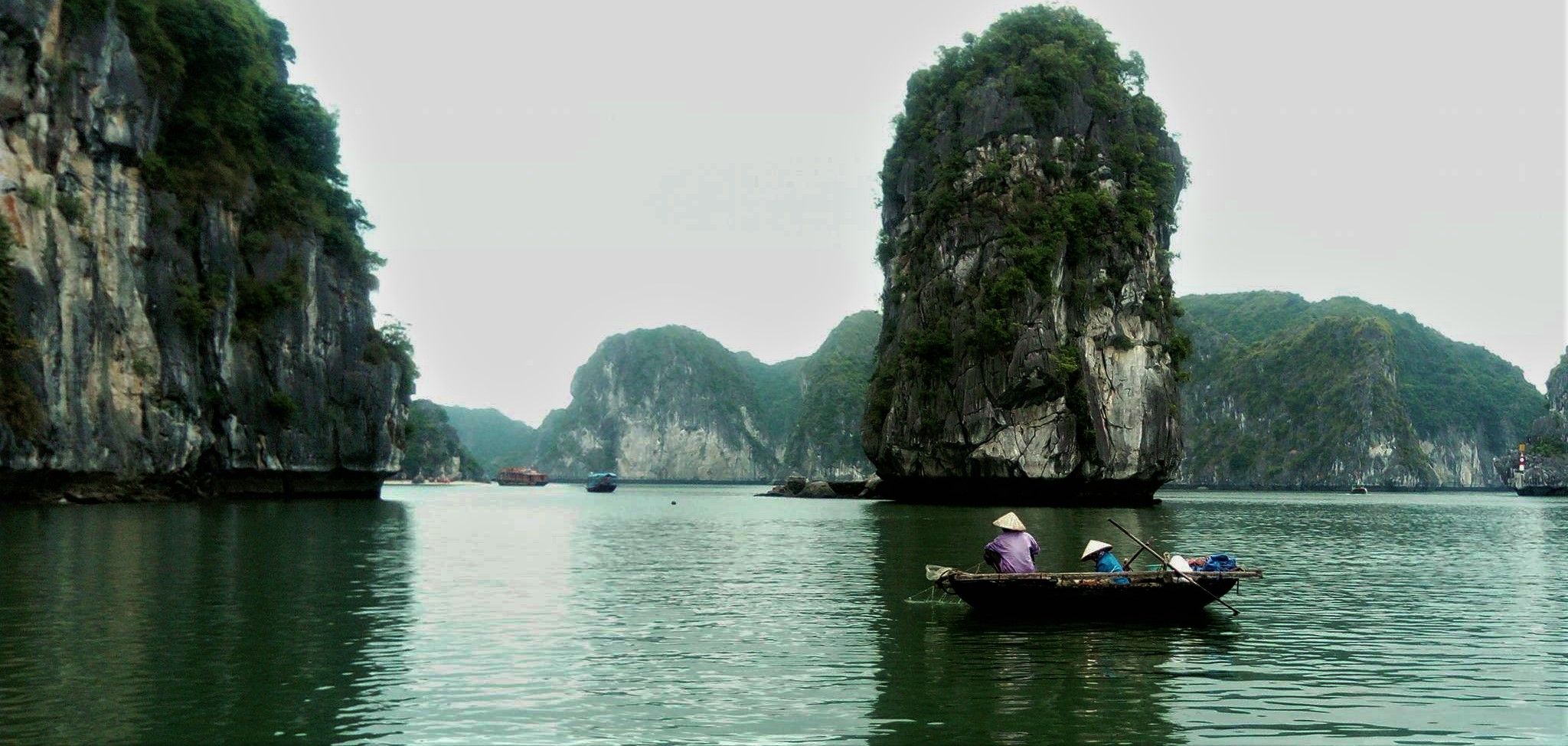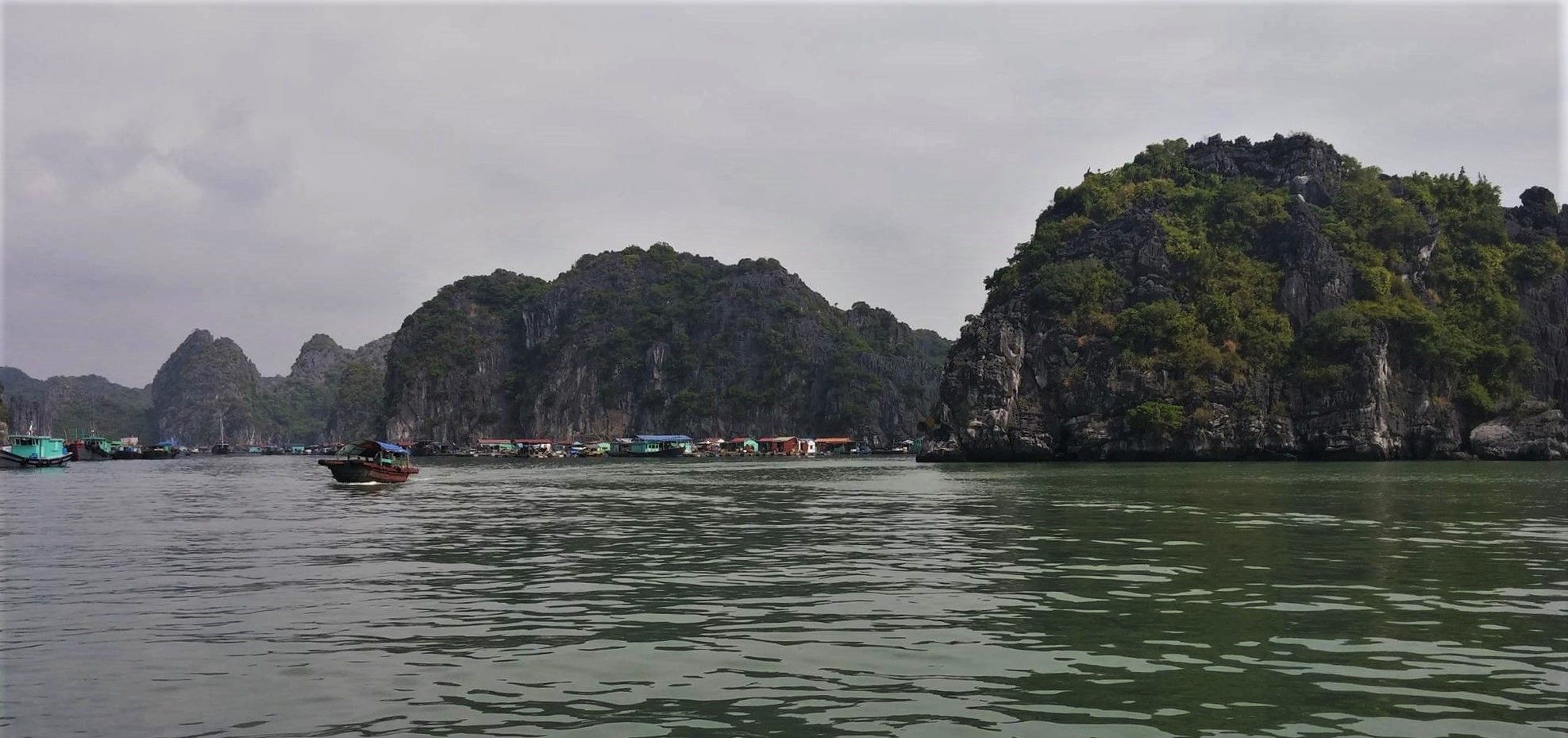 After we brought the kayaks back we were taken to a spot to have a swim, snorkel a bit, and eat lunch. It was peaceful, enough so that a few of us went into a food coma and took a nap. The way the boat swayed in the waves, it was like we were all laying in a large rocking chair, being put down for our afternoon sleepy-time.
When everyone woke up our tour guide took us to Monkey Island at the southern tip of Cat Ba. It was a small island with a beach scattered with millions of bleached and dead coral, and a very short hike up to the highest point that takes no longer than 18 minutes to ascend and descend. Oh and did I mention there are monkeys? Well, yeah. There are monkeys. You don't want to get too close to them because they are quite territorial and aggressive. So if you go, stay clear of the red-bummed monkeys!
The tour was definitely worth it and if you have a large enough group, we had 7 people in total, you won't be paying too much for over 4 hours on a private boat. If my memory serves me correctly, we each paid less than 150,000 dong or $8.50 CAD. Shuttle there and back included. Not bad, right?
After the tour we all went back to our hotel, went out for dinner, and began a night of talking, planning, and very minimal drinking. The group were talking about going up to the north west part of Vietnam to a town Sa Pa. It's known for its rice terraces and the Fansipan Mountain. They were leaving the day after next and being the nomadic soul I was trying to be, I agreed to tag along for the adventure! It was at this time that Alicia decided she was going back to Hanoi and wouldn't be joining us on our travel to Sa Pa.
Joining this group was probably one of the best decisions I'd chosen so far on this trip and you'll find out why soon enough.
---
The Road To Sa Pa
That guy just took my hat.
The bus to Sa Pa was a sleeper bus with 30 beds. It's a nice change from the Greyhound bus I'm used to back home because if you want to sleep then you don't have to worry about killing your neck from sleeping sitting up. However, if you're taller than most Vietnamese you might be a little less fortunate, like I was, because the foot area is closed off and it's a pain in the ass, and knees, when you're trying to stretch out your legs. From the outside it looks like it might be a rave bus driving by, what with all the neon lights and the flames/interesting decals all over.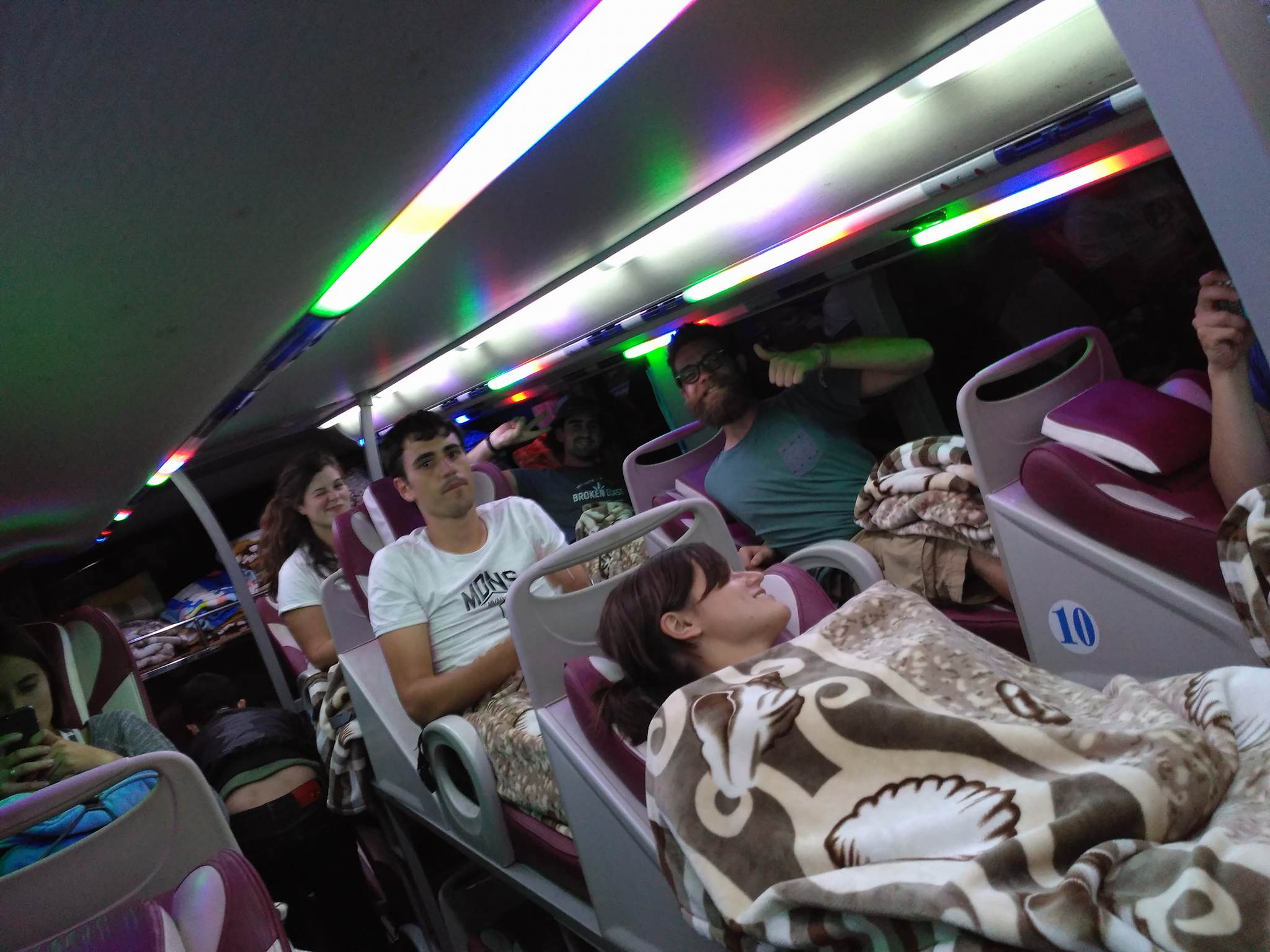 We got picked up at 3:00 PM, with a duration of about 12 hours. Easy. I spent most of the time chatting to everyone, expecting to catch a couple Z's a bit later once it got dark out.
We changed buses at one point and the bus driver forced us off without much word of what was happening, we figured another one would come get us because he left all our bags on the side of the street. We got let out in front of this corner store/restaurant at 11:00 PM. The only locals around were the family running the store and two guys sitting at another table behind us.
We saw the bus coming and got up to board when this Vietnamese guy walked out of the shadows wearing one of those fake Vietnam war helmets they sell as souvenirs. He walked up to me and proposed a trade of headgear. I looked at his hat and was intrigued for a second, but quickly reconsidered and replied with a, "Yeah, suuure." Let me just say this, never use sarcasm around people who aren't fluent English speakers... Immediately he reached for my hat, lifted it from my skull and plopped the fake knock-off war helmet on my head and started walking away. I was standing there in shock, not knowing what to do as this man is beginning to straddle his motorbike while the bus had arrived and the crew were loading all our bags into the compartment underneath. I made a frantic dash toward the guy who I apparently just made a deal with. I began pleading my case, but it was all for naught as he started up his bike and sped away. Leaving me standing there in the middle of the street with that cheap plastic helmet dangling from my hand. Sometimes I can still hear his girlish, evil laugh haunting me at night, while he waves my hat at me. Taunting me. I was, and still am, frustrated that he drove off with my hat. I had only just bought it before leaving Canada, but at least I got this funny story to tell and that's all that matters. Right?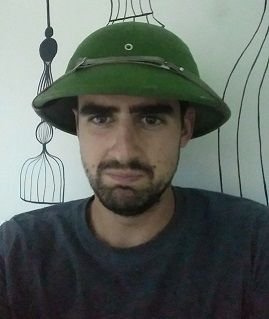 I think I've rambled on long enough for this chapter, but stay tuned for the next episode when I visit Sa Pa and meet a family from the local Black Mhong Tribes.

If you enjoy reading my stories and you'd like to help fund my on-going journey, a tip would go a long way and is greatly appreciated.
BTC- 32hXiZjbhSGDqZbyMetrgTgjFkeTURWht8
ETH- 0xea2fA64c716b9ff7DdAeFb1d58053C55edD21Db3
LTC- M91reVpdFuj6MhAboYyB33Ps4obHqARKf9