Introducing the Isle of Write: Creativity from the Cabana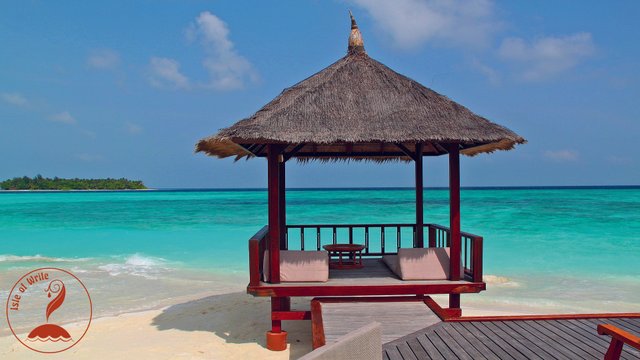 Introducing the Isle of Write: Creativity from the Cabana
---
Message in a Bottle #1
Origin: The Isle of Write
Sender: @jrhughes
Recipients: Steemit Creatives
I'm sending this message from the lovely, sun-drenched beach of my new home, the Isle of Write, located in the tropical waters of the Sea of Discord. When I landed on these shores with co-founders @authorofthings, @carolkean, @geke, @lenadr, @pegasusphysics, and @sunravelme, we took one look at the silky sugar sand, the robin's egg sky, and the fields and fields of green (thanks to @geekorner this is not a desert island), and knew immediately we had found a place to foster community and creativity in a relaxed and encouraging environment.
"Let's not make a big thing," we agreed. We were just a little group of writers and visual artists chatting about everything and nothing and decompressing a bit in The Pub.
"This is really quite lovely," we realized. It seemed a shame not to invite dear friends to visit, and so we did, and the Isle bloomed.
Soon we had the Comics Cave, English Grammar Grove, Fiction Fjord, Non-Fiction Fun, Off-Steemit Ocean, Poetry Pond, Scripting Springs, Songwriter Soundings, and Visual Arts Vistas, all places for creative types to give and receive support and feedback in a community where courtesy is king.
We and our little group of friends sipped margaritas, wrote, posted, and shared.
"Some of these folks are incredibly wise about cryptocurrency," we noticed. "Perhaps they should have a spot for that?" So Crypto Chat was formed and many of us who came to Steemit not understanding a whit about blockchain, began to hang out and learn from the Isle inhabitants in the know.
"Have you heard about the Five-Minute Freewrite?" @MarianneWest called from her canoe.
"Come ashore and tell us more," we responded. She did, and we were enchanted, and the Free Writing Retreat blossomed, and our creativity and output and happiness grew with it.
"Would you be interested in hearing about my plans for teacherless writing groups focusing on the emotional impact of stories more than the technical execution?" shouted @vitkolesnik from the seat of a garvey. By this time we were tipsy on tequila and drunk on friendship and we giddily dragged him ashore where he works happily to bring his vision for an impact feedback group to Steemit and beyond.
"We should fund a curation trail that rewards exceptionally creative content, and we should even dedicate a part of it to exceptional expired content that didn't receive exceptional payout," we mused. So we began to build a website that would feature such content, with the goal of remonetizing expired posts, because some creatives contribute much of themselves for little return.
And we also prioritized finding a synonym for "exceptional."
"We need a place for people to post their links," we decided, and the Sharing Shores were set aside for any and all to display their creativity in the written or visual arts. "Please don't spam here. Take the time to tell a little about your post so people know why they might want to read it. Be courteous and don't overshare, leave space for others' posts to be seen as well. These fall under our one rule: Don't be a jerk." And conversations burst forth and friendships were made on the spam-free Sharing Shores.
"You're crazy!" naysaid the naysayers. "People will take advantage!" But the magic of the Isle was such that no one did. No one was a jerk and no one spammed and we let the naysayers drift on by.
"What color would you like your name to be?" we invite each traveler who appears on our sands. "Our names comprise a beautiful decentralized rainbow of equal, nonexistent 'rank' and you are free to choose your own."
"But who's in charge?" ask a few weary travelers.
"Just...just don't be a jerk," we reply, confused.
"But what happens if someone is a jerk?" they sometimes persist. We just smile and hand them a drink with a tiny umbrella.
Because over one hundred Islanders in, we haven't had to find out yet. The magic of the Isle fosters peace. It unleashes creativity. It builds confidence.
Best of all, it brings us together.
Whether you are a best-selling author or just finding your inner writer; a Hollywood screenwriter or just someone with an idea and a dream; a celebrated photojournalist or an amateur snapping pictures with your iPhone...no matter your level of skill or your aspirations for the future, you are welcome at the Isle.
Do you want to get better at your creative outlet?
Wonderful! We have what you need in the Workshop Waters.
Do you just want to share what you do without judgment?
Fantastic! Come and visit the Isle of Write, where our highest priority is community and our only rule is, Don't be a Jerk.
---
If you decide to stop by, this detailed info will aid in your journey to our shores
This info is also available in our beginner-bay
---
---
Are you coming for a workshop?
Under the "Workshop Waters" category are all of the places you can go to both give and receive help, advice, feedback, and inspiration. We ask that all of these things be done in a courteous manner. This falls under "Don't be a jerk." Putting a piece of creative output before someone is a frightening and risky act. If you truly find something not to your taste or just plain lousy, you don't need to comment at all. Yes we want to help one another improve, but no one should ever be treated rudely, mocked, derided, or criticized. All feedback should be constructive, meaning it provides not only a critique of what is wrong but an acknowledgment of what is right and advice for how to do better.
Available Workshops
---
See the channel descriptions and any pinned posts at each for more info
Want to share already posted material? Head over to the Sharing Shores.
The link rooms are open to all…
But we ask that you not drop and run and don't spam us. These also fall under "Don't be a jerk." Post your link, tell us a little about what we can expect from it and what inspired you. Be courteous by not posting multiple times a day so others' links will also be seen. If link dropping is abused, permission to post to those rooms could be revoked. Don't be that guy (or gal).
---
If you need help, below are the founders' Discord names:
@ geke ❄❄❄
@ Just Jess (jrhughes)
@ LenaDr
@ Lakhi (PegasusPhysics) 🐉
@ sunravelme☀
@ Inna (authorofthings)
@ Keangaroo (carolkean)
---
Think you'd like to wash up on our shore? The treasure map will bring you right to our door!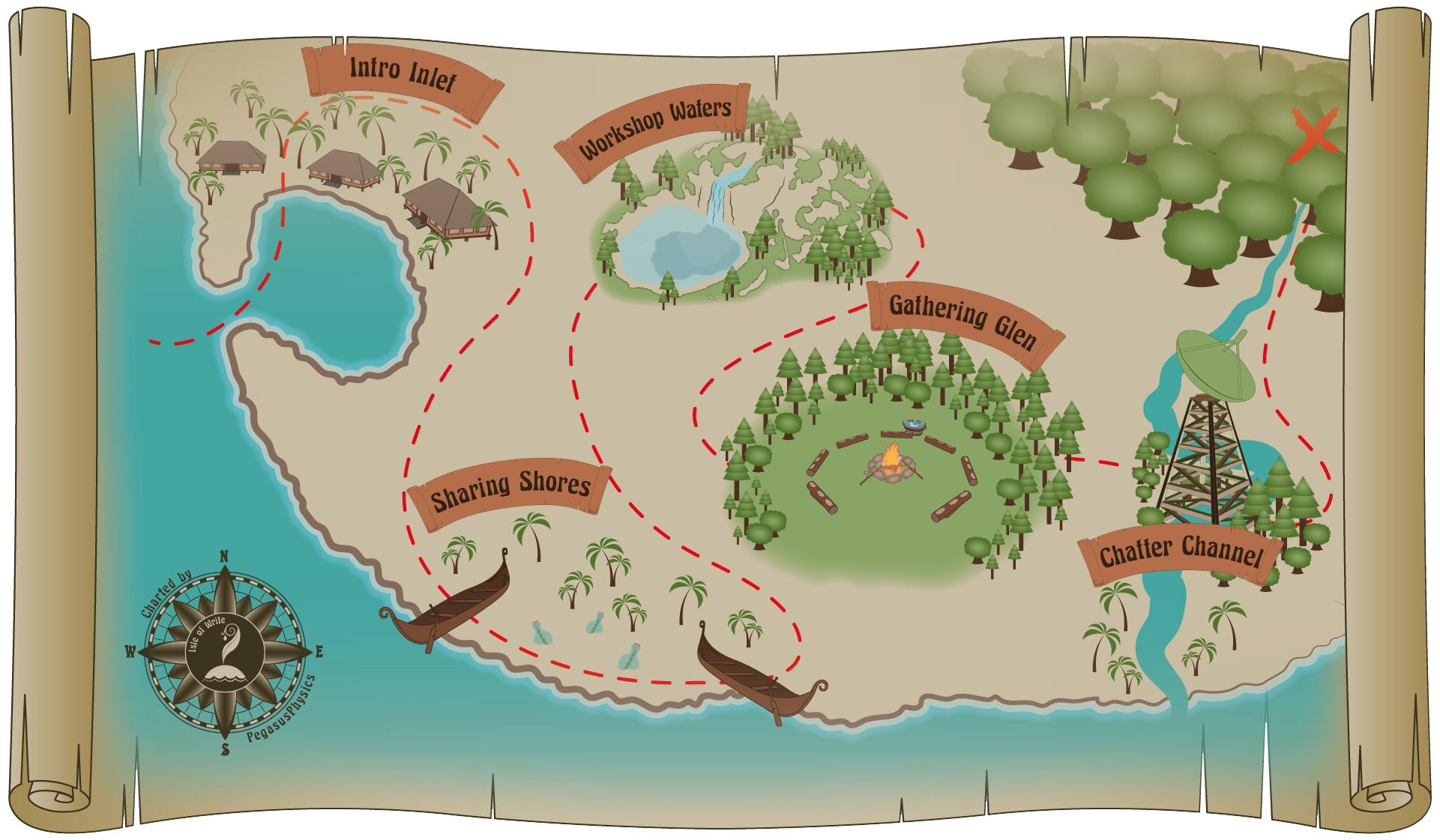 Header image courtesy of sharonang via Pixabay
, art and flair courtesy of @pegasusphysics