9 fascinating examples of Soviet-era architecture
Some two days ago another listicle of mine written on assignment for the Matador Network made it into the publicity, titled the same as this post. I'm still a beginner, so publications like this still do make me proud and itching to share.
It goes like this: Everything about the Soviet Union was enormous: the land mass, the historical feats, the ambitions, and the mistakes. The USSR has fallen, but its obscure creativity still stands in the shape of massive concrete buildings that reflect the unique spirit of the socialist state. Here are nine examples of big, stark, extravagant Soviet-era constructions that look like science-fiction creations.
Here's the link to the original writing:
9 fascinating examples of Soviet-era architecture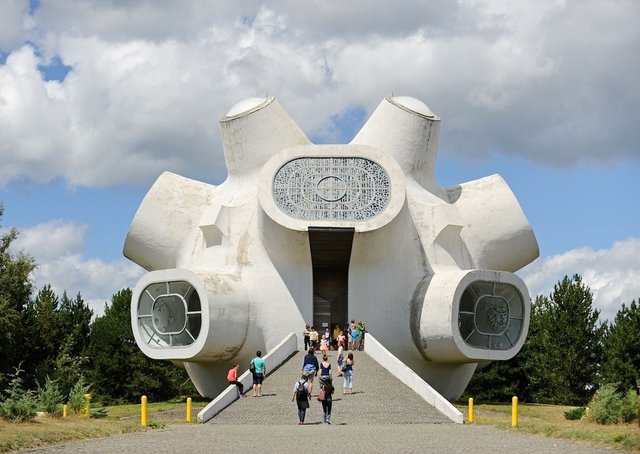 And the sites featured there, are the following:
Russia-Georgia Friendship Monument, Georgia
National Library in Minsk, Belarus
The Memorial House of the Bulgarian Communist Party, Bulgaria
The Kruševo Makedonium, FYROM
Ninth Fort, Lithuania
The Pyramid of Tirana, Albania
Institute of Robotics and Technical Cybernetics, St. Petersburg, Russia
Druzhba Sanatorium in Yalta, Ukraine
Miner's Monument, Kosovo
Let me know what you think, yo.

If you liked this post, consider giving it an upvote or resteem. Make sure to follow me on steemit and instagram and all that. See you around...
Me on the other platforms:
---
To view my posts on @SteemitWorldMap click here:


「My recent posts」
The Ocher Valley of Sorrows - Travel Writer Contest
9 amazing UNESCO World Heritage sites in Russia you must check out
Colorchallenge: Monday Red. Stained Glass of Persia
My first Magazine Publication, the first "Success"
「My best stories」
Sectants and magic potions, Ayahuasca experience in Colombia
Exhausting ride along the border of Afghanistan
Overnight adventure in Haunted Bhangarh, a Ghost Town in India
Beheaded Goat and Bloody Idol above the Clouds in Himalayan Temple