Tools for archiving blogs and posts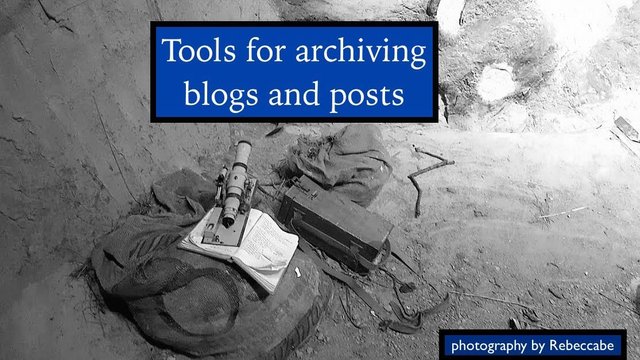 My photo at museum
What if future generations find the blockchain like an archaeological site with historic relics. Uncensored sites will be of most interest.
Who knows some of the posts may make it down the line through the blockchain or by someone saving them. There will be first hand view of what is going on, our thoughts, interests, and feelings. How we are a cash society leaning toward cryptocurrency.
In the distant future like relics on an archaeological dig there will be photographs of our desserts, pets and trees. I had to include that.
Most all-different parts of the world are here and posting. What a diverse group to chose from for our future generations to explore or maybe we want to enjoy our past thoughts and memories.
If the blockchain had recorded early human life we would have real first hand knowledge of people and their thoughts. Lets look at the 1930s what really happens a type of unbiased time travel. Of course there was no Internet then much less blockchain.
This brings me to archiving on the Internet unless you are one that manually saves each post.
Looking at today and a sure way to archive posts I found a few ways. One of the ways to archive posts or material on the Internet.
Internet Archive Blogs mentions something about a Way Back Machine.
Here's how to use it. link Go to this link to find the best way to use the site. If what you want doesn't come up you can enter it differently.
Open the Wayback website.
Enter the URL of the missing website or webpage that you want to open in the box at the top.
Click Browse History.
You'll see a calendar view. Select the year at the top and then date from the list of months below.
That's it!
Here is another option I may try since it takes little effort on my part.
How do I save an online article as a PDF?
Here is the link with the information on it.
Google Chrome Browser Has Built-in Save as PDF Function
Next, select Print. ...
You will now see a split-screen showing a preview of web page on the right side and a print options panel on the left.
Notice the Destination section. ...
Click the Save button and your web page will be saved as a PDF.
Then I found this youtube video that looks like a good way to save posts using an app.
Some of you save links on your posts or spreadsheets. If you were a procrastinator like me there may be no saving.
Please feel free to share any other ways you have found to save your work.
Original thoughts for original people
Brought to you by @rebeccabe
Stay strong and Steem on!