Acrophobia: Fear of Heights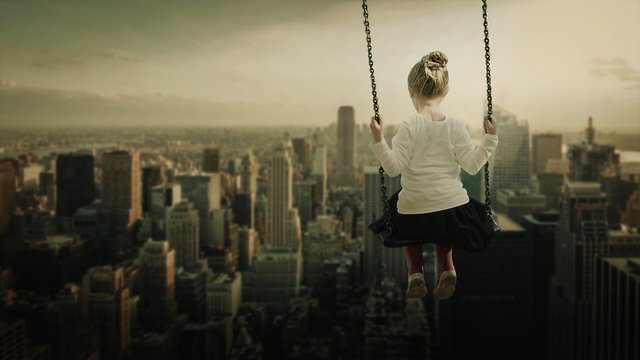 I never had a fear of heights when I was younger. I didn't really understand mortality either. My brother, Dad, and I used to tromp through the backwoods of Oklahoma and Arkansas, climb trees, hike up creeks, and climb fences. I remember jumping from a great height with my heels touching the air, and still not being afraid. I've jumped off cliffs into deep water. I've had a black moccasin (Poisonous, by the way) shimmy close to my bare feet in the mud. I've swam across a lake and imagined the churning waters underneath.
Only in the last year or so have I developed acrophobia. I first felt it when I was driving at night. My palms would seize, my heart drop, and my head pound when I saw nothing but the smooth, gliding darkness in front of my headlights. That'd never bothered me before. I used to do deliveries for my grandparents and I'd take long nighttime trips, sometimes from Fort Worth to Oklahoma City, listening to something dark and melancholy Nick Cave & The Bad Seeds or Portishead. I once shut the headlights and felt an exhilarated joy at barreling along a long road in total darkness.
I never felt like my heart was going to burst out of my mouth, like the darkness meant that the ground itself had dropped out, and me and my car would dissolve into it like mist.
I never went up a glass elevator and wanted to drop to the floor because I felt like I'd left my stomach behind.
Or went up in an airplane and imagined the engine bursting and me, suspended in air strapped into a giant piece of metal.
I did some research. Acrophobia generally happens to people in a later stage of life, in their thirties or forties. Because the older you get, the more aware of mortality you tend to be. You start to realize that you're a bag of vulnerable skin full of blood walking around in a world full of metal, sharp edges, and dog teeth.
I think this is what means to wake up.
This is what it means for the first time, to really understand what it's like to be human.
I've become fascinated by the ways in which I'm vulnerable. It's like being an overgrown toddler that has to slap its own hand from the light socket. I imagine what it'd be like to push a knife through my stomach, or press my hand flat into a burning frying pan. I too, can be chopped, dissected, peeled apart, burnt, and pried open.
I don't think about these things because I want to hurt myself. I actually don't anymore. It's just because I want to finally understand what it's like to be a component of the world.
I close my eyes to try to hide from the world sometimes. An ex-boyfriend of mine used to laugh at me, because when we first met I'd come into his room and curl up on his bed like a dog. I was trying to disappear, while also being present at the same time. A mysterious trick indeed. Let me know if you figure out how to do that.
But even the desire to disappear is a part of being human. The thing I'm hiding from cannot be hidden from, without removing the concept of hiding altogether.
Haha.
Other things are coming in though, and not just the fear. I appreciate the taste of food more. Petting a dog. Reading a book with a line that makes me shiver. Today, I went through the drive through of In-N-Out with my dogs and we got them hamburgers, along with some animal fries, and honestly I wasn't sure if I'd been happier sipping a margarita off the coast of Bora Bora.
While writing this, I shudder like a fledgling, its feathers scraped off against the pavement. I can feel the air cutting my cheeks.
When I'm 30 stories up and the beautiful view contains the terror of the heights. I was always this vulnerable, I just never realized it.
But maybe this is the beginning of being alive. Really being alive. Not curling up in a strange person's bed, trying to disappear into the covers, but opening myself wide, both to the fall and to the view.