Letters from my path: Receiving love & appreciation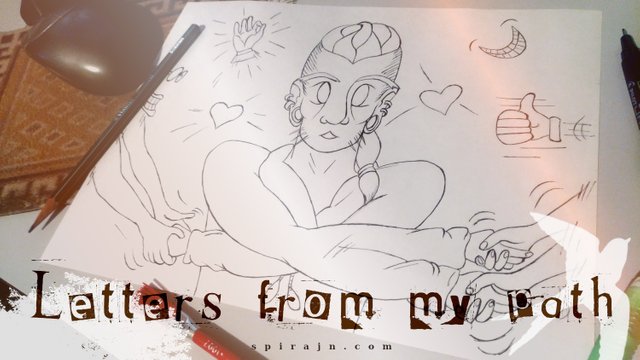 I didn't expected that. When I threw myself onto my own path, I was just tired to dedicate every inch of my soul, every spark of my energy to other people's goals and values.
Yeah, life is difficult... yeah, the hardship of living in an authoritarian country, with its destroyed economy, is a giant that treads on our dreams and inspirations, as the red murderers crush every dream of freedom. But this struggle is also the fight of my soul, that doesn't want to become shrivelled as a dried bread, not having the capacity to express its own feelings, values and visions.
Walk your own path, Spirajn —said the totem.
So I just had to learn to reject foreign paths, to say No in spite of the fear of my stomach; to put my hand against the proposals and pretensions that don't convey the colours of my soul. Either I walk my path or I walk yours... it is not possible to do both.
I cannot fulfill two destinies, I cannot play two dreams, I cannot serve two gods.
But I fear, because life is difficult and a giant treads on our dreams and inspirations.
You have suffered a hell... you can suffer a bit more —says the totem.
So I started to live my poetry and my own dreams, looking how the red skies fall onto my head. And I make my philosophy, and I experience my inner stories as if there's no tomorrow —because there's no tomorrow.
And people like it... they like it! And I didn't expected that.
My soul travels through my poetry and sits among other spirits, and they enjoy themselves together eating cake, pouring brandy and smoking a delightful Cherry Cavendish blend.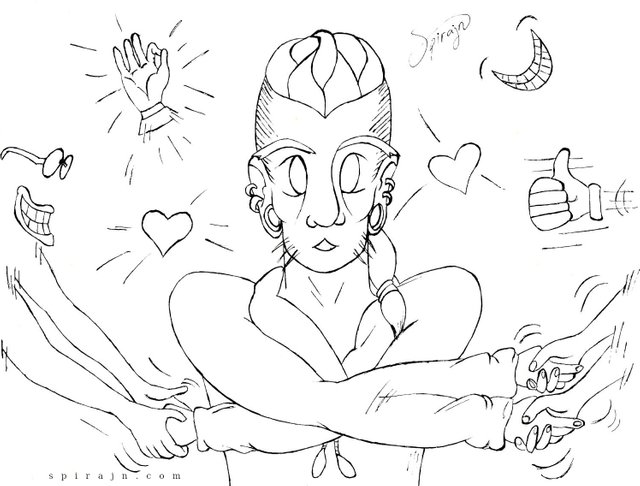 These big eyes you can see in my cartoon are not common in me. More often my eyes show the tiredness of the citizens of the underworld, when they are forced to live in a world full of sick lies.
But people like my poetry... some people like my soul.
This big surprise widens my eyes and makes me dream with a life full of my colours; a life made of my own stories... a life away from the hunger games that tease my body and my spirit.
I just wanted to say: Thank you.
---
Posted from my website:
---
Both pictures are my own creations
---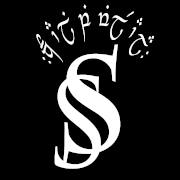 ---
You can share my writings on your social networks and websites; but be so kind as to inform my authorship, as well as the source of the text with a link to my blog.
~Spirajn Senpretend~
Website
Patreon
FloteApp
Minds
Steemit
Weku
Busy
DTube
Facebook SS
Twitter SS
[email protected]
---
If you want to support my work but this post got beyond 7 days old, please go to my most recent publication, so that your upvote could really reward my efforts.
You could also send a little tip to my wallet.
In any case, I will be grateful for your kind support.