Welcome to Buchenwald Concentration Camp; Previously Unseen WWII Photos
I grew up never knowing my grandfather personally, he died when I was three years old. I feel like I do know parts of him though, through writing these posts about him and his time in WWII, as well as the stories handed down by my family. Exploring the war through his photographic eye, reveals as much about him as it tells his story about his experiences in the war.
He was my mother's father and through her stories and memories, I know a few things about him. We always knew he loved to laugh, smoke cigars, and drink whiskey; we also knew he was in the war. We Don't know much about his time in the war, like most he seldom talked about it. One tale that was handed down is that he was there at the end of the war, he had witnessed concentration camps, and he participated in the clean up after the war had ended.
As I grew older and learned more about The Second World War, I began to doubt the story about concentration camps because I knew he was in Germany and there were few actual camps there, most being out East. Well, it's not that I didn't believe it, I just accepted it as family lore and never really questioned it anymore after a while.
Then a few years ago my grandma showed me an old film canister filled with several rolls of film inside. I was fascinated to see that there were so many rolls of film just sitting there for all those years. I immediately asked if I could have them developed so we could see what was all on the film. I took them to a film specialist and he said he could digitize them for a price. I said just do it and send me the bill.
A couple months later he called me up and told me they were finished. I went straight to his store and he remembered me right away. He said, "You know there's a lot of pictures here and they turned out really well, but I have to tell you there are some photographs from concentration camps on here."
I was a little taken back. So the stories were true, I thought to myself. I guess somehow I knew all along. I paid the man and thanked him a million times then turned to my wife and said, "Time to go!".
We raced home and what I found was over 400 photographs from WWII on a single CDROM disc. I went through each one clicking away next, next, next. There was so much to see. All the landscapes, soldiers, civilians, battlefields, blown up buildings, wrecked planes... It was like being transported back in time. Then I got to a series of 5 photographs that I will never forget. There it was, Buchenwald Concentration Camp.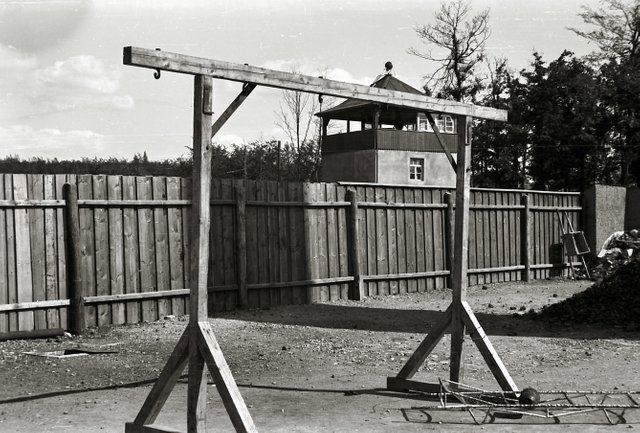 Click to Enlarge
My grandfather's assignment in the war was to be his unit's photographer, and that's the reason we have so many photographs. I learned this later on after I had asked my Grandma more about it.
There is something to be said when there are only five pictures taken of this concentration camp, it was difficult to photograph. I will only share these four with you. Here we have this first picture of the set, the gallows.
This photograph says a lot. The gallows, itself, being the centerpiece and the ever-present and overarching guard tower in the background. Laying on the ground in front of the gallows we have a stretcher that almost appears to be staged. It just seems so out of place and I cannot think of a good reason why it would be there. On the right side of the photograph you can see rubble and earth piled up in two piles. The camp was heavily bombed by the Americans in 1944 and 388 prisoners were killed, so it could likely be leftovers from the attack or from the liberation itself, but it is impossible to say for certainty.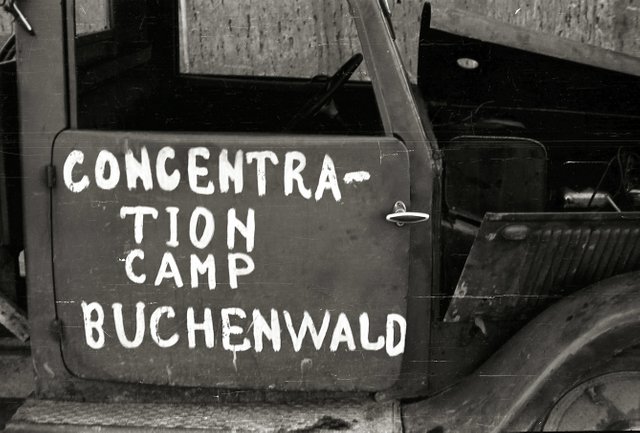 Click to Enlarge
All of these photographs from the camp are so intimate. It is as if my grandfather was experiencing tunnel vision, which is easy to imagine being in a place like that. There are no sweeping pictures showing the scale of the place, no buildings, not even a shot from outside the camp. Only these few up close and personal shots.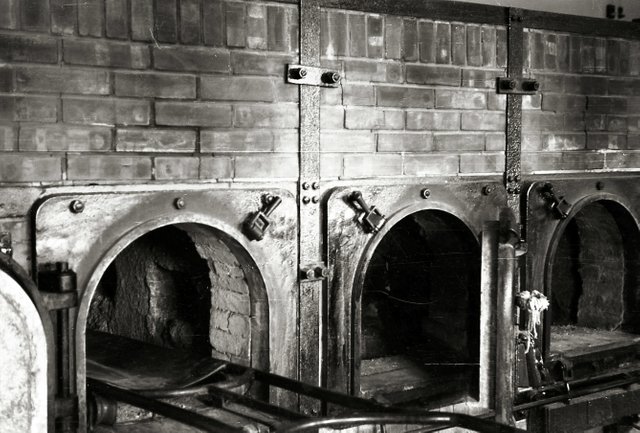 Click to Enlarge
A shot of the ovens in the crematorium.
It is reported that there were over 56,000 prisoners that perished at the camp so that shows you the need to have a room like this. There are several reports of deaths occurring right in the crematorium itself. It is said that when Soviet prisoners of war were subjected to vaccination experiments and survived, they would be led to the crematorium and strangled to death before being cremated. After the war, the Soviets took over the camp and over 7,000 German prisoners died here during the Soviet control. You can find more information about the death toll here.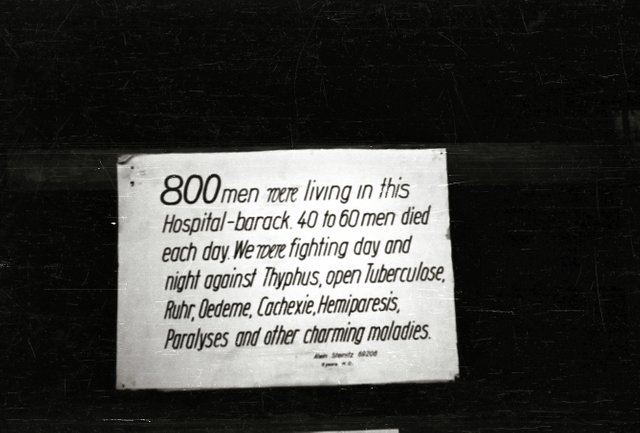 Click to Enlarge
You can see here a photograph of the sign hanging in the camp hospital. The majority of the prisoners held here during the war had died of diseases. The Nazis were working hard on trying to create a vaccine against these diseases and much work was done at this camp. Most of the reports about experiments on prisoners were testing of different vaccinations. Later on during the war, the prison camps had been cut off from supply routes due to the allied bombing which left the camps without much means for medical treatment.
Even though I have been to war and have seen combat myself, it is very difficult for me to imagine a place like this. It was a single camp where so many people had died, it must have been a horrific experience.
This was a long post I know, but if you made it this far thank you so much for visiting, it is my passion to share these posts with you. Check out my blog for many more WWII pictures and follow me to see what's new each week. @balticbadger

There are many more photographs, so please come on back next Monday and join me on this amazing journey through Germany during World War II!
Thanks, everyone for stopping by and please upvote and Re-steam this post! I am really enjoying all the comments and feedback from all you folks, thank you very much! If you have any information on any of these photographs, please, please share it in the comments.
I own all of these photographs so please respect my family history and ask permission prior to use.