#xpilarcontest Big photo competition final "YOUR SHOT" who wins?
Steemit community will vote 3 photos that will be the winners in the final

The competition is now closed, the winners will be announced later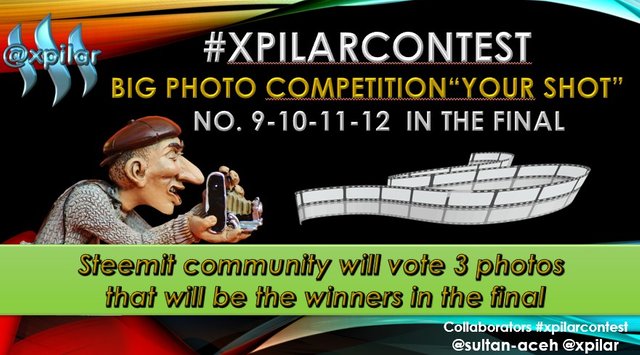 20 photos are selected to participate in the final after 4 weeks
      All SBD or Steem donated go to the final winners
             
  *  1st place with 50% of donated SBD/Steem
  *  2nd place with 30% of donated SBD/Steem
  *  3rd place with 20% of donated SBD/Steem
We thank you all for the big participant in #xpilarcontest
« Big photo competition 9-10-11-12 » YOUR  SHOT
You will vote for 3 favorite pictures to win in this final
The pictures will be numbered from 1-20
You are using the comments field to vote.
It is not allowed to vote for yourself, only comment 
You select 3 picture numbers and write in order, as the winner :
winner 1. Image Options ?
winner 2. Image Options ?
winner 3. Image Options ?

 The vote will end midnight on the 31th of August and the winners will be announced in a new post  
@marzukie   picture number 3
@elider11   picture number 4
@betaniaj   picture number 7
@kimki    picture number 8
@ir3k    picture number 11
@ericha      picture number 13 
@betaniaj     picture number 14
@josepuerta      picture number 15 
@dwiitavita      picture number 16  
@myskye       picture number 17   
@apple96        picture number 18 
@artofwisdom         picture number 19  
@unataldani         picture number 20
  
 Thank you to all our sponsors who contribute to the winners of the final   

The competition is now closed, the winners will be announced later