XRP Technical Analysis: Watch Out For These Levels For XRP Price!
🚀Key points for #XRP price.
XRP continues to hold on and even rise despite the rise of the leading cryptocurrency #Bitcoin (BTC). Generally, all cryptocurrencies fell sharply as BTC rose, but the situation for XRP was very different and a new record was broken during the day.
🚀XRP One Step Closer To The Record
Although XRP is still far from the all-time record, it continues to push the 2021 record to a higher price level every day. The fact that the fourth largest cryptocurrency by total market capitalization has reached over $ 80 billion may indicate that the alarm bells are ringing.
For now, it seems that the two biggest competitors of XRP are #Binance Coin and #Ethereum. During the day, XRP price rose 32% while BNB price fell 2.3%. ETH, on the other hand, moved to widen the gap with XRP with a 7.2% rise. If the XRP price reaches the level of $ 1.80, it may be critical to close this gap.
🚀XRP / USD Technical Analysis
Looking at the XRP / USD technical analysis, it is seen that the critical point is $ 2.2 after $ 1.8. Breaking this resistance, which coincides with 0 from the Fibonacci retracement levels, can make it easier to reach the all-time record of $ 3.40 in a short time.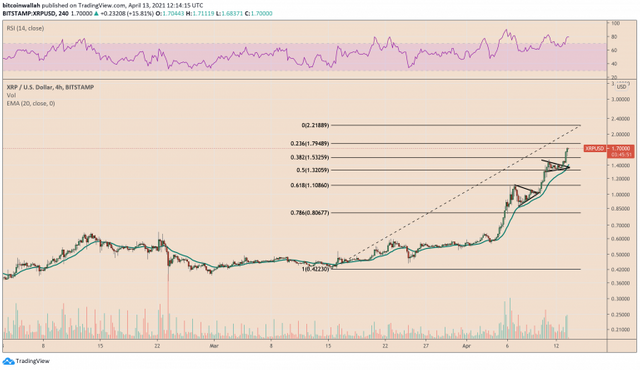 In a possible fall for the XRP price , $ 1.4 could play a significant support role. There has been a squeeze here before, and the XRP price is bullish with an upside divergence. Now, it seems highly likely that the same support will not hold once again and the price will fall sharply.
🚀Basic Outlook for XRP
RSI and MACD indicators are also alarming for XRP, but fundamental developments are closing the gap. Ripple triumphed over the lawsuit filed by #Tetragon and was a significant success, if not as much as the #SEC #case. James K. Filan gave hope to XRP investors, stating that his clients and Ripple could also win the SEC case.
It was alleged that the Ripple administration was illegally selling securities, ie XRP. Now, news is starting to come in favor of XRP from the case and everything is moving in favor of XRP.