Black mail attempt by @huaren.news leads to his unmasking and criminal past (The horrific Story of @huaren.news part 2)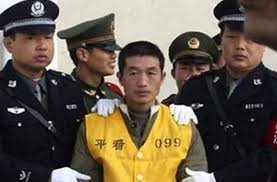 It's amazing how much can happen in just one day. Yesterday I broke the tragic story of @huaren.news and with in 12 hours he attempted to black mail me. His blackmail led me to hire a private investigator in China and what he discovered will blow your mind. First lets catch you up on how this all started and his black mail attempt. Then I will post his actual black mail letter along with his very scary criminal past.
How it Started
Just three days ago I noticed all of my Steem Post were Down voted to nearly a zero payout. My post usually vary from .50-$20. I noticed what seemed to be a down vote service led my @huaren.news . I was wrong, it was a maniac with an EGO that puts President Trump`s to shame. I joined a Down vote curation trail a month ago when I found out users we being down voted for not down voting post.(I knew the down vote option was a bad idea and did not support it because it breeds pettiness). Apparently he was down-voted on a total of 4 post only on Hive and with my HP that equates to about .02 USD. He later went to my post on Steem and Hive and started to use his 460,000 Steem Power to zero out my payouts with his down votes on all of my steem post and some of my Hive post. I reached out to him and in Chinese he wrote he did it because I down voted him. I looked threw his steem post and didn't see any down votes. I was going to replace them with up votes and figured it would be done. If I hurt his fragile ego I had no problem making him feel better. I did not see any down votes so I dug up his past and posted it yesterdays, you can read here. https://steemit.com/splinterlands/@threejay/splinterlands-300-dec-daily-giveaway-308-no-up-vote-re-steem-or-follow-required
The Blackmail
The day after posting his origin story I went over to Hive and noticed I had, via Hive auto vote in fact down-voted his ego I mean post as mentioned above at a total cost to him of .02 USD. I changed the votes to up votes left the down vote trail and sent him 50 DEC to shine some light on his pettiness. His reply was Black mail and it read like this(This is the translation form Chinese to English)
Undo any active down votes
Calculate all down votes and send me 5 times that in Steem and Hive.
Delete all disrespectful things wrote about him.
Apologies
Until I do this he will continue to down vote my post.
If I finish his blackmail list he will send me a message confirming he will leave me alone.
Due to the seriousness of black mail I decided to reach out to one of my contacts in Zhengyang County, Henan China. A top private investigator who did a lot of digging and found out that @huaren.news is very famous in China but not in a good way. The real @huaren.news is actually Yang Xinhai from the same city my private investigator is from, you cant make this kind of thing up. Comes to find out Yang Xinhai aka @huaren.news is China's most famous serial killer, here is his wiki. https://en.wikipedia.org/wiki/Yang_Xinhai
That's right, he has murdered at least 67 people with hammers, shovels, and axes. He has raped 23 known people including children. HE'S A REAL JERK. He was arrested and thought to be executed in February 2004 by firing squad but here is the true bombshell twist.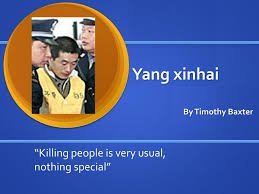 The Twist
New DNA evidence confirms Yang Xinhai aka @huaren.news was not executed, it was a fellow inmate who by force was a stand in for Yang Xinhai. Apparently new information discover that Yang Xinhai aka @huaren.news was in a gay relationship with all of the guards in the picture above. He used his skills in bed to manipulate the guards into helping him escape. That is right, he is on the run and from today on I will dedicate this channel to the recapture of Yang Xinhai aka @huaren.news
Asking for your Help
Do the the nature of his crimes and the size of his ego i will be using any and all money generated by these post on security for me and my family. Also If you have spotted or have any information on the location of Yang Xinhai aka @huaren.news please leave it in the comments below tagging @huaren.news to let him know we are getting close. The comment section of these post will be used as a tip line.
For all Splinerland content and my daily giveaways, it will be business as usual over on Hive. Thank you for your love and support.