Shoulder Training Office Yoga Exercise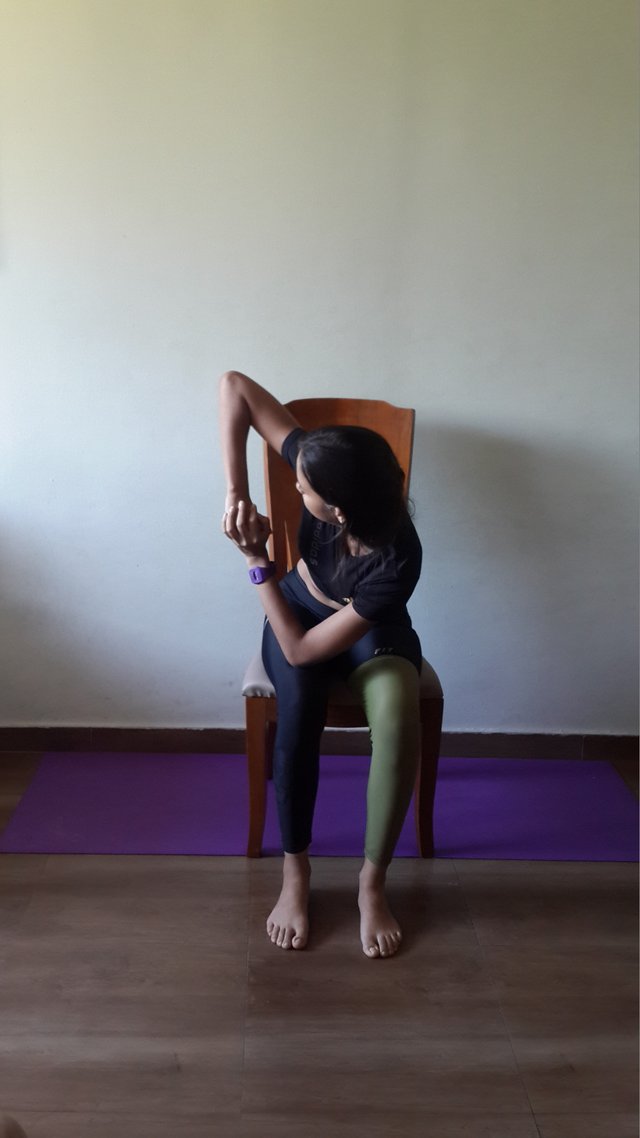 For this exercise you need a chair. It is best if the chair is the size that it is under the chest (this can then be better used for further exercises).
This exercise is against shoulder pain and tension that you can get when sitting in front of the computer for too long.
You sit in the chair as normal. Now you put your hands together and form a triangle. Now you turn the upper body so that one elbow is on the knee, while the other shows up as seen in the picture.
There is no pressure on the knee. The movement is turning from the upper body.
The exercise can be performed as long as it is comfortable for one. However, you should always train both sides.
Have fun with the exercise,
NL:
Deze oefening wacht op u terwijl u te lang achter de computer zit.
Je zit als normaal in de stoel. Nu leg je je handen samen en vorm je een driehoek. Nu draai je het bovenlichaam zodat één elleboog op de knie ligt, terwijl de andere op de foto verschijnt.
Er is geen druk op de knie. De beweging draait van het bovenlichaam.
De oefening kan zo lang zijn als het comfortabel is voor één persoon. Je moet echter altijd aan beide zijden trainen.
Veel plezier met de oefening :)
Yoga Posen bei Steemit:
Megaboxsack
Warrior 3
Warrior 2
vrksasana
ardha-chandrasana
krieger-lotus-drehung
utthita-hasta-padangusthasana
ardha-matsyendrasana-halber-lotus
Balance Yoga
Yoga Bilder für deinen Blog