the eagle Yoga Pose Office Edition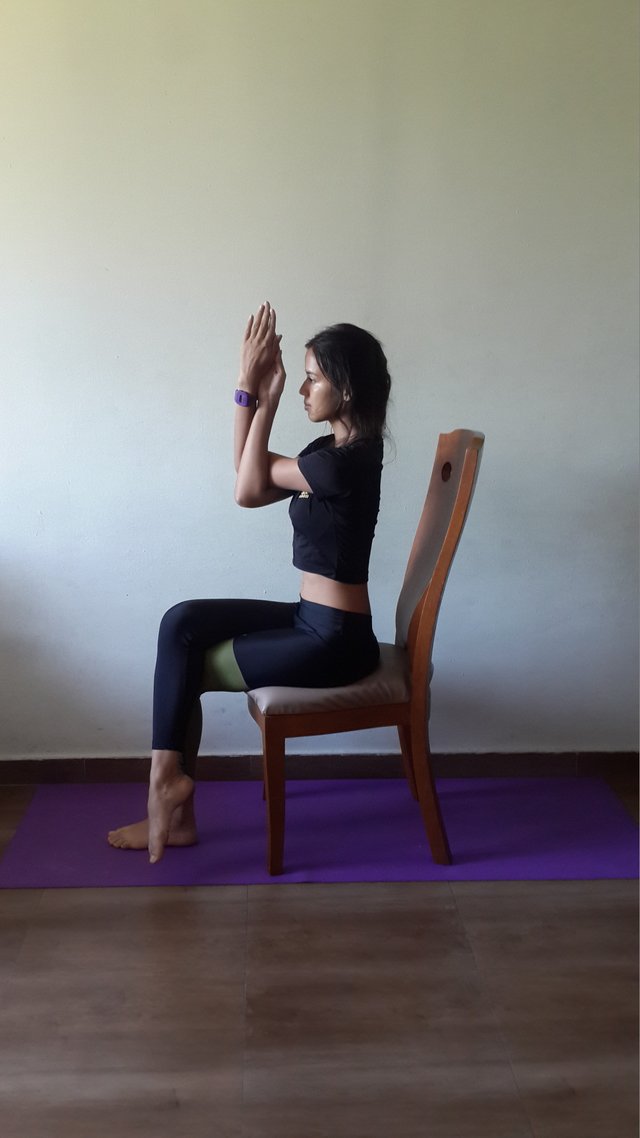 For this exercise you need a chair. It is best if the chair is the size that it is under the chest (this can then be better used for further exercises).
This exercise is more a stretching exercise. As with the yoga figure eagle, one rolls over his legs, so that only one foot touches the ground. The arms are also overturned.
It is important to pay attention to keep your back straight. So do not make a hump or wooden cross.
During the exercise you can calmly close your eyes and focus on the breathing.
If you are in a pose, you should hold it for 20 seconds. Then the same with the other at (body side).
The office eagle exercise is a simple exercise. But just ideal for the warm summer and the office.
Have fun with the exercise,
NL
Voor deze oefening heb je een stoel nodig. Het is het beste als de stoel zo groot is als onder de borst (dit kan dan beter worden gebruikt voor verdere oefeningen).
Deze oefening is meer een uitrekkende oefening. Net als bij de yoga-figuuradelaar rolt men over zijn benen, zodat slechts één voet de grond raakt. De armen zijn ook gekanteld.
Het is belangrijk om op te letten om je rug recht te houden. Maak dus geen bult of houten kruis.
Tijdens de oefening kun je rustig je ogen sluiten en je concentreren op de ademhaling.
Als je in een houding staat, moet je het 20 seconden vasthouden. Dan hetzelfde met de andere aan (lichaamszijde).
De office eagle-oefening is een eenvoudige oefening. Maar gewoon ideaal voor de warme zomer en op kantoor.
Veel plezier met de oefening,
Yoga Posen bei Steemit:
Megaboxsack
Warrior 3
Warrior 2
vrksasana
ardha-chandrasana
krieger-lotus-drehung
utthita-hasta-padangusthasana
ardha-matsyendrasana-halber-lotus
Balance Yoga
Yoga Bilder für deinen Blog