How will Zeux make our lives better?

What problem does Zeux aim to solve?
Digital payments are growing at a rapid rate especially across emerging markets - the global market is growing at ~11% as opposed to ~21% in emerging markets. If we consider remittances alone, about $537 BN was remitted in 2016 through firms like Western Union, Moneygram, etc..
However, there are several pain points identified in the traditional market of financial services and investments:
It involves a lot of hassle (including forms, documentation, etc.)
Access to crypto investments products is not possible in most cases
It is not easy to spend crypto at PoS
International transactions (think remittances) tend to be expensive and take a long time (3 or more days)
Overall, there is no single integrated solution for all financial products. With the growth of blockchain, new business models are emerging that offer a number of benefits.
What Solution does Zeux offer?
As an FCA (UK's Financial Conduct Authority) regulated company, Zeux claims to offer an integrated solution with a single platform for bank accounts, NFC payments, decentralized transfers via blockchain and investment accounts.
Integrated Banking: Zeux, as an authorized AISP (Account Information Service Provider) and PISP (Payment Initiation Service Provider) under PSD2 (Open Banking Project), with its Zeux app, will collate multiple bank account information and display it on a single dashboard. As a regulated company, it's security measures, policies, governance structure, etc. will be reviewed by FCA providing individuals with a sense of security with their finances.

Investment platform: Zeux will offer a complete ecosystem by aggregating various investment products and recommending suitable ones to its consumers based on analysis of consumer data (financial profile, risk appetite, etc.)

Crypto Funds: Zeux users will be able to easily convert fiat to ZeuxCoin and access various crypto funds listed on the platform - it can also act as a custodian of funds for a 3% transaction fee

Mobile Payments: Zeux mobile app will offer NFC (through payment providers like Apple Pay) in addition to Zeux VISA virtual card for merchant payments - cryptocurrency can easily be used for payments as conversion can be done automatically for payments

Remittances on Blockchain: All transfers are done in a decentralized manner. ZeuxCoin (ZUC) is easily transferred to another user using the recepient's e-wallet. Fiat transfers are done by conversion into Zeux internal ledger token ZXUSD

Secure Data: Customer data is stored and encrypted in each customer's personal data vault secured with a private key on the mobile device which enables KYC validation on the blockchain itself. It complies with all GDPR requirements
Project Highlights
Roadmap: Zeux aims to launch its operations within EU by 2019 and roll-out its services to the rest of the globe by 2020. On Nov 2017, it was incorporated as a UK limited company. By end of 2019, it is also looking to launch in US and connect with over 50 financial services partners to act as a single entry point for its users

ZeuxCoin token (ZUC): ZUC will enable consumers to take advantage of reduced fees on services and other benefits. All fees, cashbacks and bonus on the platform will be in ZUC.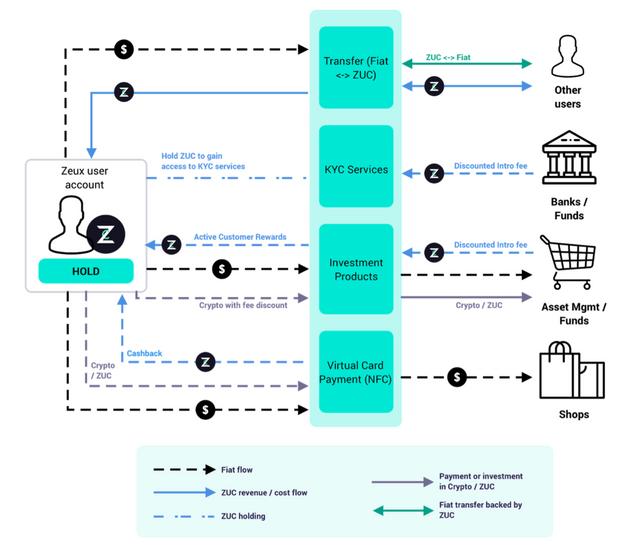 Token Listing: ZUC is working with Cobinhood to underwrite its ICO - so it has definitely secured this exchange listing which in my opinion is a great exchange to be associated with with a fantastic user interface, security and coin listings

Team: The Zeux team is made up by Frank Zhou, the CEO who has been a derivatives trader for the past decade in Europe with reputed institutions. A number of team members with some solid qualifications are listed on the whitepaper
Links
Final Words
If there is one industry which blockchain has the potential to change, it is definitely the financial services. If you look back at why the entire industry came up in the first place, it was to solve the issues with banks and institutions. Lots of promising aspects to this project but of course a lot will depend on execution. Stay tuned for more updates on this project
Happy investing!
PS: Please do not consider this as investment advice​. The above information is meant to share pertinent information about​ some​ interesting projects in the field. You should conduct your own research before investing in any project