🎉 2000 ZOIN (ZOI) GIVEAWAY – LearnToBitcoin.io 🎉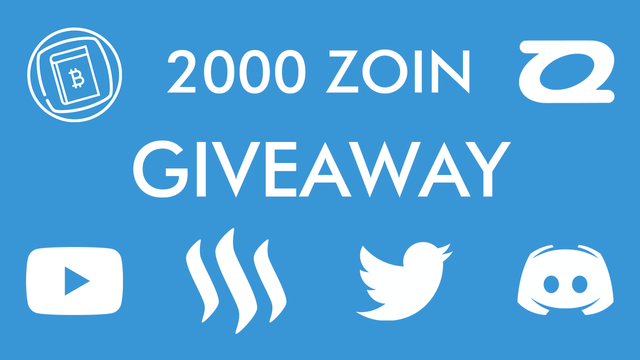 2000 ZOIN (ZOI) GIVEAWAY – LearnToBitcoin.io
WELCOME
Good day & welcome to the 2000 Zoin Giveaway brought to you by LearnToBitcoin.io!
To give users more opportunities to win, this giveaway has been split across 4 separate platforms: YouTube, Steemit, Twitter and Discord. Each platform will have a giveaway prize value of 500 Zoin.
Enter on all 4 platforms and you could walk away with 2000 Zoin!
ZOIN DETAILS
Website: https://zoinofficial.io
https://coinmarketcap.com/currencies/zoin/
Max Supply: 21,000,000 ZOI
Circ. Supply: 18,033,289 ZOI
Exchanges: Cryptopia, Coinroom, CoinExchange
HOW TO ENTER
YOUTUBE: (PRIZE 500 ZOI)
Subscribe to https://www.youtube.com/LearnToBitcoinTV
Like and Comment on the Zoin Giveaway Video:
STEEMIT (PRIZE 500 ZOI)
Follow @alainite on Steemit
Upvote, Resteem and Comment on the Zoin Giveaway post: https://steemit.com/zoin/@alainite/2000-zoin-zoi-giveaway-learntobitcoin-io
TWITTER: (PRIZE 500 ZOI)
RT and Favourite the pinned competition Tweet: https://twitter.com/LearnToBitcoin/status/1021061816653426688
DISCORD: (PRIZE 500 ZOI)
Join the ChatCrypto.io Discord server: https://discordapp.com/invite/9w7BxMn
Join the #giveaways channel (on the discord server)
React with the ZOIN emoji on the competition post. (:zoin:)
TERMS AND CONDITIONS
GIVEAWAY DATES:
22 July 2018 – 5 August 2018
PRIZES:
Prizes will be split across the platforms as follows:
YouTube Winner: 500 Zoin.
Steemit Winner: 500 Zoin.
Twitter Winner 500 Zoin.
Discord Winner 500 Zoin.
A total of 2000 Zoin will be awarded to the giveaway winners.
WINNERS:
– Winners will be randomly selected via Random.org
– Results and TXIDs will be updated at: https://learntobitcoin.io/2000-zoin-zoi-giveaway-learntobitcoin-io/ by 10 Aug 2018 or once results have been tallied.


YOUTUBE | TWITTER | DISCORD| WEBSITE