Do you know why I gave my proxy to @proxy.token today?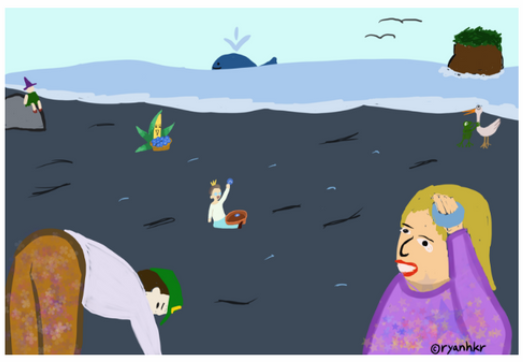 I gave my proxy to @proxy.token today.
This was the conclusion that I made after a long and deep consideration from yesterday until late today.
I think that we need to have at least one Steemit witness who looks in the same direction.
SteemPower I have is enormous and I can call myself one of the big whales in Steemit.
But, this does not have any meaning if I stand alone without you.
The main problem I experienced in recent Bangkok SteemFest was the language barrier.
But I had known for a long time that there was something bigger and more difficult to resolve in Steemit. It is about some people acting like wild boars who would not listen to others nor try to understand them.
So, how do you think it can be resolved this problem?
That's pretty simple. It is to get together and to build up our strength, with even each small power to start. For the sake of my own interests and the majority of the Steemians, it will be one big power to show our unity.
I was awakened after I've seen, heard and learned a lot at SteemFest in Bangkok and experienced lots of unrespectable downvoting in the pools from Hard Fork 21,22!
Who is willing to invest in such hatred and cold-blooded war, and who is able to stay with us in Steemit?
Now, I would not wait for someone else to resolve this situation anymore. Ignoring would be an unresponsible behavior.
The more difficult things could gather the more people having the responsibility and could be overcome eventually.
I want to tell someone who is considering to start PowerDown and planning to leave Steemit instead of confronting it in mud, that we can get together and make ourselves stronger to make a net catching a ruthless wild boar.
If you use a shoot or knife to catch a wild boar, it may be an easier way, but the wounds would be serious for both parties. Strong and well-made nets are much better than guns or knives with high accuracy and safety in catching a wild boar to save them and us.
So, I think it is the best idea to proxy @proxy.token to make such net knitting.
Even though I had to struggle to figure out how to proxy my SteemPower to @proxy.token all day long, I finally did it!
SteemZzang users, how do you think about my idea?
SteemZzang represents freedom, so it doesn't force anything to anyone.
However, if you agree to my idea and want to clean up all ridiculous things in Steemit, I politely recommend you to proxy your power to @proxy.token?
One or two thin branches of wood are just broken with a little power. And even a little thicker one can be broken with a little more power.
But the bundles of tens or hundreds of thin branches can not be broken.
The downvoting pool which created through HF 21 and 22 in order to prevent abuse in Steemit has been abused ironically by some group of users.
But, I do not want to counteract it in the same way.
This is the problem that Steemit has been challenging us. It is regardless of nationality, race, gender, wealth and anything, but for Steemians.
I have confidence that we can overcome any obstacles because we are leaning a lot from history which our ancestors have been faced with challenges.
Now, it is the time to show our power, I did proxy my SteemPower to @proxy.token today.
I am sorry that I had to cancel my witness votes used to be for SteemHunt and Clayop.
I appreciate for your time for reading my posting and your action if you decided to do it.