Nominate your work to STEEMZZANG PRIZE in Literature of The Month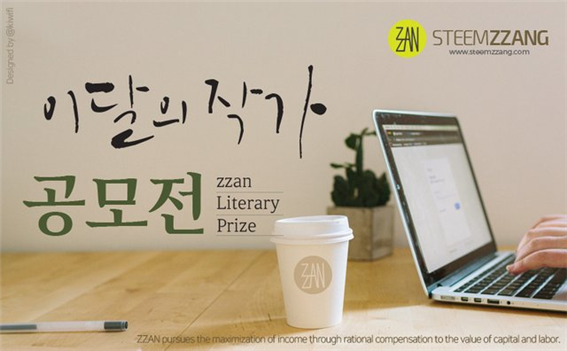 How are you Steemians?
STEEMZZANG PRIZE in Literature in Steem-based literature award has started with the dream of going beyond the Nobel Prize and announces winners each month.
I believe it will be a famed award in the future and hope many of you participate and nominate your masterpiece to STEEMZZANG PRIZE in Literature today!
Now, I bring the big news in STEEMZZANG PRIZE in Literature.
The Prize will be open to all postings in English as well as in Korean, regardless of the writers' nationality or residence.
---
Here are the ways to nominate your works in STEEMZZANG PRIZE in Literature and the awards are as follows:
● Application period: From the first to the last day of each month
● Fields: Poetry, Eponymous, Children's Verse, Essay, Novel, and Fairy Tale (more than one entries are welcome)
● Eligibility: All Steemians in Steemit, not limited to specific nationality or residence
● How to enter:
Post your literature at https://www.steemzzang.com and send the hwp or doc file to [email protected] by email
Postings for entries must have only two tags - zzan and literary-prize
The submitted work will not be returned, and the images or photos can be posted but
E-mail submissions for prize are not allowed and will be excluded from the nomination
The literature should be created by the applicant and limited to the unpublished to any media or blog before. Ensure to write the field and Steemit account.
The address and contact information is required by e-mail only.
The prize will be canceled if the work is found to be a plagiary even though after the award.
● Announcement of the winners: on the 10th of the next month after the deadline, will be posted at https://www.steemzzang.com/@zzan.admin
Prize :
Grand Prize - 5,000 zzan
Excellence Award - 2,000 zzan
Gold Award - 1,000 zzan
Participation reward - 500 zzan
Each month's winners of the Grand prize and the Excellence Award will be nominated to the STEEMZZANG PRIZE in Literature end of the year
Also, the Grand Prize posting will get an upvote with 1.4 million SteemPower.
---
● The ZZAN Prize in Literature, which is held once a year will be announced 2 months prior to the Award.
● Please remember, it is mandatory to send the work by email and notices are subject to change by STEEMZZANG Administration as needed.
---
translated from
steemzzang에서 야심차게 추진하는 이달의 작가
https://www.steemzzang.com/zzan/@zzan.admin/2x5zjw-steemzzang
---